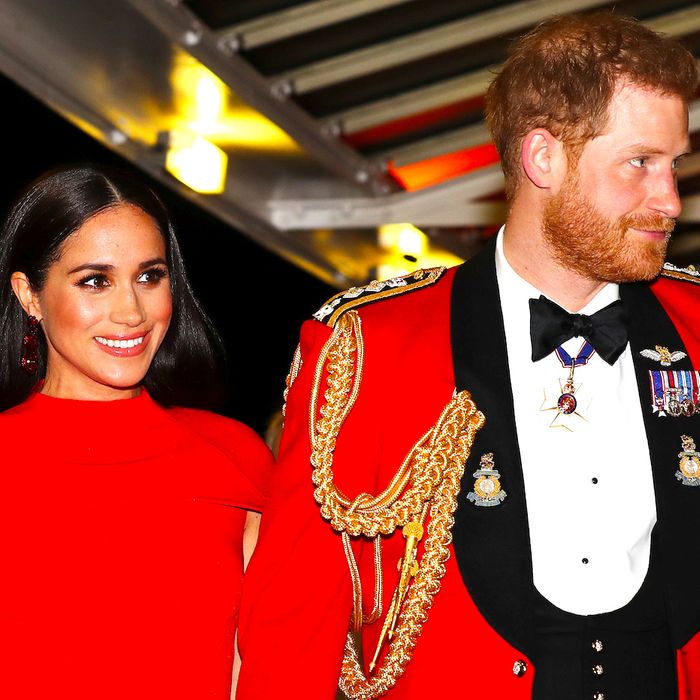 Archewell! The new non-profit is Archewell.
Photo: Getty Images/2020 Getty Images
As part of their stepping-back-from-royal-duties deal, Meghan Markle and Harry agreed to rebrand as normies, abandoning all use of the word "royal" — tricky business, as they reportedly planned to call their coming non-profit organization Sussex Royal. With that title off the table, and with the associated Instagram account now closed, the couple has announced a new name for their planned endeavor: Archewell. As in their baby, Archie, and also the Greek word arche, or "source of action."
Speaking to the Telegraph, the Duke and Duchess of Sussex said they just wanted Archewell "to do something of meaning, to do something that matters." Per the trademark requests the outlet reviewed, that might include: multi-media educational platforms — seminars, conferences, workshops, podcasts, films, television, magazines, books, and more — emotional support resources, and possibly also a wellness website. Markle, of course, used to run a lifestyle site called The Tig, which she shut down in 2017.
As for the support component, the Telegraph reports that the plan could potentially include "organizing and conducting support groups for persons in need," "emotional counseling," and "coordinating social, personal care, and psychological services." Additional pursuits may extend to "events and exhibitions for cultural, sporting, health, mental health, and entertainment purposes," and mentoring.
Emphasis on may, as all plans appear to be preliminary at this stage. Meghan and Harry intended to wait until the coronavirus crisis had been contained before going public with details on the venture, so all the above are simply possibilities for now.
"Like you, our focus is on supporting efforts to tackle the global COVID-19 pandemic but faced with this information coming to light, we felt compelled to share the story of how this came to be," they told the Telegraph. "Before SussexRoyal, came the idea of 'Arche' — the Greek word meaning 'source of action.' We connected to this concept for the charitable organization we hoped to build one day, and it became the inspiration for our son's name."
"Archewell is a name that combines an ancient word for strength and action, and another that evokes the deep resources we each must draw upon," they added. "We look forward to launching Archewell when the time is right."