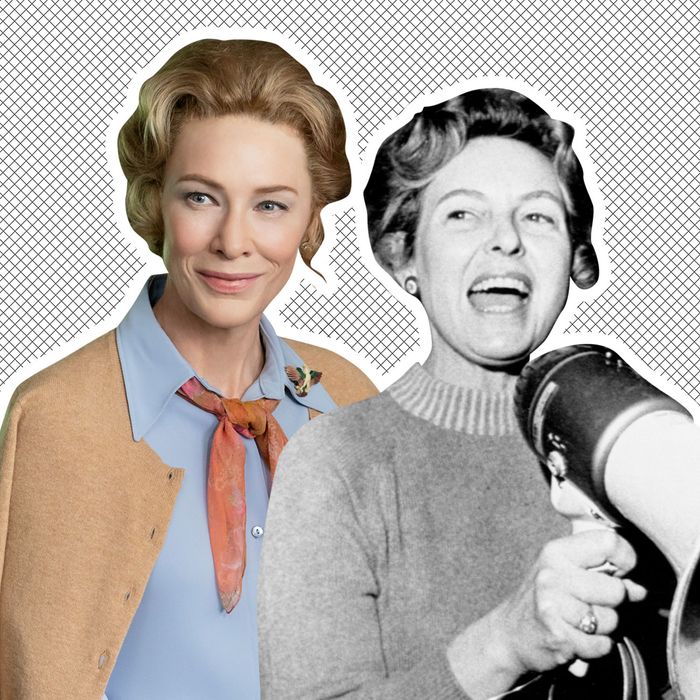 Photo: Hulu, Getty Images
In high school, my southern "history teachers" struggled with the course of events that brought us to the current moment — usually pushing warped narratives about the Civil War, or forcing us to remember how many people died in some battle on some hilltop in some state north of some line. The ongoing battles for civil rights, queer rights, and women's right were not in the curriculum. Which was a shame, because all I wanted to learn about was the time Gloria Steinem released some righteous anger on the floor of the 1972 DNC.
Luckily, FX's new limited series Mrs. America is here to tell us the story of the both radical and complicated second wave of feminism, reifying all the bad history (and sex) education you got in high school.
Created by Canadian television writer Dahvi Waller, who has previously written for Desperate Housewives and Mad Men, Mrs. America tells the story of the life and death (for the most part) of the Equal Rights Amendment, peeking into the personalities of movement icons like Gloria Steinem (Rose Byrne), Betty Friedan (Tracey Ullman), and Shirley Chisholm (Uzo Aduba) with both historical accuracy and delightful dramatization.
I've never seen a Marvel movie, but I assume this is what those films are made of: complicated heroes with even more complicated enemies and a hell of a lot of action. Waller takes each character and gives her credit where credit is due, while also holding her to account for her Achilles' (kitten) heel: The show acknowledges Steinem's history of tiptoeing around race, and Friedan's track record of inciting lesbian prejudice.
The show also pays considerable attention to its villain, Cate Blanchett's Phyllis Schlafly, whose coiffed blonde locks and statement pussy-bow blouses bring to mind her contemporary conservative descendants, like Ivanka Trump or Kellyanne Conway. That wasn't an accident, Waller said. "I do think [similar] women today stand on her shoulders and both avail themselves to all the opportunities that were so hard fought by incredible feminist leaders — at the same time, pushing a polemic that is quite anti-woman," she told the Cut.
Mrs. America is not a documentary, but it tells the story of a progressive movement (and the inherent backlash) with an obligation to fairness and truth. It takes what is in actuality a rather depressing slow burn into the Reagan years, sticks it in blue aviators and face-framing blonde highlights, and gives it a platform to chant from. I laughed, I cried, I took multiple shots, and had several epiphanies. Ken Burns could never.