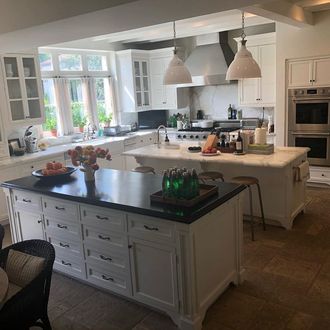 Nancy Meyers' Nancy Meyers kitchen.
Photo: @nmeyers/Instagram
Oh hell yes. This is the good stuff.
On Sunday, filmmaker Nancy Meyers gave thousands of her loyal followers the very thing they have been clamoring for for years: a thrilling glimpse behind the rom-com curtain. Yes, Nancy Meyers showed her kitchen.
"Headquarters," the celebrated director of It's Complicated and Something's Gotta Give captioned her post, which shows a kitchen worthy of a cameo in any of her films. It's vast and airy, with crisp white cabinets and not one but two massive kitchen islands — a perfect space for a Meryl Streep character to pace around while she questions her new romance with an architect, or one in which a Diane Keaton character could sip on a bathtub-size glass of white wine while chatting with friends.
Perhaps no director has established their interior-design aesthetic as clearly as Meyers has over the years. Her characters' homes are aspirational yet cozy, full of linen and overstuffed couches and farmhouse tables, and the term "Nancy Meyers kitchen" has taken on a life of its own. Google it, and you'll find endless posts admiring the kitchens, ranking them, and advising readers on how to "Nancy Meyers" their own homes.
There was a bit of a kerfuffle this past summer over the media's fixation with these spaces. In a conversation with fellow filmmaker Mindy Kaling at the Produced By Conference in June, Meyers said she thought it was a "cheap shot" when writers focused on the décor of her films. "It's never done to male directors who make gorgeous-looking movies, where the leads live in a great house. It's never brought up. With me, it's an easy thing to go after, but I am not going to change it."
Meyers's comments led several publications to run headlines saying the director thought it was "sexist" when fans talk too much about her kitchens. But Meyers insisted that wasn't what she meant. On Instagram, the director shared a screenshot of one such headline and wrote, "Awww. I would never think that or say that. Same for the rest who misunderstood what @mindykaling and I chatted about at our @producersguild chat. Oh well…."