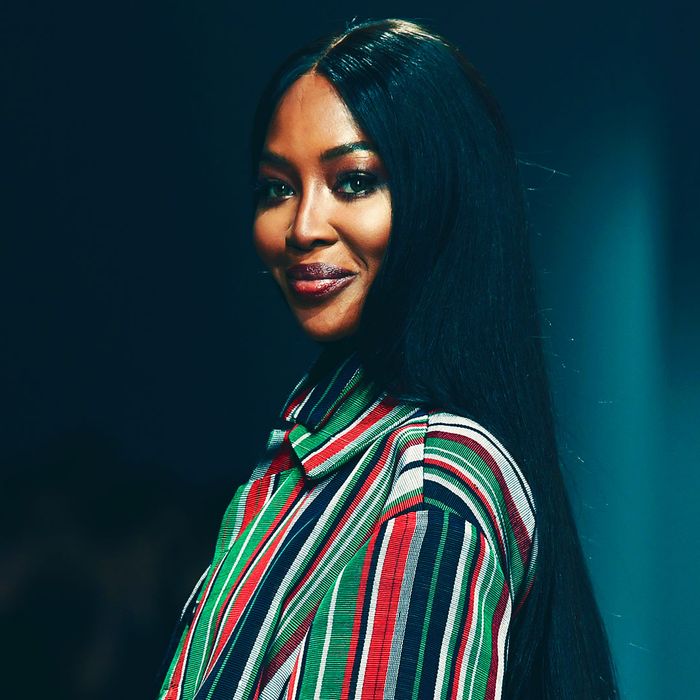 Photo: Kristy Sparow/Getty Images/2020 Kristy Sparow
Plenty of people profess to "have no filter," but Naomi Campbell is one of those rare humans who seems to have emerged from the womb critiquing her delivery nurse's makeup. Her penchant for saying exactly what she seems to be thinking, without reservations, has found victims in everyone from Kim Kardashian and Kanye West to fellow supermodels Coco Rocha ("Check your lipstick before you come and talk to me") and Nicole Trunfio ("Don't compare yourself to me ever. You are not on my level, Nicole, and you never will be on my level.")
Incidentally, this is also the kind of personality that makes someone a good reality-show judge, something that Campbell professed she would no longer do after appearing on two seasons of The Face, a Top Model–esque reality show that premiered in 2012. Luckily, she seems to have changed her mind, and is now the most compelling part of Amazon Prime's new original series Making the Cut.
The show is hosted by former Project Runway hosts Tim Gunn and Heidi Klum, and, for the most part, resembles it: The winner gets a cash prize, mentorships from established designers, and the chance to sell their collection directly on Amazon.com. At the end of each episode, contestants must present their works to a rotating panel of judges that includes Nicole Richie, Carine Roitfeld, Joseph Altuzarra, and Campbell, who give feedback and determine whether each contestant "makes the cut" and goes on to the next round.
Campbell's critique — constructive but not at all sugarcoated — is the most engrossing part of this. As the other judges give their feedback, she sits at the end on her iPad, appearing to take notes, which she then delivers like a death blow to the contestants. In episode one, she tells one designer that her sheer green dress is "in poor taste" and interrupted another to say that her "unfinished girl-on-the-go look" was what "a lot of people would interpret as not doing your job properly."
But episode two, which is focused on couture (handcrafted, made-to-measure fashion) is where Campbell really begins to shine. She and the other judges are miked so that the audience can hear them, but the contestants can't, as the clothes come down the runway. When one designer's couture take on a leather jacket makes its way down the catwalk, we hear Campbell say: "What is this? Oh, no no no no no no." She calls someone else's minidress, accented with fabric puffballs, "hideous, like you have sprouts coming out of your shoulders"; says that she would "not put my mother in that" to another designer's matronly gown; and simply barks "NEXT" at puffy silver creation, all while Heidi Klum frantically tries to keep things light and positive.
Lest you think Campbell is just being mean, her critique is coming from a place of experience and a genuine respect for fashion. After all, she's been in the industry for nearly 40 years. She gives feedback as a professional, telling one contestant in episode four that his slitless body-con dress would be a "nightmare" to model. She's also business savvy: In episode five, she tells designer Esther Perbandt to add more color to her (almost exclusively) black designs, correctly noting that she's alienating a whole customer base without that variety.
She's also willing to go to bat for the people whose work she admires. In episode six, she cuts off Klum to defend designer Rinat Brodach, telling the other three judges that she believes in her and should have "one more chance."
But it's her final bit of critique in episode two that I like the best. It goes to designer Martha Gottwald, who has pinned her garments for the couture challenge instead of painstakingly sewing them. Campbell understands that couture is all about craftsmanship, and she wants Gottwald to understand it too. "With couture, there's a certain respect you have to have," she says. "I mean, it goes back centuries and I feel like you disrespected the whole entire world and this assignment, because we can all pin and wrap."
Gottwald, it should come as no surprise, did not make the cut.
If you buy something through our links, New York may earn an affiliate commission.