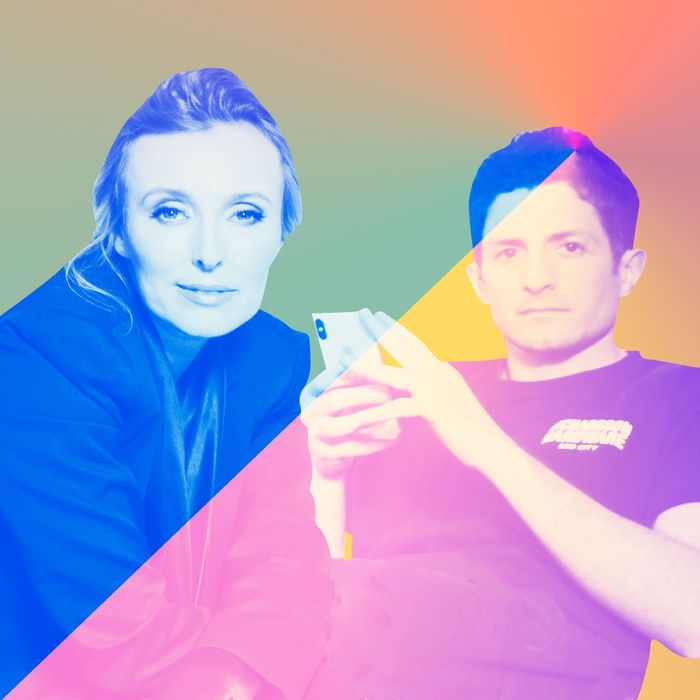 Photo: Courtesy of Necessaire
It's a cliché to say that a brand "found the white space" in their market, but in the case of body-care line Nécessaire, it's true. Founders Nick Axelrod and Randi Christiansen decided to focus on an unglamorous beauty category: body care. "There was not a lot of innovation or newness — the same body lotions, the same bodywashes — and there was no redefinition of what other products could live there," explains Christiansen. "We felt we could deliver products that were ten times better by putting real skin-care ingredients into them."
They formulated their lotion with hyaluronic acid, peptides, and antioxidants, and filled their Body Wash with niacinamide and a slew of essential oils, getting it to foam with plant-derived surfactants. And they created an organic, aloe-based lube that puts KY to shame, just for good measure. The items launched in 2018, and like Boy Brow or micellar water, they instantly felt like necessities to beauty junkies.
"We weren't just entering the body category; we were redefining it, which was why having a sex gel in the lineup was important," explains Axelrod. "In the same way that skin care doesn't stop at the neck, body care doesn't stop at waist. We wanted to infuse a holistic view of the category, but also make a point culturally that there doesn't have to be this sort of randy branding around a product that's for your intimate areas."
The two met when the Danish-born, Los Angeles–based Christiansen was looking for someone to help with consumer marketing for a new brand she was working on at Estée Lauder Ventures. A friend recommended Axelrod, who had just moved to L.A., having worked at WWD and Elle before co-founding Into the Gloss. He got the gig, and they became close. When Axelrod shared his dream of launching a personal-care line for men, Christiansen revealed that she'd wanted to do a body line for women. A gender-neutral line felt more interesting, so the decision to team up was easy. Formulating products with their strict clean mandates was another story.
"It was incredibly hard to get all the oils into the Body Wash's clean surfactant system without breaking down its honey-like texture," says Christiansen. "So was figuring out how to keep the pumice and the bamboo charcoal particles in the Exfoliator from falling to the bottom. That's why exfoliators are usually in jars."
The Deodorant is another example. Originally slated to be included in the launch, it went through 25 incarnations before they nailed it (clearly, they have; it's currently sold out on their website). The two remain tight-lipped about their next launch, but I'm allowed to say that its focus is "above the neck," so let your imaginations run wild.
Axelrod and Christiansen spoke with the Cut about DIY hand sanitizers, the hobbies that calm them, and the conversations that come from watching the film Cats.
 
What's your definition of beauty? 
Randi Christiansen: To me there is nothing more beautiful than a person who exudes health and comfort in their skin.
Nick Axelrod: Confidence. See: Penelope Cruz, Timothée Chalamet, Angela Bassett.
What do you think when you hear the term "clean beauty"?
RC: It's the new normal.
Where, if anywhere, in your beauty (or life) routine are you not quite that "clean," "green," or "sustainable"? 
RC: With one husband, one bullmastiff, and three daughters, I drive a black Toyota Land Cruiser. We have had it for a long time. It is part of the family.
NA: Like the rest of the world, I have been sanitizing everything, including myself, because of COVID-19. Lysol, bleach, Purell. I saw a meme on Instagram that summed it up pretty well: "Some of y'all went from DIY homemade, natural, all-organic cleaning products to Clorox real fast."
Pls fill in the blank as it pertains to your beauty or wellness routine: I think about  _______ a lot.
RC: Moisture, water, sparkling water, infused water, body moisturizer, face moisturizer, hair moisturizer, hyaluronic acid. All of it.
NA: My under eyes.
What is the opposite of "beautiful"?
RC: Plain.
NA: Insecure.
What is your morning skin-care routine?
RC: I am a Scandinavian girl, so it's simple. I rinse my face with water. I mix Vintner's Daughter Serum with Weleda Skin Food, then, on most days, I add Supergoop sunscreen.
NA: I wash my face with HoliFrog cream cleanser, then a Naturium's serum — I alternate between the vitamin C, hyaluronic acid, and niacinamide-zinc ones. And then I'm obsessed with Glossier's Priming Moisturizer Rich. It's basically a dupe of one of my favorite super-expensive face creams. I love thick moisturizer. And Naturium's eye cream is killer — almost balm-like, but it's nongreasy and doesn't pill. For my body, I quickly apply Necessaire The Body Serum on my arms and legs and ass. It's is a gel-like, hyaluronic acid moisturizer that absorbs instantly. You don't feel greasy at all, and it really helps to get rid of red bumps and dry patches. I am obsessed with fragrance, a heavy dousing before I leave the house.
What's the last beauty product you use every night?
RC: Nécessaire The Hand Cream, which we are launching this summer.
NA: Face wash, if I'm being good.
What aspect of your beauty routine tends to be neglected?
RC: Sleep is a key part to a beauty routine. Since launching Nécessaire, my sleep pattern is not what it was.
NA: Washing my face at night.
What, if anything, is usually on your lips?
RC: Dr. Barbara Sturm Lip Balm or Charlotte Tilbury Lipstick in Bond Girl.
NA: Burt's Bees.
Mascara of choice:
RC: Serge Lutens Comb Mascara.
What makeup item would you never skip?
RC: Lip balm or lipstick.
Razor of choice:
RC: Harry's.
NA: Gillette turbo whatever. The more it looks like a Transformer, the fewer cuts I get.
Shaving lubricant of choice:
RC: Ursa Major Shaving Cream.
NA: Alba Botanica.
Facial cleanser of choice:
RC: Tatcha Deep Cleanse.
NA: HoliFrog Nourishing Milky Wash.
 
Fragrance of choice:
RC: Heretic Parfum Dirty Rose.
NA: Frederic Malle Carnal Flower and Glossier You. I like somewhat feminine scents.
Bath or shower? 
RC: Shower is my reality. Bath is my dream, with Nécessaire The Body Wash.
NA: Shower, with Nécessaire The Body Wash in Eucalyptus. Instant spa.
Deodorant of choice:
RC: Nécessaire T
he Deodorant.NA: Nécessaire's because it's natural and it actually works! My husband and I have worked out with it, gone running with it, and it really holds up. If I'm being naughty, I also like Arm & Hammer Naturals.
 
Shampoo/conditioner of choice:
RC: I am currently on Act+Acre.
NA: Prose.
Most relied on hair product or tool?
RC: My Yves Durif hairbr
ush.NA: Bumble & Bumble Sumotech.
Got a favorite hand sanitizer?
RC: EO Hand Sanitizer.
NA: My husband Casey made his own with isopropyl alcohol, aloe vera gel, and tea tree oil. I trust it!
What discontinued beauty product do you mourn?
NA: Tom Ford's men's bronzing gel isn't discontinued per se, but it is very difficult to get your hands on. I mix it with my moisturizer, and it makes me look like I just came back from vacation.
What beauty product still needs to be invented?
RC: The Body Mask.
NA: A hand cream that doesn't wash off the minute you rinse your hands.
What was your first beauty/grooming product obsession?
RC: Scent. When I was 10, I would fill a Mason jar with water, wildflower petals, green grass, and more.
NA: Tommy Boy cologne by Tommy Hilfiger. I was so obsessed with it that, when sleepaway camp was over, my girl friends tore up one of my T-shirts, doused it with Tommy Boy, and each took a piece to remember me by.
RC: Scent. When I was ten, I would fill a Mason jar with water, wild flower petals, green grass, and more.
NA: Tommy Boy cologne by Tommy Hilfiger. I was so obsessed with it that, when sleepaway camp was over, my girl friends tore up one of my t-shirts, doused it with Tommy Boy, and each took a piece to remember me by.
Daily carry-all of choice:
RC: Patagonia Black Hole Waistpack 5L.
NA: James Perse Hyland Nylon Duffel Bag.
Who makes your eyeglass frames?
RC: Gentle Monster.
NA: Persol.
What's your bed like?
RC: It's a favorite destination, pure comfort. And it's made 75 percent of the time.
NA: Cozy. Big tip: Restoration Hardware stonewashed linen sheets are made in the same factory as Matteo's. Allegedly!
What do you splurge on?
RC: Water, Matteo bed linens, and towels.
NA: Food. Helen's Wine Club. Helen is a celebrity in our house. I met her once in her shop in Brentwood, and it was like meeting Jennifer Aniston. She was really one of the first people here to promote and talk about natural wines. Her monthly wine selections are always delicious and her enclosed notes on each bottle are not to be missed.
What do you scrimp on?
RC: Not a lot. I prefer a few good things.
NA: Underwear. I subscribe to Lot2046 and they send me a new pair of black briefs once a month.
What is your classic uniform?
RC: Nili Lotan silk cami and textured sweater, joggers and sneakers from Rick Owens.
NA: Carhartt Work In Progress trousers and an Entireworld boxy T-shirt.
What shoe are you usually wearing?
RC: Rick Owens High Top sneakers.
NA: White Ferragamo sneakers.
What do you own too many of? 
RC: Books.
NA: Sweatshirts.
Facialist of choice:
RC: I jump around, but I go back to Joanna Vargas for a special treat.
NA: Sophia at Aida Bicai — the best facial in New York.
What term in "beauty" is overused?
RC: Anti-aging.
NA: Glam.
What beauty-related reality show, if not invented yet, would you love to watch?
RC: One that celebrates age.
What was the most recent interesting conversation you had? 
RC: With Liz Whitely, of 1% for the Planet talking about the environment and all that's happening now.
NA: With my husband about the scale of the cats in Cats and who on the movie made that call.
What song is usually in your head?
RC: Lady Gaga's "The Edge of Glory."
NA: "Happy Birthday," for obvious reasons.
What would the name of your autobiography be?
RC: Halfway There.
NA: Anxious.
Who would you like to star as you in the film adaptation?
NA: Shia LaBeouf.
Favorite smell?
RC: Nature.
NA: Onions, garlic, and butter frying.
Least favorite smell?
RC: Trash.
NA: The house after cooking salmon.
What must you fix when you see it done incorrectly?
RC: Boxes / Lines / Illustrations / Graphics.
NA: Spelling and grammar.
Favorite CBD product:
RC: Lord Jones Old-Fashioned CBD Gumdrops.
NA: Lowell Farms CBD joints.
What product in your brand's product domain is currently your favorite (understanding that this could change all the time)?
RC: The Body Serum. It is a shot of hydration.
 NA: The Body Serum. I've never been a lotion person, but this hyaluronic acid gel absorbs into my skin immediately — no stickiness — and gets rid of any red bumps or dry patches. It's awesome.
What has been an upside to this crazy time for you? 
RC: New rituals have emerged throughout this for us as a family. We have found our "zones" throughout the day, then in the evening we do a family run with the dog. We cook meals, we do a puzzle, we drink wine (and apple juice), we talk. It feels simple, and simple feels good.
NA: I wouldn't say there's been an "upside," but I have spoken to (and FaceTimed) more friends in the last few weeks than I saw in person in the last six months.
When this is all over, what are the first three to five things you'll do or places you'll go?
RC: See friends, see family, take a hike back up on my state park trail in Topanga, dinner at Matsuhisa, a glass of wine or a cocktail. Get a pedicure, take a low-key restorative yoga class down the street at the local spot.
NA: See all of my friends' new babies, get a haircut at A/D Studio, order a Peloton Tread, and hug my friend Michelle Cespedes, who's a physician at Mount Sinai specializing in infectious disease and on the front lines of the pandemic in New York.