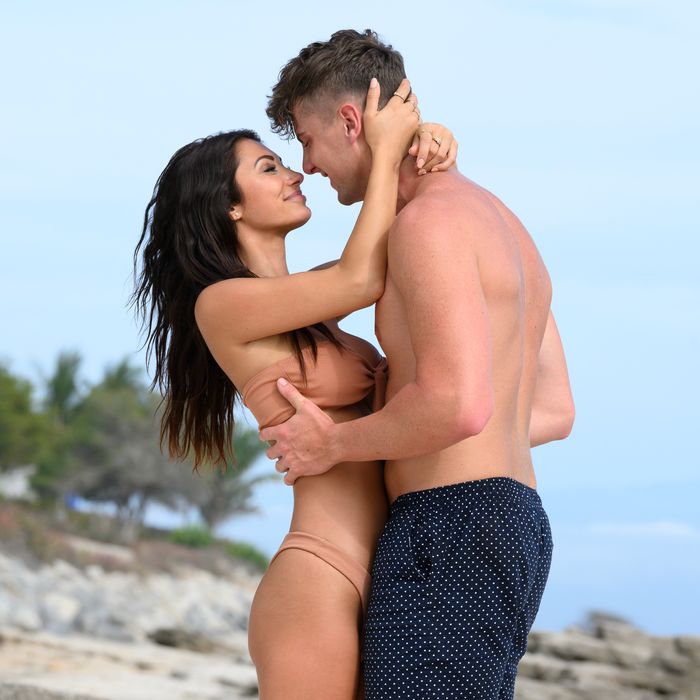 Photo: Ana Cristina Blumenkron/Netflix
Do you ever watch something and wonder: Is this brilliant or terrible, or both? And all you can know for certain is that it's bananas? This is the feeling you'll get when you watch Netflix's new reality dating show, Too Hot to Handle, which comes out today (April 17). Like its previous creations — The Circle, Love Is Blind — Too Hot to Handle is yet another of Netflix's extremely entertaining, deeply deranged, and too on-the-nose reality shows, and will be the sole focus of all of your group chats this weekend.
This time, instead of windowless pods, it sent a bunch of hot, vapid, 20-somethings to a tropical resort for one month. The ten singles are "serial swipers," who we're told have trouble with relationships beyond hookups. They're ready for a month of mirth, but are soon put on a "sex ban" where they can only secure $100,000 in prize money if they don't touch each other: "No kissing, no heavy petting, and no self-gratification of any kind. With every slip, the prize money goes down." An Alexa-like device named Lana is the sex cop, and there are literally cameras in the showers to ensure players follow the rules (spoiler: this doesn't stop them from taking fully naked showers with each other).
In spite of the rules, you can tell from the trailer that most contestants are less interested in the money than they are each other's tongues, which — given the sexless, socially distanced lives many viewers may be living right now — is understandable.
As the the contestants try not to have sex, they are taken through various group exercises that are supposed to help them create deeper connections with people. Most of them are so impressionable that these exercises actually work, leading to some genuinely nice interactions and "transformations" for some players. That said, the sex ban (and an endless supply of Moscow mules) see to it that these earnest moments never overshadow the rampant backstabbing and plotting that go on throughout the show.
If you're still not sold, the first episode alone includes such lines as: "What I'm most proud of is my penis," and "I do mostly go for guys, but if a girl looks just like me, I'm so into that" (same). There's also one guy who ballparks his conquests at "less than 1,000" with a completely straight face.
Like I said, I can't tell if it's brilliant or I really am operating on my last brain cells. All eight episodes are on Netflix now and I'm begging you, please watch it with me: