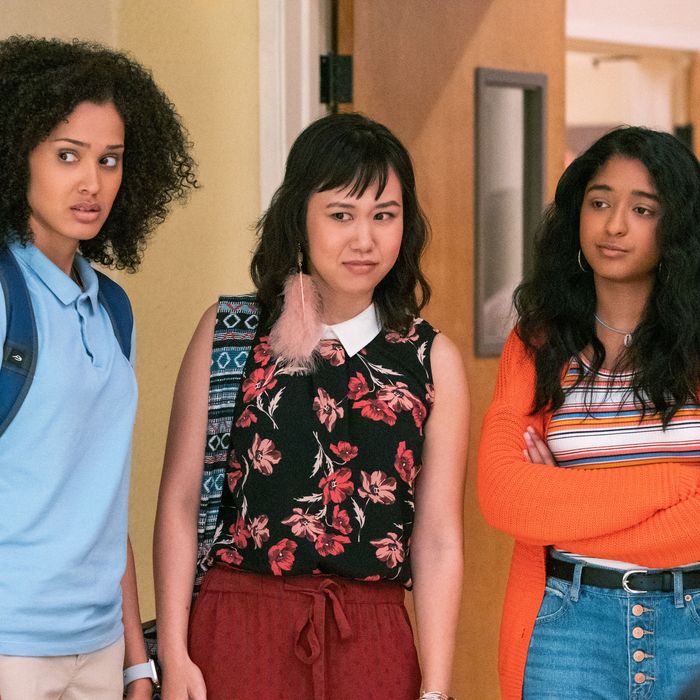 Photo: LARA SOLANKI/NETFLIX
I hated high school so much that I'm hesitant to watch shows and movies about the high-school experience. If I do, I want the stakes to be very low — nothing more intense or stressful than your standard mean girls and makeovers.
This meant Netflix's Never Have I Ever, Mindy Kaling's first foray into the teenage experience, was in my wheelhouse. It tells the story of Devi, a high-school sophomore in Sherman Oaks, California, whose father recently died of a heart attack. Devi (Maitreyi Ramakrishnan) is all chutzpah: She's super smart, has a terrible temper, and is processing her grief in a number of misguided ways, chief among them her attempts to lose her virginity to hot jock Paxton Hall-Yoshida (Darren Barnet).
It's easy watching, in the vein of To All The Boys I've Loved Before or The Politician, and has a cast whose diversity is deliberate: The characters engage — and often struggle — with their non-white identities and cultures. Sometimes, this is subtle, like when Devi wears a strappy dress in a TikTok before her mom drags her away, and she reenters the frame with a white T-shirt underneath it.
Other times, it's heavy-handed, like a story line that involves Devi's "good Indian" cousin Kamala (Richa Moorjani) and an unwanted arranged marriage. Kamala's story has a twist, but I was exasperated by her floral Indian accent (Moorjani is from the Bay Area) and the Western, business-casual fashion tips she purports to get from Good Morning America. It's a tired, overdone stereotype in a show that I was hoping would avoid them.
What's more, Kaling's brand of comedy — off-color and cringey — shines through, and that's not always a good thing. We get moments like Devi imagining Paxton saying she "has the beauty of Priyanka Chopra" or discussing her fantasy boyfriend as a "stone-cold hottie who could rock me all night long" or how chores make her feel like an "indentured servant." There's also a recurring bit about Kamala's blinding good looks, which involves men running into trash cans and walls when they see her.
These things, and other (mostly cultural) parts of the show initially turned me off. It took me some time to acknowledge that — being a young Indian-American woman and watching a show about a young Indian-American woman — my expectations for Never Have I Ever were outrageously high. Kaling, a 20-year veteran of the industry, anticipated this: "What I realized is that because we don't have a lot of different shows depicting Hindu teenagers praying [laughs], it offends people when it's not exactly the way that it was for them," she told the New York Times. "I'm still trying to figure out a way to accept that criticism. Those people who watch the show, particularly young Indian-American women, are the people that I want to like it the most. And they're the ones that are going to be the toughest on me."
And it is hard not to be tough on Kaling, to put the onus on her — as the most successful Indian-American woman making film and television in 2020 — to create things that hit every cultural touchpoint and amend every misinformed stereotype. Part of my frustration with Never Have I Ever (and I think the same could be said for many other Indian people watching) stems from a desire to see in Devi's experience that of every Indian teen in America: wealthy and low-income, dark and light-skinned, Hindu and Sikh, and everything in between. It stems from a desire to see myself, and to be properly represented when I do.
But that's not only impossible, it's not Kaling's responsibility. Perhaps she really did have a Kamala in her life, or once threw a blessed textbook out the window. She should be able to include that, even if it feels like a dumb trope to me. After all, how many writers are there whose entire oeuvre is made up of the same white-centric stories Hollywood has always favored? How many white people have we watched in Devi's place? That's just Superbad, American Pie, Booksmart, and Easy A, and they're just the beginning of what's an interminable list.
One thing I do know is this: It's a good thing that we can turn on Netflix and see a horny Indian girl who's both a nerd and an asshole. I like seeing her get fed up with her culture, but also just with being a teenager, and watching her pray to Ganesha before blacking out at a house party. I haven't seen that before, and while Never Have I Ever will have its detractors — even, or perhaps especially, among those who see themselves in it — it shouldn't have to tick every box to be enjoyable, which ultimately, it is.