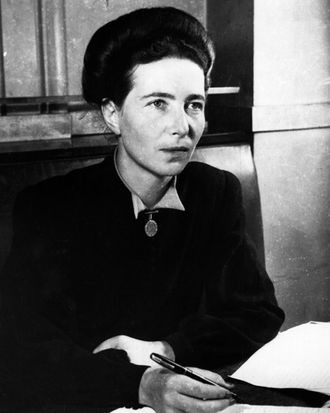 Simone de Beauvoir.
Photo: Hulton Archive/Getty Images
Attention Simone de Beauvoir heads: Come next fall, we'll be able to read one of the celebrated French writer-philosopher's previously unpublished novels. The book apparently follows a "passionate and tragic" friendship between two young women, and is based on one of de Beauvoir's most formative relationships.
In 1954, five years after publishing The Second Sex, de Beauvoir wrote a short work of fiction based on her intense friendship with a woman named Élisabeth "Zaza" Lacoin — who tragically died from encephalitis at age 21 — and then abandoned it. In her 1963 memoir, de Beauvoir wrote that she ultimately gave up on the book after her romantic partner, Jean-Paul Sartre, "held his nose," and his reaction swayed her. Toril Moi, author of Simone de Beauvoir: The Making of an Intellectual Woman, told the New York Times she believes de Beauvoir "judged it insignificant because it was not political." Meanwhile, in its synopsis of the book, the literary agency 2 Seas writes that it was "too intimate to be published in her lifetime."
But now, de Beauvoir's adopted daughter, Sylvie Le Bon-de Beauvoir, has located the book in de Beauvoir's archive, and decided it deserves to see the light of day. This October, Éditions de L'Herne will release the 176-page book, Les Inséparables, in French. The English version will be available in the U.S. and U.K. in the fall of 2021.
Along with telling what sounds like a tragic story of female friendship, the book is also purported to shine a light on de Beauvoir's coming-of-age as a feminist. "Beauvoir's real-life intense, formative relationship with her friend Zaza shaped, in many ways, the woman Beauvoir was to become," according to Vintage, the book's U.K. publisher. "While Beauvoir broke free, Zaza never found a way out."
Sounds like fans of Elena Ferrante have a lot to look forward to.