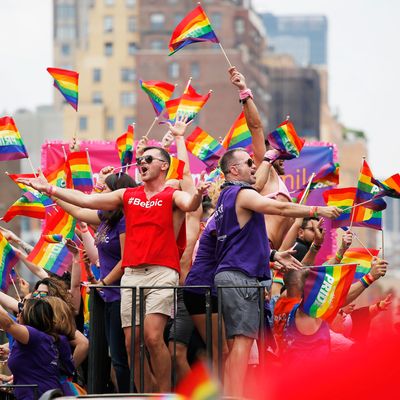 New York City Pride March.
Photo: Kena Betancur/Getty Images
For the first time in its half-century history, New York City Pride has been canceled.
On Monday morning, during a briefing on the coronavirus pandemic, Mayor Bill de Blasio announced that he would be canceling permits for all large events in the month of June, meaning that LGBTQ Pride parades will not take over Manhattan's streets this summer. This decision also affects in-person events leading up to Pride March, which is celebrating its 50th anniversary this year, as well as Celebrate Israel and the Puerto Rican Day Parade.
As de Blasio noted during the announcement, news of the cancellations "probably will not surprise you." After a month of social distancing to mitigate the spread of COVID-19, it's hard to imagine surrounding yourself with even a handful of your closest friends, let alone millions of people — which is the size of the crowd Pride events typically draw every year — in the epicenter of the global outbreak, no less. Nevertheless, the news has been met with widespread disappointment.
But the cancellation of in-person events doesn't mean that Pride won't go on in any capacity this year. After San Francisco, Boston, and other cities called off Pride events earlier this month, InterPride and the European Pride Organizers Association announced that they would be holding a 24-hour, worldwide virtual "Global Pride" event on June 27. "For millions of people around the globe, Pride is their one opportunity each year to come together and feel a part of a community, to feel loved, connected and to know they aren't alone," European Pride Organizers Association president Kristine Garina told LGBTQ Nation. "It's essential this year that as Pride organizers, we ensure there is still the opportunity to connect, even if we are connecting from home."
Come June, there are bound to be countless additional virtual Pride parties that you can attend from the comfort of your own apartment. So download Zoom, turn on the hidden filter that makes you hotter, and maybe hit up Club Quarantine to get yourself in the spirit.