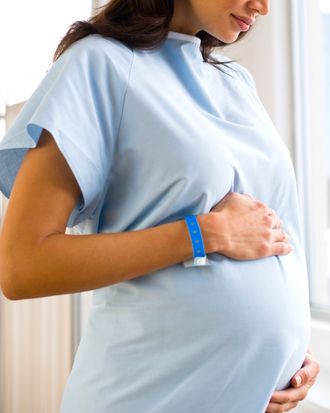 On April 20, New York State launched a task force on coronavirus and maternity.
Photo: Tetra Images/Getty Images/Tetra images RF
New York State launched a new task force on Monday, one that will address maternal health and the coronavirus. Led by Melissa DeRosa, secretary to Governor Cuomo and chair of the New York State Council on Women and Girls, the COVID-19 Maternity Task Force will explore the creation of dedicated birthing centers in an effort to ease the burden on hospitals. With New York as the national epicenter of the coronavirus pandemic, overwhelmed hospitals have faced shortages of equipment, beds, and staff, particularly in New York City.
"This pandemic strained our hospital system in a way no one could have ever imagined," DeRosa said in a statement, emphasizing that "we can and should explore additional ways to make the experience less stressful" for people giving birth in the middle of a public-health crisis.
Late last month, two major New York hospital systems — NewYork-Presbyterian and Mount Sinai — announced that, as a precaution, people giving birth would not be allowed to have a support person in the room with them. NewYork-Presbyterian reportedly settled on the policy after two asymptomatic pregnant patients exposed dozens of staff members to the virus, ultimately landing in the intensive-care unit themselves. Officials said banning partners from the delivery room was "a very difficult decision and not one taken lightly," but of course, the prospect of giving birth alone left many people anxious. "I was a nervous wreck," one woman affected by the measure told the Cut.
Cuomo intervened within the week, issuing an executive order permitting anyone giving birth one support person on-hand. (Provided that person does not have a fever.) Still, some new parents have reported fraught hospital deliveries: One Brooklyn mom recalled being immediately separated from her newborn, and it appears some confusion lingered over the status of support partners even after Cuomo's order.
In addition to authorizing and certifying dedicated birthing centers, the task force will look into the effects the coronavirus has on pregnancy. Members of the task force include Christy Turlington Burns, model and founder of Every Mother Counts; Christa Christakis, executive director of the American College of Obstetricians and Gynecologists, District II; as well as experts in obstetrics, pediatrics, and family planning. It expects to make its birthing-center recommendations to Cuomo by the end of the week.