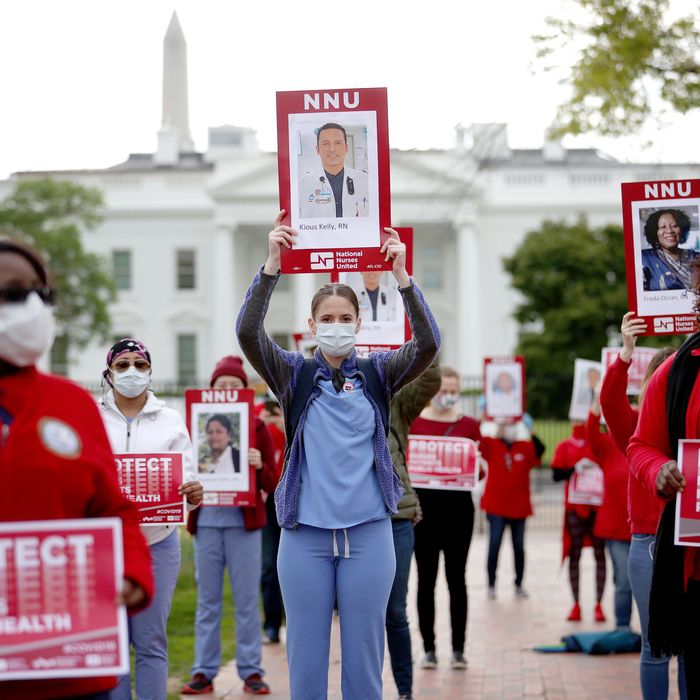 Photo: Win McNamee/Getty Images
The nation's nurses are rising up. On Monday, more than a dozen filed lawsuits against the New York State Department of Health and two area hospitals, alleging that lack of adequate personal protective equipment, among other failures, put their health and safety at risk. This morning, more nurses gathered at the White House to call attention to the thousands of health-care workers infected by the coronavirus, and to demand action from Congress and from Donald Trump.
Deborah Burger, president of National Nurses United, the union that coordinated the White House protest, told the Washington Post that nurses are "tired of being treated as if we are expendable." "If we are killed in this pandemic," Burger said, "there won't be anybody to take care of the rest of the sick people that are going to come." According to the Centers for Disease Control and Prevention, over 9,000 health-care workers have tested positive for COVID-19, but many experts say that figure is likely a gross undercount due to ongoing testing shortages.
In affidavits submitted by nurses in the lawsuits, filed by the New York State Nurses Association, they describe being given paper bags in which to store masks, with little guidance on sanitization. If they fell ill, they claim, the health department told them to come into work within seven days, despite guidelines that said two weeks. They also described being denied access to protective equipment like head coverings.
One nurse said the hospital that employs her "informed me that as long as I did not have a temperature greater than 99.5, I would be expected to return to work within seven days of when I first began experiencing symptoms, even if I still had symptoms of COVID-19 on the date of my expected return." At another hospital, a registered nurse said she treated a possible coronavirus patient wearing only "a cloth … permeable gown and gloves" in the early weeks of the outbreak. She says only learned from co-workers that the patient later tested positive for the virus, and she was not notified by hospital management of her possible exposure. She said that even after she was exposed, she had difficulty accessing PPE and felt pressure not to speak to the media.
The New York State health department said that it could not comment on pending litigation but released a statement saying it was "deeply grateful for the ongoing efforts of New York's health care workers to reduce the spread of COVID-19 by testing people who may be infected and treating those who are most in need." The Westchester Medical Center Health Network said the allegations in the lawsuit were wrong, as did Montefiore Medical Center.
At a separate protest in front of the White House on Tuesday morning, nurses somberly read aloud the names of other nurses who had died of the coronavirus and carried posters with their photos. National Nurses United estimates that more than 100 nurses have died from COVID-19. "We are here because our colleagues are dying. I think that right now people think of us as heroes, but we're feeling like martyrs," a participant told NBC News. One sign read, "20 seconds won't scrub 'hero' blood off your hands," a reference to tweet from Trump calling health-care workers "American heroes." NNU is asking Trump to use his authority under the Defense Production Act to order the mass production of PPE, ventilators, and testing kits, and for Congress to mandate the action.
"What the COVID-19 pandemic makes clear is that our inefficient, profit-driven health care system is ill-equipped to respond to public health crises," New York State Nurses Association president Judy Sheridan-González told Politico of the lawsuit. "And it's costing countless lives."