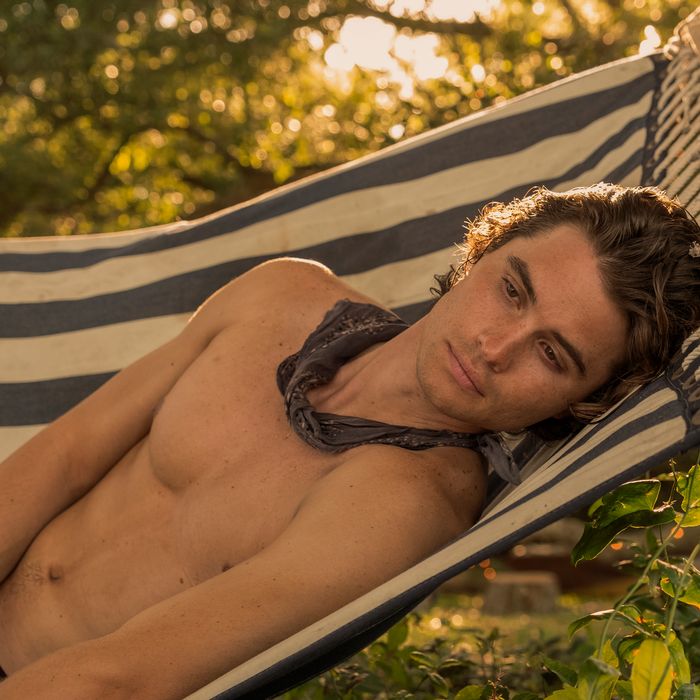 Photo: Curtis Baker/Netflix/
A soapy teen beach show is not one of those things I'd normally seek out, but you want what you can't have, and I'd kill for a PBR-soaked summer surrounded by shirtless hot people right now. If that's you, too, let me talk to you about Outer Banks, a YA drama that premiered on Netflix this week.
The show follows a group of attractive teens spending a summer in North Carolina's Outer Banks. Things are all keggers and fishing until, one day, our teens stumble across a dead man's capsized boat and their summer takes a dark, murder-y turn.
The head teen is John B (played by Chase Stokes, who looks like Justin Bieber with better bone structure), a sun-kissed surfer boy who never wears a shirt. After his dad mysteriously disappeared at sea, John B started living alone. John B's accompanied by his band of misfits: JJ (Rudy Pankow) is hostile and dumb, and Pope (Jonathan Daviss) is his sensible foil. There's also Kiara (Madison Bailey), a hippie girl whose main thing is being the only squad member who isn't destitute.
The show gestures toward class struggle: John B introduces the Outer Banks as a place where "you either have two jobs or two houses." The children of local blue-collar workers — including John B and his friends — are known as "the pogues." "The kooks," meanwhile, are their sworn enemies: children of the wealthy second-homers, distinguished by their preppy daywear and blonder hair.
This distinction drums up some tension, but it never threatens to overwhelm the pulpy murder plot we're promised in the first half-hour of the pilot. The main point of this show can be summed up in a single sentence: Good-looking, shirtless teenagers attempt to uncover treasure, and in doing so get mixed up in a murder mystery. From what I've seen so far, Outer Banks doesn't get much deeper than that, and if that's okay with you, I'd say crack open a cold one and let it sweep you away.