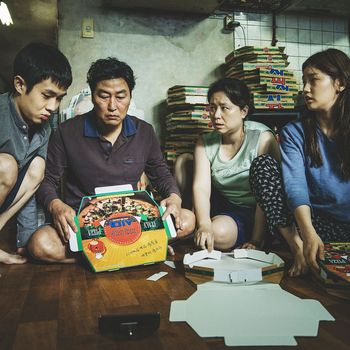 I've been known to miss out on big pop cultural phenomena. Sometimes it's because I just don't get it (as was the case with Harry Potter) or because I was jealous (early-aughts Cameron Diaz). Right now I'm refusing to watch Schitt's Creek, which I know I will one day be into yet can't help but feel annoyed by. So if you somehow still haven't seen Parasite, which took home the Oscar for Best Picture and was easily the biggest film of 2019, I get it. But lucky you — the movie is available on Hulu starting today, and what better time to first experience its brilliance than right now?
While it might be easy to write off Parasite because of all the glowing things people said about it, it's one of those pieces of art that might be even better than people say. Written and directed by Bong Joon-ho, the genius behind dystopian films like Snowpiercer and Okja, Parasite is about the Kims, a lower-class family struggling to make ends meet doing odd jobs. A friend of their eldest son helps him land a gig tutoring the teenage daughter of the wealthy Park family. Once he's fully enmeshed in the wealthy family's day-to-day, the son begins to get the rest of his family involved in scamming the Parks through various jobs that they aren't qualified for.
If you don't know anything else about the premise of Parasite, you shouldn't. What transpires is a thrillingly original film experience that really has it all — incredible performances from a stacked cast (although Park So-dam is a real standout), aesthetic perfection, and a suspenseful plot. But what makes Parasite so special is its shrewd take on class warfare. And what felt timely about it in 2019 will feel completely maddening now. I don't know about you, but I'd rather feel blinding rage at capitalism than bored numbness. Somehow Parasite captures all that and more — a masterpiece that more than deserves every ounce of hype it got.