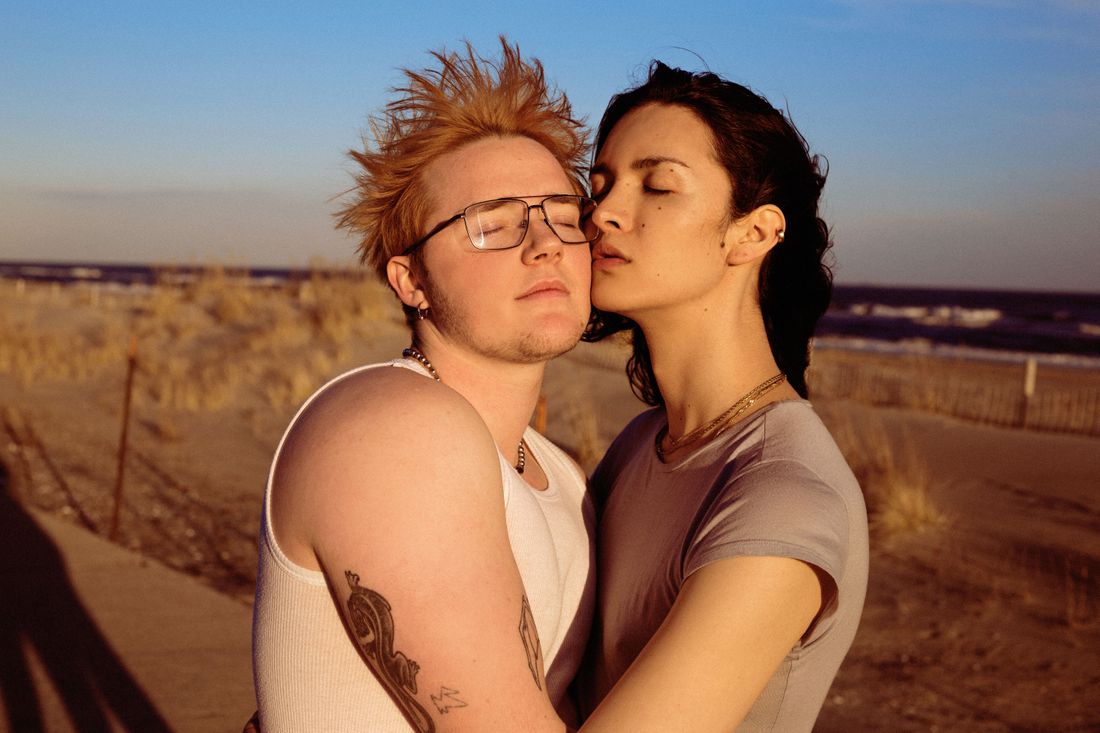 Lia Clay Miller:
"I took this portrait of my friends Cloe and Max on the last day before we all went into Quarantine. A group of my friends who live close to me decided to go to the beach one last time before we all separated. There was an almost surreal quality to it — like we all knew that life was going to be a lot different in the coming months. Since my husband is an essential worker, we've been abiding a strict quarantine, and have been social distancing even from small groups. It helps to be able to text one of my friends, and ask how they're doing. We all committed to staying here, we're all New Yorkers. There's something empowering about experiencing this together, even at a distance."
Photo: Lia Clay Miller
The Cut moved offices in January, and we were just getting settled into the new place when the pandemic hit. The space has been closed for upward of six weeks now. If you were to get in somehow, it would feel empty and half-decorated, full of wilting plants — but the conference room would still be bursting with life, because it's lined with images by our favorite photographers, pasted directly onto the walls like in a teenager's bedroom. In meetings or on phone calls, you can glance around the room and be transported to different worlds over and over again.
In the spirit of being transported, this week we're featuring the work of 38 of those same photographers as they navigate the new realities of COVID-19. Senior photography editor Liane Radel asked them to send images that express their experience somehow, accompanied by a few words on what they're seeing, fearing, and dreaming about during this unprecedented moment.
We're all living in our own little worlds now, but we hope this gives you a chance to leave your own space and enter someone else's.
Elizaveta Porodina: Now that my life as I knew it has come to a sudden halt, I feel the urgent need, more than ever, to keep thinking, creating, moving, connecting with everything that surrounds me. Things that I love beyond explaining and reason — human contact, sunlight and the beauty of nature — are reflected in my contribution.
Olivia Bee: In these times of deep darkness I have been most inspired by growth.
Ryan Christopher Jones: I have covered the COVID-19 pandemic in New York City as a photojournalist nearly every day for five weeks, so my quarantine is a bit nonexistent. My days are spent photographing New York's harsh new reality: overflowing funeral homes, social-distance mourning, shuttering businesses, morgues, crematories, hospitals, and all kinds of economic devastation. My nights are spent trying to process the day's brutal events, trying to find a semblance of peace. Last night I looked over to the window from my desk and saw this soft, colorful scene: A purple UV light sanitizes an N95 mask I wore while on assignment earlier in the day.
Cheryl Dunn: I have to spend too much time on screens and I'm too hyper to meditate. I started puzzling as a joke, then secretly got really into it. But I found out I have lots of friends that are puzzlers. It's a thing. If you have done all your puzzles, I suggest puzzle passing — responsibly!
Daniel Dorsa: During the past month of quarantine, my partner and I have been vigilant about staying indoors and really trying to make sure that we only go out in public for real necessities. Our roof — with its city views and the excitement of the 7 p.m. cheers from neighboring roofs — has been our only safe outdoor escape.
Campbell Addy: I hope that when these anxious times have passed these images will serve as a placeholder to remember that stillness is also life, and that chaos can birth beautiful ideas.
Agnes Lloyd-Platt: I've found myself settled by the cocoon of quarantine, by the haze of meandering un-productivity, where time shifts and slides through day and night, and finds me at the end of the week before it's begun.
Mark Ronson: This is Music & Video Exchange, one of London's most durable used record shops. The window is dressed as sardonically as one would expect from them. London is odd right now. The roads are eerily quiet, but if it's a sunny afternoon, the parks still feel joyful. People just keep a little more distance. I always feel like I'm betraying NYC when I'm not there in the middle of a catastrophe. I was there for 9/11 but not Sandy, and it was odd. I miss the solidarity of New Yorkers during crisis. I check in on friends and family daily.
Jake Stangel: I think we're all going through modified stages of grief, week by week. Last week was reflection and guilt and sadness; this week I seem to be on acceptance and hope. I'll take it. It's gotten me more engaged with the betterment of my community. I'm volunteering once or twice a week at my local food bank (SF-Marin Food Bank). The need is high: The line for groceries they were offering in Chinatown wrapped around four blocks last week.
Charlie Engman: As an artist with freelance income, I am used to prolonged periods of non-earning and making things in private isolation, so the current circumstance is strange in both how familiar and how unfathomable it feels. As luck would have it, my first book, MOM, a collection of work I've been making with my mother for over a decade, was scheduled to debut this month. My mom lives in Chicago and I live in New York, so we were forced to celebrate together over FaceTime. Separated togetherness — a weird but apt metaphor for family, I guess!
Ester Grass Vergara: Navigating coronavirus is a balancing act for a lot of people: working, studying, and parenting. For others it's a time to slow down and reflect. Being homebound might feel uncomfortable at first, or even boring. It was for me. But in many ways these constraints and this newfound boredom will spark creativity. This is a time to let your mind wander freely and open yourself up to fresh ideas and insights. When you have less to work with, you actually begin to see the world differently.
Morgan Hornsby: Last month, my university switched to online classes and I moved back in with my parents in Eastern Kentucky. Though it feels like a regression, I am especially grateful for the ways my mother and I have been taking care of each other. We take turns putting coffee on in the morning, share meals, and both pitch it to homeschool my younger siblings. In this photo, my mom braids my hair in our bathroom.
Andre Wagner: I don't really have much to say. I am grateful for life.
Stephen Kent Johnson: It's been a long time since I've cooked three meals a day. I'm fortunate to have a well-stocked larder, and have liked flexing those cooking muscles that had gotten pretty weak (or were never there in the first place.)
Djeneba Aduayom: These are challenging times for all of us. In a way, the world stopped running. My hope is to look forward to the future and come out of this crisis as a better human.
Adam Kremer: I'm extremely lucky to have this time of isolation in upstate New York with my girlfriend Eva. A central focus of my practice is documenting place by building from life with found and intentionally collected objects, so existing in a new location works for me. I've spent the last month of isolation in an emotional space I'm often chasing — a clear translation between emotional response and photographic process. I'm simply grateful for the act of feeling.
Nadine Ijewere: The term "togetherness" has changed for me over these last few months, as we fight this virus by reducing physical contact. We are all united in this battle through isolation. It's very alien to me, having to be apart from even my family. This image gives me hope for the time when we'll be able to be together again.
Emily Soto: My thoughts are continually shifting between cherishing this pause with my family and wondering what the future holds for us. I believe we will all come out of this stronger with a greater appreciation for life, community, work, and our normal everyday freedoms.
Erik Tanner: My sense of home is rooted in the textures, sounds, and smells of my grandmother's house, a horse farm about 45 minutes outside of Little Rock, Arkansas. The morning light there spills into her kitchen, illuminating a large wooden farm table flanked on all sides by brown wallpaper depicting birds carrying sticks for nesting. The house has always been a place of warmth, but also a sort of mystery. Her shelves are lined with books in German and Danish text, paintings, objects and photographs, serving as hidden monuments to the multitudes contained within a person. This photo is about escaping to the version of my grandmother's house in my mind, trying to capture the feeling of warmth that I feel when I am sitting with her in that kitchen, sharing a morning coffee.
Devin Doyle: I've been tucked away upstate with my girlfriend for nearly a month now. You become attuned to things when two people coexist the same place for so long: the way your routines find resonance or dissonance, the way they occupy space, the way they leave it. The sounds their bodies make. Little changes in hair, breathing, skin. I've learned Christina eats crumbly things on the couch without a plate. Without a plate! Plates are free. They're right there on the shelf for the taking. You can just brush it off and put back on the shelf when you're done; no need to even wash. She would counter that I leave my disposable contact lenses around the house when I take them out.
Maxime Cardol: As the days go by, I'm starting to feel more at ease with this situation. I try to let creativity flow naturally, instead of forcing myself to create and be visible. Slowing down can open up our minds and let us think about how we can play our part in this beautiful world.
Gabriela Herman: It's generally always chaos here — juggling a 2-year-old and a 4-year-old — but especially so now that we're quarantined and the neighborhood is empty. I try to think about the silver linings: I'm grateful to spend so much time with my family, cooking so many delicious meals and, for once, it feels like the parenting duties are split 50-50 with my husband. The lack of professional work has also been a good excuse to focus my camera on the kids and dive back into the self-portraiture that occupied so much of my life in my 20s.
Lily Cummings: I came to Greece for a four-night trip that has now become six weeks. I was visiting from my home in Berlin when the bars and restaurants closed. The next day, the Greek government requested 14 days in self-quarantine for all travelers to Greece, and by the time my 14 days of quarantine were up, there were no flights back to Berlin. I met Alison and James, a British couple, my first day here. They have been such a lifeline. They send me any news that might be useful and stop by once in a while on their walks to drop off food and books. It's easier for me to be alone knowing that if something were to go terribly wrong, I could reach out to them. Social distancing doesn't have to mean living without affection and friendship.
Micaiah Carter: The boy in this photo reminds me of myself as a kid waiting for my dad to cut my hair in the kitchen. An optimistic moment of solitude, I would call it. I'm trying to find more of those.
Chris Shonting: Some of New York City's best qualities are the easiest for a New Yorker to forget. We move so fast through our days climbing over people that we often miss the gems this city is offering us. This photo is of hilarious acrobatics in Washington Square, before the lockdown started. Donations suggested, of course.
Alice Mann: My younger sister Jane and I are currently on lockdown together at my parents' house in a small village called Stanford in South Africa. Growing up, we didn't really get on. We are very different people, so even as adults spending so much time together has not been easy. Recently I asked if I could take her portrait. I realized that this was the first time I have ever taken a photograph of my sister, and it was amazing to see how calm and natural she was in front of the camera. I am grateful we were able to collaborate through the act of making this picture, and I think she looks very beautiful.
Talia Herman: This picture of my partner and our 3.5-year-old daughter was made in the early days of staying inside. It was this weird mix of slow-moving dread and the gentleness of home. Unlike with the fires in California, our home is a safe place to seek refuge, and for that I'm thankful. RIP Alby Kass. Us Herman kids loved your heart and your song.
Graydon Herriott: We've been taking time. Acknowledging the luxury of that — time to finish a puzzle, to make cookies, to notice the change of season, to appreciate what before, we took for granted. And of course, eating a lot of toast.
Stella Berkofsky: I've been spending some time editing photos from my trip to India in February and March. Feeling very lucky I was able to be there again before we went into lockdown and considering how privileged we are to be able to self-quarantine when many cannot. Taking time to read and garden, watching spring arrive. Feeling optimistic for all the change that is to come, and embracing what is.
Shan Wallace: Some days I am so hopeless and then other days I'm hopeful. My homie Eric asked me why am I hopeful. I pondered on this for hours. I needed to get to the root of this hope. I told Eric, "My cup of hope isn't too full, but I come from ancestors who taught me to be hopeful and that I am — we are — their manifestations of hope. We've listened to their testimonies of turning scraps into soul food, their testimonies of survival. They instilled hope in us."
The hard-working cashier at Trader Joe's, the self-checkout staff member at Ralphs, the stranger six feet away from me in the grocery line, my brilliant artist friends and lovers, Eric — they assure me that I am not alone, and I am grateful.
Catherine Servel: Walking along this tiny, lost beach in Costa Rica, my husband and I happened upon this fascinating local guy who rehabilitates horses. He barely spoke English and we barely spoke Spanish, but we all wanted to talk so we communicated nonetheless. I've been thinking a lot about this moment lately: Mother Nature returning back to herself with the world slowed down, a happenstance encounter on the beach, this strong, gorgeous mare who has lived to see good days and bad … how nature finds its way.
Alice Zoo: When I'm not busy feeling confused and overwhelmed, I've enjoyed passively learning about garden birds, getting fresh air whenever I can, and looking at my friends' pictures of their homemade bread. I've also found that all this time at home has shifted my focus, and I'm finding photographic subjects where I didn't notice them before, and using whatever materials and tools are to hand. It's felt good to be playful.
Sophia Wilson: My little sister Izzy is the most chaotic, energy-filled 15-year-old but I love her to death. I am so grateful that she lived with me in my apartment in the Lower East Side for a week earlier in the quarantine.
Lula Hyers: During this time of social distancing, I've been attracted to small worlds. Maybe a footprint after the bath, or a collection of tea leaves left at the bottom of the mug.
Ruvan Wijesooriya: Orthodox children wearing medical masks because of COVID-19. I shot thiswhile walking my 2-year-old around the block in Bed-Stuy the day before Passover. The emotional cost of the pandemic isn't talked about nearly as much as the financial one because it cannot be measured. My heart goes out to those who have lost, are losing, and will lose loved ones.
Sasha Lytvyn: At a time when I'm restricted by the current isolation and limited from photographing people, I use this situation to challenge my mind and experiment with the silhouette of the human form in various expressions.
Landon Nordeman: When things began to escalate in New York City, my wife and I and our three sons left our apartment in Manhattan and drove out to Long Island to stay with my parents. We didn't know how long we would be there, but we felt it would be the safest place. I've lived in New York for all of my 45 years, and the last few weeks have been one of the strangest stretches of time I can ever remember. Navigating life in the city can often feel like a solo endeavor, but being together day after day has given us a genuine sense of unity and even joy — despite the future being so uncertain.
Once we got settled, I started photographing the daily arc of having three young sons at home. Photographing my family has given me a renewed sense of purpose. Already as I look at the pictures, when my boys are asleep at night, I can't help but feel immense gratitude to be alive, here and now, in this place — without expectations. I've never been so happy to bring my work home. And I've never been so grateful to have one.