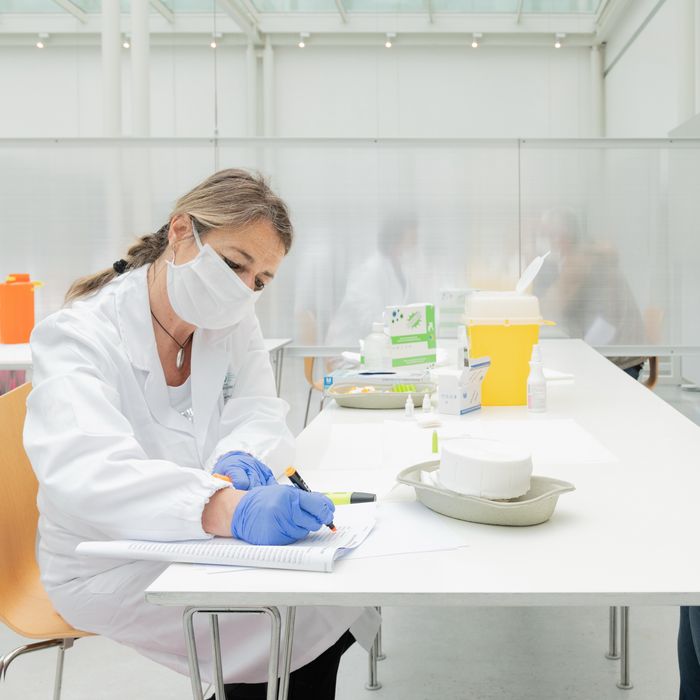 Photo: ANNA CATALANO /Courtesy of Prada
On Thursday, Prada announced the return of around 300 employees to its Arezzo factory in Tuscany, where the brand's leather goods, apparel, and footwear are all produced. To ensure the safety of these workers, the company has gone to unprecedented lengths, investing in enough antibody and viral kits to test employees every month for the coronavirus.
For starters, the brand put into place a number of new regulations, such as reduced hours, or hours split up over multiple shifts, to ensure adequate social distancing. Staffers will have their temperature taken upon arrival each day and provided with personal protective equipment (gloves and masks) to wear throughout their shifts. Hand sanitizer will be available at all workstations, and rooms will be sanitized twice daily. The staff canteen, however, will remain closed for the first few weeks after reopening.
To really cover its bases, though, Prada is also the first Italian company to practice "double screening" of employees, meaning carrying out serological testing, or antibody testing, on all employees once a month on the premises. Those who test positive, meaning they have the coronavirus antibodies, will also receive a viral test on-site, and their family members will have to undergo the double-screening process as well. This will all be done in collaboration with the Careggi hospital in Florence.
Prada is paying for these tests in full — about 1,000 of them per month, as of now — as part of a commercial agreement with A. Menarini Diagnostics, an Italian pharmaceutical company. It's a significant investment, but one Prada clearly hopes will offset the losses incurred by long-term closures.
If all goes well, Prada factories in Umbria, Marche, and Veneto will partially reopen next, followed lastly by the collection and sample-making workshops in the Milan headquarters. According to the brand, the Tuscany factory is "essential" for developing the company's forthcoming collections, so let's hope that Raf Simons and Miuccia Prada's debut collaboration is on the way.