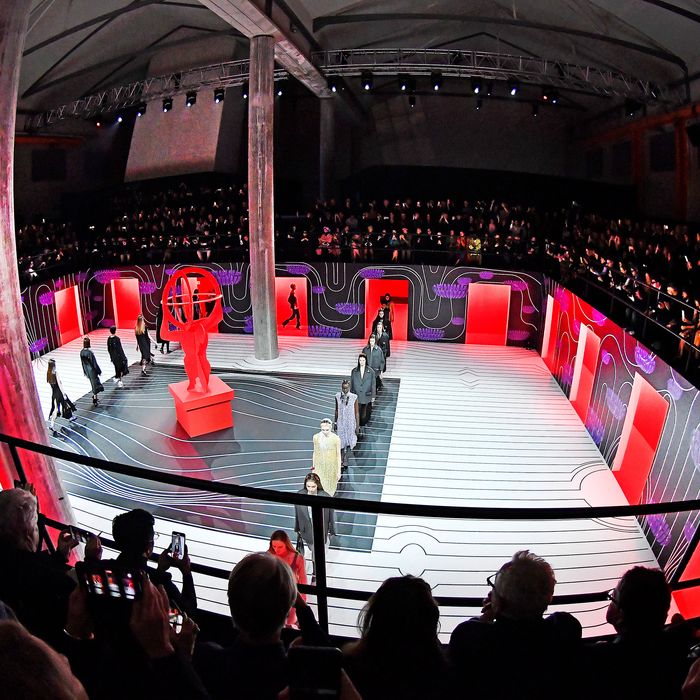 Photo: Victor Virgile/Gamma-Rapho via Getty Images/Victor VIRGILE/Gamma-Rapho
One of the ironies of social distancing is that conversations about the future feel more crucial than ever, and yet we can't gather to have them in person. Prada is trying to fill that gap with a virtual discussion series called Possible Conversations, which debuted on Instagram Live this week. With each livestream, the brand will also donate to UNESCO to support education.
Each episode will feature cultural leaders across fashion, architecture, art, cinema, psychology, and philosophy. The series kicked off with Pamela Golbin, author, curator, and artistic director of Jacquard x Google Arts & Culture Residency, and Alexander Fury, fashion features director of AnOther Magazine and men's critic of the Financial Times. The topic: "Fashion in Times of Crises."
To make sense of the present, the two looked back on the way the fashion industry endured the 20th century's economic crashes and world wars. Fury argued that times of crisis allow for a "breaking down of old ideas and making a vacuum to let new talent come through," citing the emergence of designers like Jonathan Anderson and Christopher Kane amid the 2008 recession. Golbin also found reason for optimism. Fashion is constantly responding to change, she said, and the coronavirus pandemic will require it to to reinvent itself and look forward to the future.
One casualty of change might be extravagant runway shows. Before the rise of digital media, they were a key way for designers to communicate their collections. But now they're largely done for the spectacle, which includes enormous audiences of editors, buyers, press, influencers, and celebrities. "We knew already that we were getting too big," says Golbin. "I can't imagine having a fashion show with 1,500 people all gathered together. Do we need to simplify a way of communicating these ideas?"
Although Golbin and Fury offered a lot of educated guesses in answer to their questions, the future of fashion is very much up in the air, which can feel unsettling. But one thing is certain: This is a moment of reset. "All of this is a natural evolution. Fashion is always evolving with our society," says Golbin. "There's so much to change. What will be the priority will be something that we'll be seeing in the next months to come."