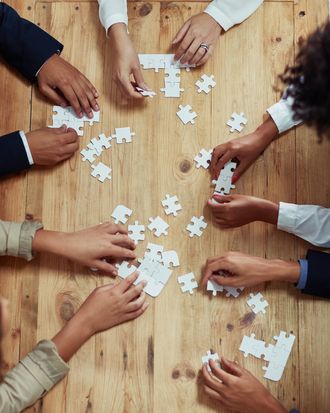 It seems rabid puzzlers are working in concert to quickly deplete the world's supply of that which they love most, that which keeps them up at night, that which leaves their fingernails broken and bloodied from endless hours spent searching for just the right little fuckin' shape within a box of other little fuckin' shapes, as if that is fun: puzzles.
The crazed lot!
In a recent story for the New York Times, puzzle-makers lamented their current fate, tasked to supply those social distancing with boxes upon boxes of their one source of joy, no matter how boring that source of joy (puzzles) is. The demand for puzzles, the Times states, "surges past Christmas levels."
Ravensburger, a German puzzle company, told the Times that its sales have surged but that it is difficult to keep up with demand, as each of its puzzles takes several weeks to produce. What follows in the Times piece is a description of the steps necessary to create a new puzzle: workers drawing each puzzle shape by hand, the shapes being sketched and draped over the image, the puzzle-makers shaping pieces of metal into an "elaborate cookie cutter" in the shape of the pieces, the metal having to be sharpened after a set number of uses, etc., etc.
Charles King, the director at Jigsaw Puzzles Direct in northeast England, says the company is attempting to fulfill thousands of orders a day with inventory running low and that he worries about the strain this will put on customer service.
Joe Rushton, the director of another retailer in the north of England, called Yorkshire Jigsaw, said his company is receiving what would typically be a month's worth of orders every single day and is, at this point, "pretty much cleaned out."
Puzzle fans, you maniacs. You fiends! Give the puzzle industry a break! Pick a different chore, a different mind-numbingly dull way to spend your afternoon — for the good of the puzzle-makers!