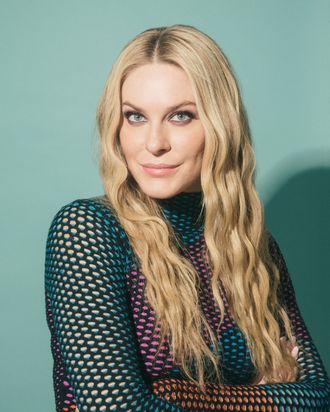 Leah McSweeney.
Photo: Eric Helgas
Leah McSweeney's internet connection doesn't always come through in the Hamptons. The streetwear designer, and newest cast member of Bravo's The Real Housewives of New York, drove up there in mid-March, because she didn't know if she was "mentally strong enough" to handle the coronavirus outbreak in New York City.
"I was getting dressed in my apartment, and looking out and seeing Broadway empty, and seeing New York like that … I'm like, this is really gonna be bad for me," McSweeney tells me over Zoom, sitting in bed, hunched over her computer in a pale pink sweater, gold hoops peeking out from behind her curtains of long blonde hair.
When we talked eight days ago, there were just over 20,000 confirmed cases of the novel coronavirus and counting (a week later, the number is over 50,000), and the economy had begun its free fall. The city's wealthy, Housewives and others, fled en masse to their weekend and summer homes. Dorinda Medley decamped to her house in the Berkshires (the one where Bethenny Frankel called Luann de Lesseps a "whore" in season eight); Ramona Singer left to do unspeakable things to a toilet at her ex-husband's place in Boca Raton; Luann de Lesseps also made it to the Hamptons, practicing her cabaret routine; and Sonja Morgan, according to the Daily Beast, was at a spa in California doing colonics. McSweeney has mostly been watching Tiger King with her 12-year-old daughter.
Under normal circumstances, these women would be coming together this week to celebrate the premiere of the show's 12th season, which airs April 2. Instead, they're checking in on each other from afar, and sharing articles about the coronavirus on their cast group chat. It's all very sweet, McSweeney says, which is a little out of the ordinary. Just a few weeks ago, there was drama in the text messages about the premiere party.
"Sometimes people wonder if this shit is fake," she says about the cast's constant, internecine conflicts. "It's not. It's happening when the cameras are not rolling, it's happening 24/7. It's 100 percent real."
For over a decade, The Real Housewives of New York has documented the ever-shifting rivalries, alliances, romances, cosmetic surgeries, and legal woes of its carefully coiffed cast, none of whom are even married anymore. McSweeney herself is single, and at 37, younger than most of her fellow cast-mates who are in their 50s and 60s. Still, being a Real Housewife is a position to which she seems preternaturally well-suited. With her dripping New York accent, Barbie looks, and enthusiasm for confrontation ("I don't care, I'm going to name names," she shrugs at one point, before telling me about some "fuckery" she had to deal with from a stylist back when she was working as an assistant) she's a reality producer's dream. When the first event at which she met most of her fellow cast mates devolved, as so many Real Housewives events do, into a wine-fueled screaming match, McSweeney wasted no time in stoking the flames. "How are you gonna let her talk to you like that?" she whispered into the ear of eyelash extension designer Tinsley Mortimer as Dorinda Medley yelled at her, before finally taking matters into her own hands and asking Dorinda herself, "Why are you acting like this?!"
"I thrive in chaos," she explains proudly. "It's part of being a good Housewife. Like, you better love chaos and conflict, because it's part of the show, and it's part of the dynamic between the women."
Though she had been a fan of the The Real Housewives of New Jersey and Beverly Hills for years, it wasn't until she was cast that she started to catch up on New York, an experience she describes as "not that enjoyable," in part because she couldn't do it while stoned. "Watching it while stoned I would start freaking out. I would have to turn it off."
This is not McSweeney's first venture into the Bravo universe. In 2010, she appeared as a client on The Millionaire Matchmaker. In the episode, Patti Stanger, the matchmaker, repeatedly criticized McSweeney for her "masculine energy," and ultimately, McSweeney blew off the guy Stanger set her up with — a man named Will, who wore a newsboy cap on their date to Coney Island — because she and her daughter's father, Alife founder Rob Cristofaro, had decided to try to work things out.
She and Cristofaro aren't together romantically anymore, but they're very close, and he's still a big part of McSweeney's life — he makes his own appearances on this season of The Real Housewives. The two have dinner with their daughter as a family three times a week, and it's his house she's staying at in the Hamptons. This dynamic can complicate her dating life, but McSweeney hasn't been dating much anyway because she's busy, and she finds relationships "oppressive." (It doesn't help that she was kicked off the elite dating app Raya in 2017, after complaining on her podcast about the time she matched with Saturday Night Live head writer Michael Che.) She's open to finding love, though, preferably with someone conventionally attractive.
"I was into dating ugly guys for a minute, because I was thinking this is how you find a guy that treats you better," she says, after disappearing from the screen for a minute to find a computer charger. "But now I'm like, no, guys all turn out to be annoying, so why not date a hot one?"
When she appeared on Millionaire Matchmaker, McSweeney, then just 27, estimated her net worth to be somewhere between $2.5 and $3.5 million. She amassed most of her fortune from her women's streetwear line, Married to the Mob, a name she came up with because she used to call herself and her friends the "Most Official Bitches" and because for a while, she was living off Cristofaro "like a mob wife." The company makes T-shirts, beanies, and socks that say things like "Bitch" and "Face It You Basic" and "Coke Henny Rose." McSweeney founded the brand in 2004 with the help of Cristofaro, and a $75,000 settlement from the New York City Police Department that she was awarded after a police officer punched her and threw her down into a subway grate during a physical altercation on July 4, 2002. "It was horrible," she says, but adds that at the time, it felt par for the course.
McSweeney was born in New York, but moved to Connecticut with her mom when she was 13, after she was expelled from Manhattan's elite, all-girls school Convent of the Sacred Heart. (The same school Dorinda and Ramona sent their daughters, incidentally.) It's unclear why, exactly, McSweeney was expelled — "it was actually total bullshit," she assures me — but the move was traumatic. In Connecticut, there was an incident, one McSweeney doesn't want to talk about before the show airs, because she and her mom have a come to Jesus moment about it this season. "I was a juvenile delinquent," she says. She was so used to getting in trouble at the time, that "getting beat up by the cop that night, and getting arrested, it didn't feel that traumatic. It was just another night."
Still, the incident was a wake up call for her. In the cell that night, as she did sit ups and waited to appear before the judge, McSweeney says she told herself, "Leah, this is fucked up. It's Independence Day, you're locked up, your life's a mess. You need to get your shit together big time."
Married to the Mob went on to be a huge success. Rihanna's worn it, as have Fergie, Little Kim, and Lady Miss Kier. The line has also collaborated with brands like Kangol, Colette, and Nike. And while she's done well financially, McSweeney feels she doesn't get as much credit for her success as other, male-dominated streetwear brands. "There's no other guy brands in the streetwear world that have done as many collaborations as me, except maybe Supreme, and maybe Kith," she says. (McSweeney was sued by Supreme for $10 million in 2013, after the brand accused Married to the Mob of ripping off its signature design with their line of "Supreme Bitch" paraphernalia. McSweeney, in turn, accused Supreme of trying to silence her. The lawsuit was dropped later that year following an out of court settlement.) Clearly, though, she hopes her brand will benefit from her role on the show. In March, the Married to the Mob website was nothing more than a blank page with the message "We'll be right back, bitch," and a return date: April 2, 2020 — season 12's premiere.
With her business savvy and blunt conversational style, McSweeney is reminiscent of another New York housewife, one who isn't returning this season. When I start to bring up Bethenny Frankel's surprise exit from the franchise, Bravo's publicist turns her camera back on and unmutes herself to explain that McSweeney and Frankel have never met, actually, and that McSweeney "doesn't really know her" though they follow each other on Instagram, and share the same esthetician. (McSweeney says she won't say what salon or anything: "They're high profile.") With this matter resolved, the publicist mutes herself and turns off her camera.
As we wrap things up, I ask McSweeney what she plans to do with the rest of her social distancing time in the Hamptons. She's FaceTiming with her trainer today, and is going to take a hike tomorrow. She and her family are avoiding grocery stores right now, she explains. "We read that everybody from New York is coming here and bringing corona here. But not us."