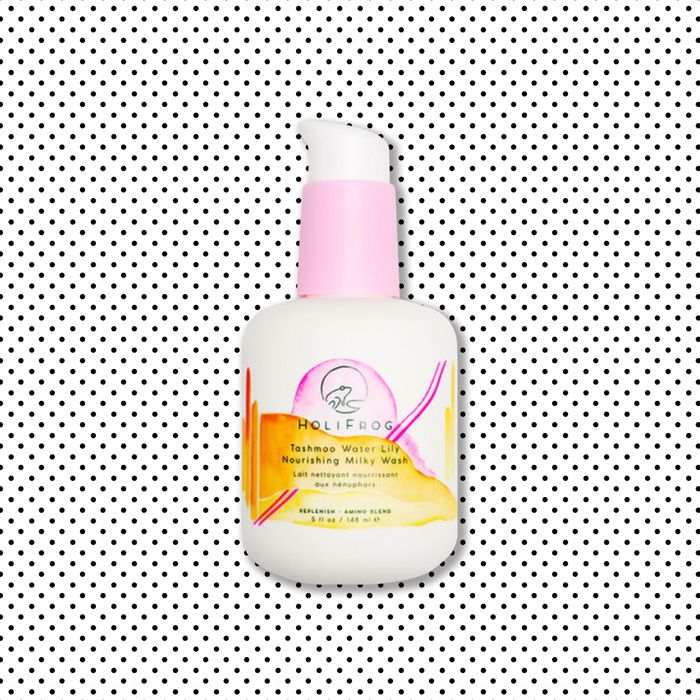 Photo: Courtesy the vendor
During this weird time, I don't believe in hard and fast rules. We all have to follow one big rule, and the only other one that matters is to be nice to yourself.
If you want to wear sleepwear all day, I support you. (I only wear bathrobes these days.) Say no to unnecessary Zoom calls. Eat only Snyder's Pretzel Pieces for two days straight. (I've been doing that, too.) This lack of boundaries works wonders for coping. The downside is that it's given me a real case of time blindness, and I've been finding it difficult to signify to my brain that it's time to get ready for bed.
One cue that has helped is washing my face. It means I have to get up from the couch, put down my phone, and close my eyes (if only for a few minutes), and Holifrog's milky cleanser is what works for me right now. Milky cleansers, with their emollient-rich formulas and silky feel, are inherently gentle, and I need exactly that kind of tenderness. Since I don't wear makeup much anymore, I don't need a deep cleanse. Holifrog's feels as soothing as a fancy version of Cetaphil or a baby wash, working to lightly clean my face. The formula comes out of the pump looking like a lotion. With water, it becomes a velvety wash that sweeps lightly over my face, without any feel of slickness or oiliness. Afterwards, my skin looks and feels soft, plump, and calm.
Holifrog's milky cleanser reminds me of one of my favorite but priciest face washes, the Biologique Recherche Lait VIP O2. I have one bottle and I use it maybe once every two months, trying to stretch it along. If a facialist has ever used this one on you and you've despaired over the price, Holifrog offers a similar, satisfying dupe. Don't let the squat cuteness of the bottle deceive you. Despite it being shorter than most face washes, it holds a standard amount (five fluid ounces) and you only need one pump.
Photo: Courtesy of vendor