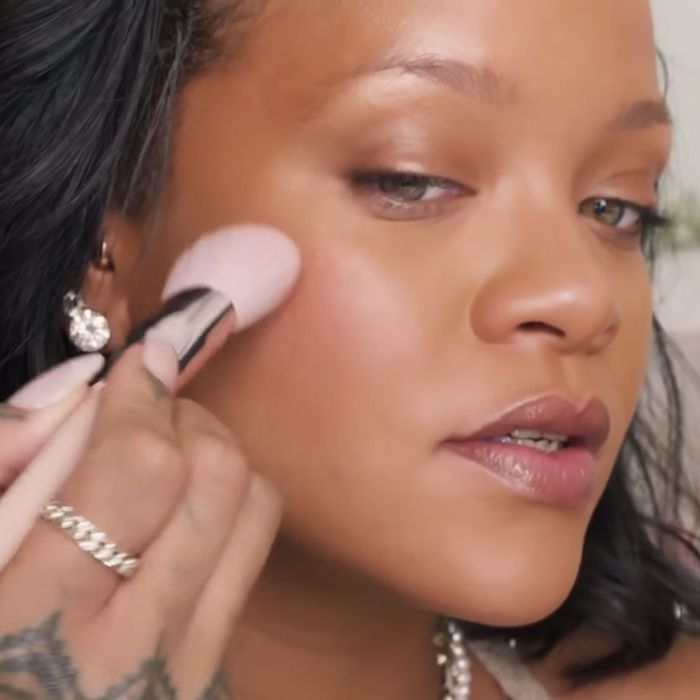 Rihanna putting on some makeup.
Photo: Courtesy of Fenty Beauty By Rihanna/YouTube
Pope Rihanna has already donated millions to help fight the coronavirus and support domestic-violence victims, and she even graciously threw us an Instagram party with an open invite. This week, she continues her tour of benevolence by blessing YouTube with her presence in the form of a full Fenty Face beauty tutorial.
In the new video, Rihanna demonstrates how to use Fenty Beauty's new Cheeks Out cream blushes and cream bronzers to create a no-makeup makeup look she personally recommends for booty calls and/or deceiving men in the morning (by tricking them into thinking you always wake up with naturally dewy, glowy skin). The look is also good for other general summertime activities, which is why she calls it the Summer Fenty Face, a nice little reminder that summer is what allegedly comes next.
If you've eschewed makeup during this time, I must warn you that watching Rihanna smooth melty cream blushes in pink and purple across her cheeks will make you want to smear melty blushes in pink and purple all over your cheeks. In the amusing four minutes and 45 seconds of face time, Rihanna also shouts out her iconic forehead, flawlessly executes beauty-influencer impressions, and shoots the shit with her buddy Jenn. Kick back, hit full screen, and best of luck avoiding the urge to put stuff on your face now.
If you buy something through our links, New York may earn an affiliate commission.