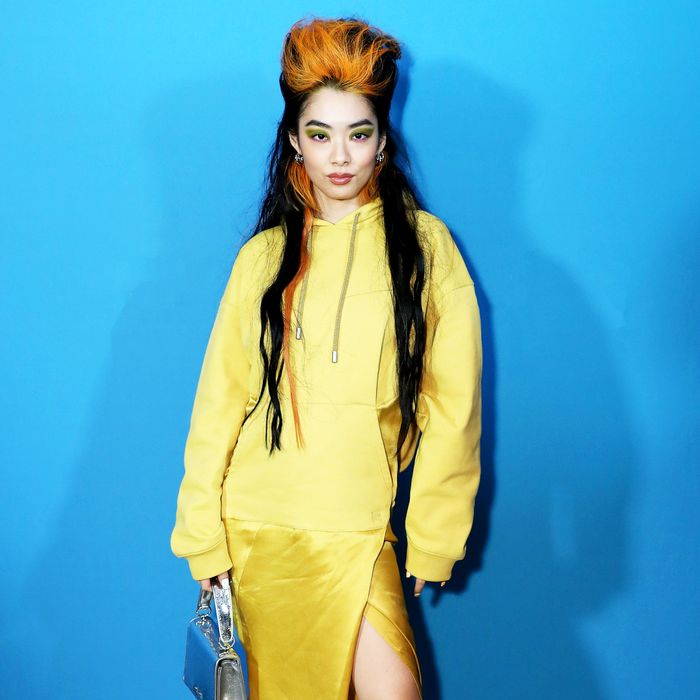 Photo: Getty Images for Bergdorf Goodman
Have you ever listened to an album that instantly takes you back to a specific time and place? SAWAYAMA, the long-anticipated debut album of 29-year-old British pop singer Rina Sawayama, which drops today, does that exact thing. Somehow the artist behind the excellent 2019 single "Cherry," an effervescent anthem to pansexuality, transports the listener right back into their teenage bedroom. Her music is an intoxicating mix of nu-metal and Britney Spears (an icon to Sawayama), which is a combination that's best immediately listened to.
The 13-track album is guaranteed to get you boppin' (which, don't we all need right now) with tracks like "Commes Des Garçons" and "Love Me 4 Me." The Cut talked to Sawayama about her album, teenage inspirations, and what's got her dancing in isolation.
How does it feel for your album to come out right now?
I feel like it's the best thing to do to be honest. I know that a lot of artists pushed back and I'm particularly sad about Lady Gaga's album [which was supposed to be released on 4/17, but has been indefinitely pushed back]. I think I'd want new music and on a personal level, I just needed my record out.
I noticed that you'd been vlogging on YouTube. Has that been a source of comfort and fun for you right now?
Yeah, I've been doing it for like a couple of months. I started it back in 2018, I just didn't have the team to do it consistently. It feels more important than ever just to keep things a bit light and make people happy. I personally see all this anti-Asian racist shit online — not towards me, I just see news stories about it and it really breaks my heart.
Listening to the album, I was really struck by all the cultural references that evoke Evanescence and Britney Spears. How did you decide to put these inspirations together? It felt like it encapsulated everything I listened to when I was a teenager.
The lyrics really explore things that happened while I was a teenager and growing into a young adult. It really was the soundtrack to what was going on in that time. I try and just listen to that sort of music because it really puts me in a good head space to write and it gets me quite inspired. The kind of eclectic nature of the record just came quite naturally because I just really wanted the lyrics and the melody to shine.
What other inspirations did you draw on to create this?
The record spans the time when I started listening to western music, so the years 2000 to 2010 were probably the most inspiring to me. I distinctly remember Limp Bizkit being number one for like ages. I remember TATU being number one. And then you'd get like Holly Valance and Kylie Minogue and all the dance music that didn't travel over to the States. My taste has been so mainstream, so it's just always been what people would consider guilty pleasures, but [I felt like] maybe if I had lyrics that were dark and deep, it would make something that's very cool.
I've had an intense need for bops recently and you have so many bops on this album. What are some of your favorite boppy songs that you've been listening to right now?
I love "Hallucinate" by Dua Lipa, the one that sounds like Girls Aloud [the British girl group]. That is just such a bop. I love songs that just really go where you want it to. I really love Allie X's new album. "Susie, Save Your Love" is gorgeous. Carly Rae Jepsen's record, I haven't stopped listening to it for ages. It's really perfect. I've been living because Jojo rerecorded her catalogue and I'm so excited for her album to drop because she's just such an insane singer. And I'm just waiting for Rihanna …