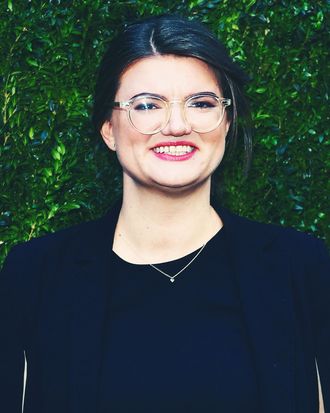 Photo: Slaven Vlasic/Getty Images
I don't know what's happening with the modern Star Wars machine. The last one I saw was with Adam Driver, which was sexy, but what is — who is — the Mandalorian? Why am I hearing that cutie Baby Yoda is actually 50 years old? At this point, there are just too many movies and offshoots and reboots to get into, and unless I'm getting Oscar Isaac with a full beard I simply can't be bothered.
That was, until Variety reported that yet another Star Wars spinoff is coming to Disney+, but from the mind of Leslye Headland. It's "a female-centric series that takes place in a different part of the Star Wars timeline than other projects" (referring to the two other live-action Star Wars shows in Disney's pipeline; see what I mean?). Anyway, I'd usually pass on this sort of thing — female-focused reboots of wildly successful franchises sometimes feel ridiculous (see: Ghostbusters, and everything about Ocean's 8 except for Anne Hathaway.) 
But Headland is an exception. She's best known as the co-creator, showrunner, and executive producer of Netflix's Russian Doll, which she helped craft alongside Natasha Lyonne and Amy Poehler, and which went on to be nominated for 13 Emmy Awards. It's a brilliant series starring Lyonne as a video-game developer who keeps dying and reliving her 36th birthday party. Before that, Headland wrote and directed Sleeping With Other People (2015) and adapted her play, Bachelorette, into the Kirsten Dunst–led rom-com in 2012. Basically, I'll eat anything that Leslye Headland puts on the table, even if it is Star Wars.