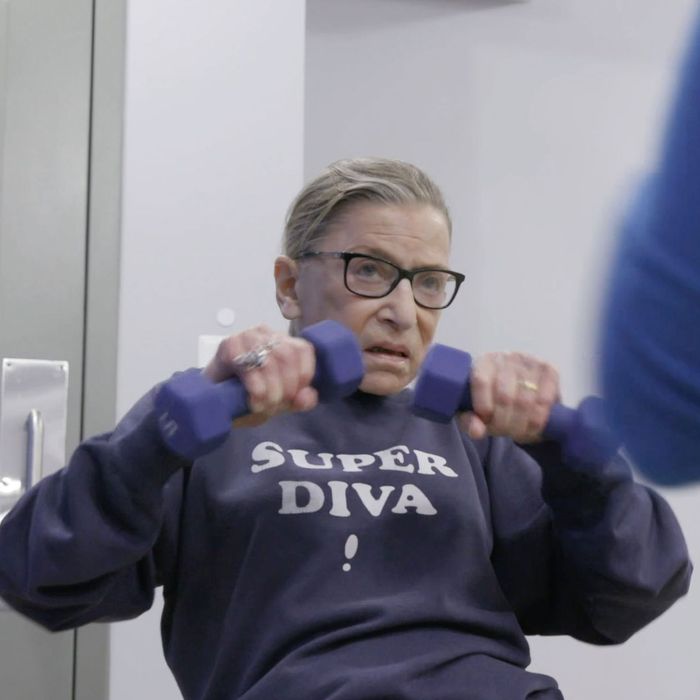 Photo: CNN Films/Kobal/Shutterstock
Yesterday brought some alarming news from Ruth Bader Ginsburg's personal trainer, Bryant Johnson: In an interview, he said that RBG is relentlessly dedicated to maintaining peak fitness, even amid coronavirus. So much so that she is still going out to the private Supreme Court gym twice a week, despite her at-risk age, to do her planks and push-ups. As of today, though, the pair have stopped meeting — Johnson confirmed in an email with the Cut that he and RBG haven't worked out since D.C.'s stay-at-home order took effect on Wednesday morning.
"Everybody's been shut down," Johnson told Law360 in an interview yesterday, of other trainers and gyms. However, "the only reason why I didn't shut the justice down is because, hey, she ain't having it."
Yes, but what we also ain't having is a single thing happening to the 87-year-old justice and cancer survivor who was hospitalized as recently as November for an infection. While we appreciate RBG's commitment to staying ripped and hitting her PRs, perhaps she could modify her workout to be completed at home, or train with Johnson over FaceTime. Just until the global pandemic subsides.
Here is a Rocky-style montage from 2018 of Johnson and RBG working out in her "Super Diva!" sweatshirt:
Johnson insisted in the Law 360 interview that he was sanitizing the Supreme Court–gym workout equipment and practicing social distancing. He said he wiped down any machine RBG might use before she came in, and, despite the workout they do in the video, the two are now so in sync on their training plan that he does not have to "grab her, hold her, get up close and personal." Okay, but still.
There are a lot of things to worry about right now, and it would be nice to have one less thing, and that thing could be Ruth Bader Ginsburg going to the gym. Thanks to D.C.'s stay-at-home order, which went into effect at 12:01 a.m. today, it looks like we have one less concern. Hopefully, RBG is working out in the safety of her living room at this very moment.
This post has been updated in light of the statement from Bryant Johnson.