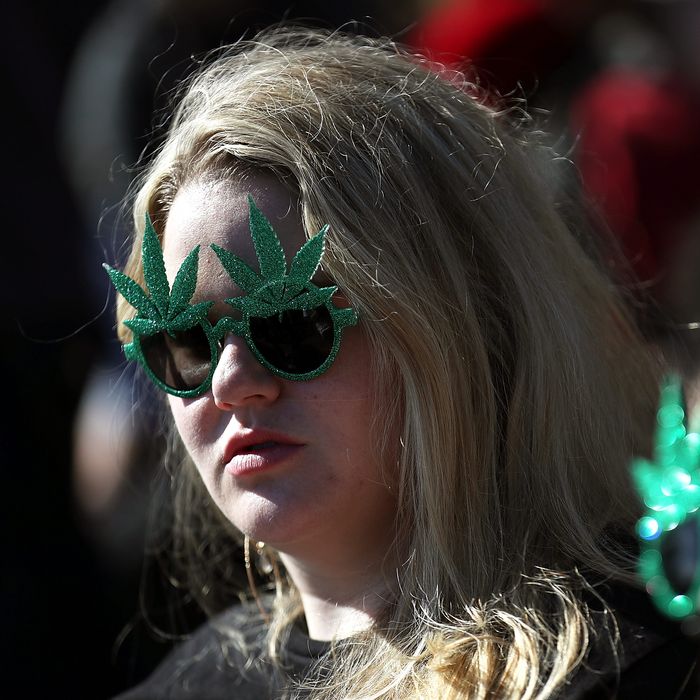 Photo: Justin Sullivan/Getty Images
When I heard that San Francisco Mayor London Breed made a speech about keeping people out of the parks on 4/20, my first thought was, 'Oh shit, is it 4/20 already?' But no, like many of you I am simply not paying attention to the date or the time. Every day is 4/20 — and then again, it isn't.
One person who hasn't lost her sense of time, however, is Mayor London Breed. She is very clear not just on when 4/20 is (not today, but soon!) but also what her administration is gonna do about it. In a news conference on Monday, she warned 4/20 revelers not to come to San Francisco or celebrate the holiday in Robin Williams Meadow, where festivities are typically held. "Do not come to San Francisco. We will not allow this unsanctioned event to occur this year, especially in the height of a pandemic. The area will be fenced off, there will be police officers patrolling the area. We will cite and, if necessary, arrest," she said.
Breed added that 4/20 gatherings or celebrations of any kind are to be discouraged. "It is not safe for us to gather in large groups of people during a pandemic, because the consequences could be deadly. Maybe not for you directly but maybe for your mother, maybe for your grandmother or any other relative," Breed said. "So just keep that in mind if you're having any thoughts potentially pushing for a gathering or a celebration, not just in San Francisco but anywhere else throughout the Bay Area."
The mayor's warning came after the 420 Hippie Hill celebration, which drew 14,000 people to Robin Williams Meadow last year, was canceled this month. In California, marijuana dispensaries are considered essential businesses and allowed to remain open (but are ineligible for federal stimulus money). Shelter-in-place orders that went into effect in the city in March have been extended at least through May 3.
So if you're going to San Francisco… don't bring you weed to the park. But do have the foresight to get in touch with your essential roving freelance drug dispensary (and practice social distancing when picking up!) because apparently there's still plenty of time.