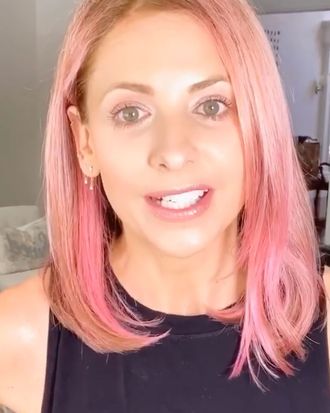 Sarah Michelle Gellar
Photo: @sarahmgellar/Instagram
The line "On Wednesdays, we wear pink" has lost all meaning. What is a Wednesday? What makes it different from any other day? It's probably also confusing for celebrities, many of whom are wearing pink — in their hair — every day.
The newest addition to the Millennial Pink Hair Dye Club, joining Elle Fanning, Jennifer Love Hewitt, and Lottie Moss, is Sarah Michelle Gellar. Yesterday, she posted on Instagram a few photos of her newly pink lob, in a soft shade reminiscent of many of Willow's fuzzy cardigans. She called the sudden hair change a "new way to embarrass my children."
Welcome, Buffy, to Club Pink. Please enjoy this gift bag containing pink starburst, a copy of Sweetbitter, Glossier products, rosé, and watermelon Kool-Aid for touch-ups.