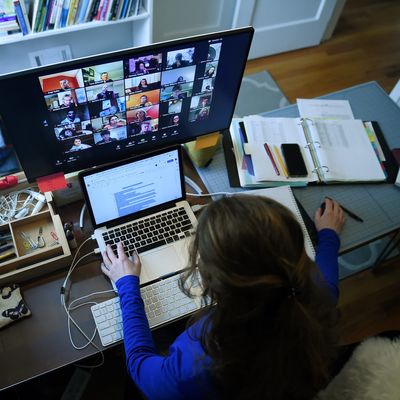 Photo: Olivier Douliery/AFP via Getty Images
As security concerns over the popular videoconferencing platform Zoom have grown in recent weeks, several school districts including New York City have begun distancing themselves from the technology, opting for alternative products to facilitate remote education. It's no small task given that Zoom has become the most used teleconferencing platform by K–12 schools, not to mention colleges and universities, during the coronavirus pandemic. Overall, first-time installations of the app increased by 1,126 percent in March, and, according to Zoom's CEO Eric Yuan, 90,000 schools in 20 countries have relied on the platform ever since the company began offering it free of charge to educational institutions affected by the COVID-19 crisis.
The Washington Post reports that, over the weekend, New York City's Department of Education, which operates the largest school district in the country, directed teachers to stop using Zoom and work through Microsoft Teams instead. A spokeswoman for NYC's DOE said in a statement, "Providing a safe and secure remote-learning experience for our students is essential, and upon further review of security concerns, schools should move away from using Zoom as soon as possible."
These new guidelines were issued days after the FBI warned the public of potential "hijacking" of virtual classrooms and conferences. People have reportedly been hacking into Zoom chats — an act referred to as "Zoombombing" — in some cases to broadcast hate speech and cause other disruptions. Last week, for instance, University of Florida president W. Kent Fuchs tweeted about a student-government Zoom meeting that he said was infiltrated by "racist messages, swastikas, pornography, and death threats." The New York Times reported last week that it had traced dozens of social-media accounts and active message boards on Reddit and 4chan used by thousands of people to plot "Zoom harassment campaigns."
Zoom said on Saturday that it "takes user privacy, security, and trust extremely seriously," and that the company "recently updated the default settings for education users enrolled in our K–12 program to enable waiting rooms and ensure teachers are the only ones who can share content in class by default." Yuan also apologized for the privacy breaches last week, saying, "We recognize that we have fallen short of the community's — and our own — privacy and security expectations."
New York City is far from the only school district taking drastic action to pivot from Zoom, or contemplating it. The Los Angeles Times reports that L.A.'s elementary-school teachers began tapering off Zoom over similar privacy concerns last month. KATU 2 reported last week that the Alpine School District in Utah is "reassessing" its use of Zoom after a meeting of elementary-school students was "bombed" with pornography.