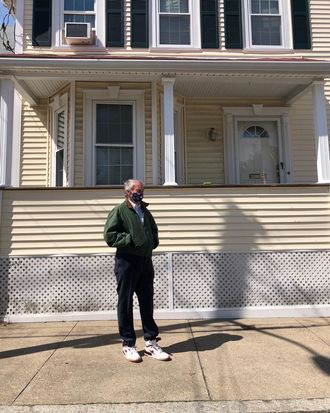 Photo: Courtesy of @EdMarkey/Twitter
Style looks a lot different in a time of social distancing. Mostly, we're all wearing our softest, loosest clothes, and when we do go outside, we tend to prioritize safety over style. For me, that means dressing in ratty, oversize sweatsuits. But for Massachusetts senator Ed Markey, that means looking extremely cool.
Last night, the senator shared a photo of himself wearing what can only be described as a sick fit. He wore a forest-green bomber jacket over his usual button-up, and navy slacks with Nike high tops that Twitter users ID'd as a pair of Air Flight '89s. He was also following CDC guidelines by wearing a homemade face mask, in a chocolate-chip-cookie print.
Markey, who is in his 70s, is known less for his style than his progressive politics (he's co-author, with AOC, of the Green New Deal). That said, this social-distancing outfit inspired me to put on a proper pair of pants and a nice sweater today. Thanks, senator!