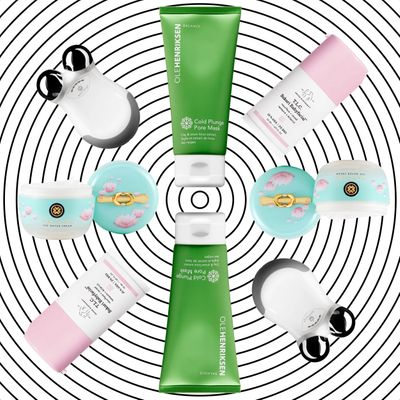 The concept of time isn't really a thing right now, but it's technically "spring," which means Sephora's beloved Beauty Insider Spring Savings Event is finally here. For top-tier Rouge members, the sale officially starts today, April 17, with 20 percent off your entire order until May 1. VIB members can shop the sale from April 21 to 29 and enjoy 15 percent off orders, and Insiders can shop the sale from April 23 to April 27 with 10 percent off orders. If you have no idea what any of those titles mean, you may want to sign up to become an Insider posthaste (it's free).
Regardless of where you fall on the Sephora shopper hierarchy, all you need is the code SPRINGSAVE at checkout and a shopping strategy. Since everything is basically on sale, we recommend snagging your all-time favorites that won't disappoint, plus a few new treats that you've always wanted to try. Below, 12 products we think you'll want to make room for in your cart.
A Perfect Lip Balm
I have hooked multiple people on this rich, non-waxy lip balm. If regular chapstick is Morton Williams stick butter, this stuff is fancy restaurant compound butter. Even okay butter is still good, because it's butter, but get the fancy lip balm butter. You deserve it. Put it on before you go to sleep, and be amazed by how soft your lips are in the morning. —Kathleen Hou, beauty director
A Smurfy Clay Mask for Self-Care
Both Diplo and I are fans of this pore-cleansing clay mask that doesn't leave you feeling the least bit dry post-rinse, like many of its cohorts tend to do. Though it makes you look extremely blue, you'll feel anything but. It's hard not to have a markedly improved mood when your face is soothed with cooling tingles and you are reminded of Tobias Fünke every time you catch your reflection. —Erica Smith, beauty writer
A Hydrating Mask for Thirsty Hair
With shine-boosting green-tea seed oil and hydrating turmeric butter as its star ingredients, this nourishing hair mask is like one of those nutritious specialty lattes for your hair. The satisfyingly thick formula adds shine, softness and hydration to dry hair in as little as three minutes, but once you have it on, your hair will want to sit for a while and savor every sip. —E.S.
The Tinted Moisturizer That Does It All
I am on my sixth tube of this product, which is best described as a super-tinted moisturizer. It feels like moisturizer, but it has the coverage of a medium foundation, and makes my skin (even my dark eye circles) look smooth and even-toned after two swipes. It also has a strong dose of SPF 50. Its creamy-but-not-heavy texture means you can use your hands or a beauty blender to apply it. I like recommending this to people, because it works for a wide range of people and skin types. My friends with eczema like that it's fragrance-free and doesn't irritate their skin. My only complaint is that the shade range could be more extensive, but they are working on it. —K.H.
A Brush That Can Work All the Angles
This foundation brush is designed with tapered edges to get into tricky-to-reach spots (like the sides of your nose). There's also a flat side for adding extra layers, so that you can get more coverage without looking cakey. —Jane Larkworthy, beauty-editor-at-large
The Ideal Smokey Eye Quad
A lot of us are using this extra time to improve our skills at a hobby, like bread-baking or dusting off a long-discarded guitar. How about upping your smokey-eye game? This compact has shades of steely blue-grey and charcoal grey, which cover the majority of the makeup look, plus lighter shades to broaden the spectrum. Add a wet brush in to intensify the look further, or a thin liner brush to add a cat-eye flick.—J.L.
An Exfoliator for Baby Soft Skin
If you struggle to stick with an exfoliating schedule as I often do, I've found that this once-a-week ritual helps keep much-needed shedding on track. Apply this 20-minute mini-facial to dry skin and you get treated to a satisfying tingling sensation that assures you all the gunk, grime, and dead skin are evacuating the premises while a blend of chemical exfoliants go to work. Simply rinse off when time's up and you are left with soft, smooth, even-looking skin that is very much baby. —E.S.
The Best Warm-Weather Moisturizer
If I were Oprah, I would give everyone in the audience this moisturizer plus the Laneige lip balm. The combination is a guarantee for skin happiness. Gel moisturizers are generally the least hydrating, according to dermatologists. But this one, despite its gel-cream feel, packs a serious punch. It's great for warm weather when you don't want to slather something creamy onto your skin that will inevitably drip down your face. This is a limited-edition version, with a slightly larger size and packaging that calls to Tatcha's commitment to the Room To Read charity, but there is a smaller and slightly cheaper one too. —K.H.
A Soothing Moisturizer for Bedtime
If you're not a fan of heavy creams sitting on your skin, allow this night gel to step in for the role of night cream. Like its name suggests, the lightweight formula is meant to be the last step in your routine, creating a soft cocoon that locks in moisture, vitamin C, and whatever else you decided to slap on before it. And the calming sandalwood and lavender make it the perfect thing to breathe in right before you go to bed. —E.S.
The Best Eye Shadow For Non-Eye-Shadow Wearers
I have brown eyes. No flecks of hazel, no twinkle of cinnamon, no violet dots – just plain brown. That's fine. But with Charlotte Tilbury's eye-shadow pencils, specifically designed to maximize the prettiness of any eye color, I think my brown becomes elevated to tiger-eye topaz, or even chocolate-gray, if I stare at myself till I become cross-eyed. I find eye shadow wasted on me because most of it gets swallowed up by my hooded lids. But despite that, I like swiping this pencil over my entire eyelid and then using a finger or a brush to blend it out, so there is a soft blend of color. It somehow is easy to blend, but doesn't wind up sliding all over the place. I like the amber color, and there are eight to choose from. —K.H.
A Skincare Set for the Man in Your Home
Should you be sequestered with a male roommate — romantic partner, brother, dad, or straight-up roommate — wouldn't it be nice to surprise him with his own skin-care kit? This five-piece set includes shave lube, skin cleanser, moisturizer, body lotion and a cool charcoal body bar with a waffle-iron kind of surface to massage into tense muscles. And, at nearly a third of the original price, seems like a wise investment that might steer him away from nosing through your own stash.—J.L.
A Facial in a Machine
The other night, dermatologist Shereene Idriss was doing an Instagram Live chat with beauty director and Fat Mascara co-host Jessica Matlin. As entertaining as the conversation was, the most interesting part was Dr. Idriss's co-star, a NuFace microcurrent device. She glided it along her cheeks and jawline as if it were the most natural thing to do (she says she uses it about three times a week), leading one to wonder if the beauty-tech brand experienced a spike in sales because of it. Fortunately, for those whose jawlines could use a little tightening help, a few are still available.—J.L.
If you buy something through our links, New York may earn an affiliate commission.