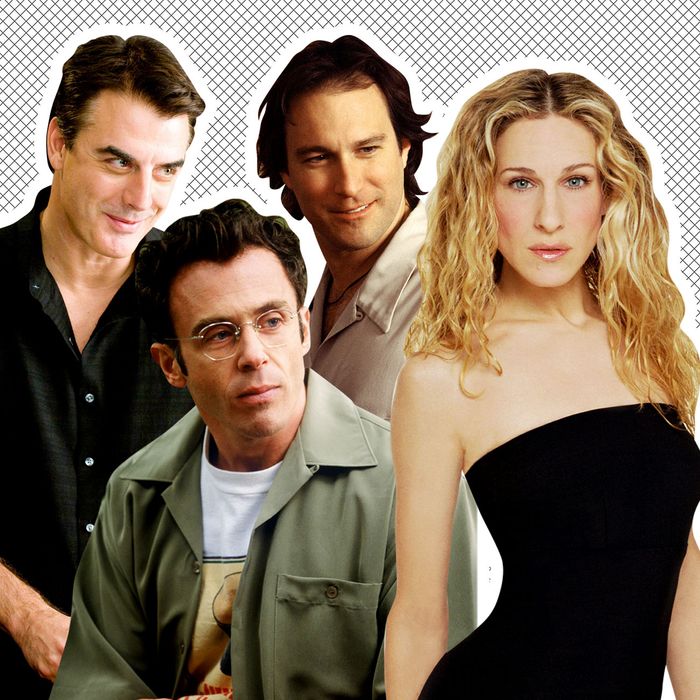 For something to qualify as grade-A social isolation content for me it must (1) display the beauty of New York City in all its grit and glory from some recognizable era, preferably with at least one sweaty party scene thrown in for good measure and (2) be hot as hell. Sex and the City scratches this itch and then some — and it appears a critical mass of viewers feel the same, because the show has been turned into a meme again. This time, Twitter is pondering the immemorial question "Fuck, marry, kill: Steve, Big, or Aidan?"
The question has set off an avalanche of debate and consternation (probably because the show's most eligible bachelor Joe the New Yankee isn't even an option, but never mind). The choice among these men is more interesting than the men themselves, as one's ultimate decision is deeply revealing. Aidan Shaw, the furniture designer Carrie almost marries, is the kind, traditional one who loves to eat chicken in bed. Like a park bench, he is well-built, atomically stable, and affords one a pleasant view of life. (On the negative side, he is also revealed to be rather insecure, controlling, and dull.) Steve is a bartender turned bar owner whom Miranda eventually marries. He's small, cute, and a Knicks fan. Big is Carrie's epic love, a shady finance guy with plush eyebrows and a withdrawn yet corny approach to flirting (abso-fuckin-lutely). He gets driven around Manhattan in a Lincoln Town Car like some kind of superhero.
Fans of the show have been addressing the crucial fuck, marry, kill dilemma in a variety of ways. The author Samantha Irby said she'd "fuck aidan, marry big, kill steve." New Yorker writer Emily Nussbaum responded "F Big, have dinner with Steve & Miranda, stay single and take dates to Aidan's bar." Some improvisation, but I'll allow it. There's been a lot of rule-bending, in fact.
Given the confines of the game, which I feel bound to, there is only one elegant solution that would work for me personally. Fuck Steve, because he's sexy in small doses. Marry Big, the man most likely to leave me alone for the rest of my life. And kill Aidan, a glorified Love Is Blind contestant.