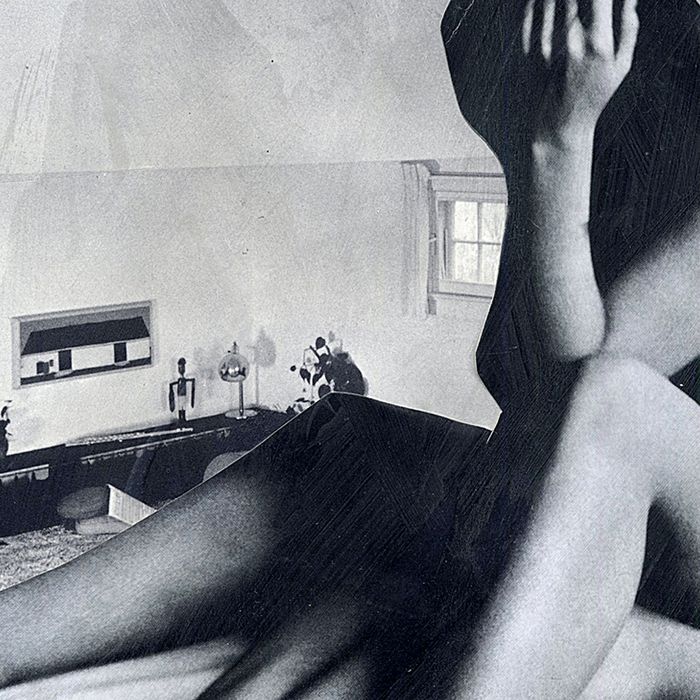 Photo-Illustration: James Gallagher
This week, a woman has FaceTime dates with strangers, considers a threesome, and fights with her roommate: 25, single, Downtown Brooklyn.
DAY ONE
9:30 a.m. I wake up before my roommate. Katy and I have been friends since high school, and we're really close. We've been drinking a lot, smoking a lot of weed, and sleeping in. I think we are on a bender. I read somewhere that CVS has vibrators, so I'm gearing up to go there and buy one. I won't tell my roommate about that, even though we are best friends.
10 a.m. It's terrible out there. There's bad energy everywhere. I put on my mask and walk into CVS. (I have masks because I had a small surgery last year and stole masks from the hospital on my way out — I have no idea why, but I'm glad I did.)
10:15 a.m. Vibrator bought. Hopefully I did not get the virus in the meantime. Orgasms are not worth dying for!
4 p.m. Groundhog Day here. We are stoned and watching documentaries. Katy suggests we invite Trey over. We had an amazing threesome with Trey just before the pandemic hit. It was not the first time my roommate and I had a threesome together, but it was definitely the best. We weigh the pros and cons of hooking up with someone right now. I suggest texting him to see if he'd even be into it …
4:15 p.m. He is into it.
5 p.m. We don't know what to do. We open some white wine. We decide to FaceTime him again.
6 p.m. Trey swears he's been on lockdown and has had zero exposure to anyone sick (as far as he knows … which, as we all know, is impossible to know). He's so hot and his dick is so big and I'm really horny, but I use my better judgment and tell my roommate we can't do it. She seems annoyed that I'm being cautious. Oh, well.
8 p.m. I'm pretty high and decide to use my new vibrator and go to sleep.
DAY TWO
7:30 a.m. Here's where things get crazy. I wake up from almost 12 hours of sleep and see Trey in our kitchen trying to make coffee. He says "good morning" to me as if there's nothing wrong with the situation. "What are you doing here?" I say, trying to put the pieces together in my mind. "Katy told me to come over," he starts to say. "Oh, shit. You didn't know. Okay, no drama …" I am not typically a drama queen, but I storm to my room and shut the door. There is so much wrong with this situation!
8 a.m. I text Katy from my room. WTF? She is still sleeping. Here's why I'm pissed: it's not that she fucked a guy who I'm kinda into. We've both treated Trey like a piece of meat up until this point. Neither of us ever discussed feelings for him, although I was starting to catch some. It's that she made the choice to invite a person into our apartment, in the middle of the coronavirus, when she knew I was uncomfortable with it. That really pisses me off!
9 a.m. I'm still in my room. I'm starving. I find a protein bar in a pocketbook and eat it under my sheets. I'm actually scared to leave my room. I'm not scared of Trey. I'm scared of germs.
12 p.m. Katy is awake. I hear her. I finally leave my room, but with a scarf wrapped around my face. Trey is gone. Katy gives me an "I'm sorry!" look. How can she not see what she did was so disrespectful. We get into a big fight. She doesn't get it. She thinks I'm pissed because she had sex with Trey without me. She's missing the point.
1 p.m. I order a large pizza and bring it into my room so that I won't have to leave for the rest of the day.
7 p.m. I have been on and off Tinder for six hours having fun flirting from the darkness of my room. Not thinking about Katy or Trey or the darkness that is the world.
DAY THREE
9:30 a.m. Katy and I are fine. We get in lots of fights, never really talk about it, and then move on. Not sure if that's healthy or not, but it's our pattern. It's hard being cooped up with someone for this long. I'm lucky I don't actually hate her. She just drives me crazy.
11:30 a.m. I've been flirting with one guy, Omar. We have a FaceTime date and smoke a bowl together. He's really cool. I can already tell he'd be a great fuckboy. Or more. I'd love to have a boyfriend, but I don't want to obsess over finding one. I don't want to be that girl. I ended my only serious relationship about a year ago. He didn't treat me well, and it was hard to break away emotionally, but I'm glad I did. Katy really helped me move on from him (even if it was through a lot of hard partying), so I have to remember to be thankful for that when I want to throw her out the window.
3 p.m. I introduce Omar to Katy. This makes me nervous and excited at the same time. Katy is really beautiful. Men love her, but then they realize she's kind of a train wreck. I think she makes me look good to guys at first (because it's like, Oh, she has hot friends — she must be cool!), but then she's a liability because she either flirts with them, or convinces me to have a threesome with her, or something just backfires. I have to hold myself responsible for this stuff and can't blame Katy for everything, but she's definitely not insignificant to my flings and potential relationships.
7 p.m. We are getting stoned and watching Tiger King. I'm quietly thinking about Omar and wondering if I'll ever meet him in real life. He's at his parents' house in Westchester for now.
DAY FOUR
9 a.m. Groundhog Day.
10 a.m. I actually have to do a little work. I'm a personal assistant for a CEO who isn't really working right now. I mostly manage his social schedule and, since everything is canceled, there hasn't been much for me to do. So far, he's still paying me. He really likes me, so I'm not worried about losing my job. Today, he asked me to send a handful of his contacts boxes of chocolate to cheer them up. He spends like $300 per box of chocolate. He tells me to order one for myself. I love this man. Katy is in grad school to be a teacher, so she's been doing a little work and studying from home, but mostly blowing it off.
6 p.m. Omar FaceTimes to see if I want to have a virtual drink with him. I love this man, too!
8 p.m. I'm making vodka with lemonade and talking to Omar. Katy keeps trying to chime in, which annoys me. Later on, I text Omar some of my issues with Katy. I make sure to delete the texts after I send each one. I'm kind of scared of her.
DAY FIVE
10 a.m. I wake up with a familiar anxiety — wondering whether a guy will text me or not. I want to hear from Omar again, and it's only 10 a.m. This feeling always disturbs me because it usually means I'm going to like someone a lot, and start acting like I like them a lot, and then they stop liking me. I try to get ahead of the issue by watching ten hours of Real Housewives to distract myself.
10 p.m. Twelve hours of Real Housewives is done. Good night!
DAY SIX 
9 a.m. Katy and I put our masks on and venture out to the grocery store. The market is pretty good about social distancing, but it still feels nerve-racking. Katy doesn't really care. This makes me angry, but I choose to live and let live. We stock up on a lot of Lean Cuisine, beer, and gourmet ice cream. We're so gross.
10:30 a.m. On the way home, Katy tells me she's super-horny and wants to have Trey over later. It's such a complicated thing for me because I'm mostly annoyed that she's still having humans come to our apartment (he says he walks here, but I have a feeling he takes the subway), and I'm also just annoyed that she basically claimed him as her own. I'm worn down by life and Katy and New York City, so I just shrug and say, "Whatever you want." Then I tell her to please disinfect the entire apartment after he leaves and that I'll be in my room the entire time.
3 p.m. I text Omar from under my sheet and tell him that Katy is fucking someone in her room right now, and I can hear them, and that it's really disturbing. I need someone to vent to, and part of me is hoping this will turn him on. It doesn't. He tells me that it all sounds pretty childish and that he has to go and watch the news. I feel embarrassed and regret telling him anything.
7 p.m. Trey is in the living room, and I still haven't left my room. I'm out of snacks and hungry and annoyed. I text Katy that he has to leave. Shortly after, I hear her kick him out. Then I text her to remind her to disinfect the apartment. She's pissed at me now. I hear her stomping around and cleaning up, then closing her door.
8 p.m. I hate everyone.
DAY SEVEN
8:30 a.m. I wake up with the biggest pimple. I only break out when I'm stressed. I feel crappy about life right now. I miss my job and my boss. I miss the city. I miss the outdoors. I miss being 25 and free to live my life and have fun. I can't watch the news because it's too sad.
4 p.m. I have not heard from Omar and don't think I will. I try not to care. And I promise myself not to contact him again. Appearing desperate will not help. I blew it.
5 p.m. Katy and I make quesadillas and eat the Doritos and drink the beer. My pimple is so big I can see it from my eye. We are laughing about it, and laughing at ourselves. That helps. We promise that tomorrow we're going to be healthy. There are so many free exercise classes online. We say we're going to turn our apartment into a wellness center.
8 p.m. We drink tons of water, watch a little TV, and say good night. Our new lifestyle starts tomorrow.
Want to submit a sex diary? Email sexdiaries@nymag.com and tell us a little about yourself.