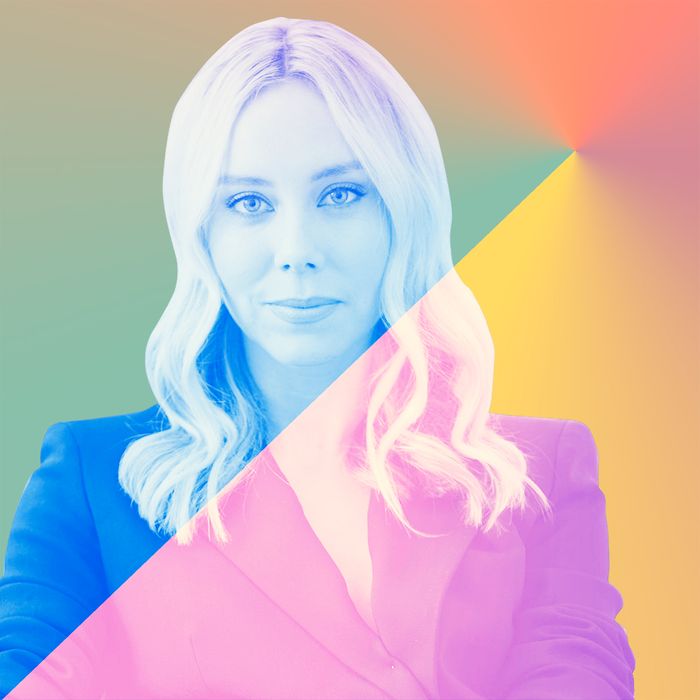 Photo: Courtesy of Shen Beauty
Since it opened in 2009, Shen Beauty has become a brownstone Brooklyn destination for Goop-adjacent clean and luxury beauty brands. The store is slated to move into a larger location just up the street from the original Carroll Gardens location — but then the coronavirus hit. Now, founder Jessica Richards is thinking about the future more than ever.
"This pandemic is going to change the way people shop for beauty," she says. "How will we test makeup now? I'm focusing on that a lot."
Richards was born in France but raised in Southern California, where she worked nights and weekends at a Laguna Beach surf shop during high school. When she moved to Aspen her senior year, she got a job at the local snowboard rental shop and started thinking about ways it could grow.
"I told [my boss] he should think about selling clothing. Next thing I knew, we were at Magic [trade show] in Vegas," recalls Richards. "The store is still there, but now it's a clothing store."
She moved to New York to attend FIT and took tons of internships, including for family friend Lauren Santo Domingo. After she graduated, LSD brought her on full-time at Vogue, but she came to realize it wasn't the right fit. In no short order, she quit her job, moved to Brooklyn and had a son. One day she was looking for a new jar of face cream and realized the closest place to buy a one was in Manhattan, which sparked an epiphany.
"I thought, 'I understand retail. I'm going to open a beauty store, and I'm going to focus on bringing natural and organic products to the mainstream.'"
In 2009, she and then-partner Jules Stringer opened Shen Beauty, filling it with a mix of well-known brands and indie finds. Customers first balked at the prices ("Who is this facialist Amanda Lacey and why would I pay more than $100 for her Cleansing Pomade?"), but they soon began to trust Richards's curation, which, to this day, is mostly clean, but with a few science-based favorites in the mix, like Skinceuticals and Environ.
"Our customers shop at Whole Foods but get their coffee at Starbucks and get their wrinkles smoothed out with Botox. They want organic but they also want their sun spots removed, and the only way to truly get that to go away is with a laser or some sort of pigment product. My motto is, if you love a serum that's not organic, wouldn't you rather use that on such a small portion of your body and be happier that you're not having acne or whatever? At the end of the day, our consumers are flexitarians. It's all about balance. "
Richards spoke with the Cut about her most old-fashioned vice, the secret to her banana bread, and why she thinks red lipstick sales are about to go up.
What's your definition of beauty?
My definition of beauty would have been very different a few weeks ago. Right now, true beauty is being compassionate and having good character. These are virtuous traits that we as a society need now more than ever.
What do you think when you hear the term "clean beauty"?
Eye roll! Total loaded question. Clean beauty to me means not food grade (organic) and not toxic (Skinceuticals-esque) where labels are clear, with no added ingredients that are hormone disruptors, fillers, etc.
Where, if anywhere, in your beauty (or life) routine are you not quite that "clean," "green," or "sustainable"? Are there old-school products or elements that you just can't quit?
Right now, the old-school product I can't quit is bleach! In terms of beauty products, I love a good acid on my skin to do chemical exfoliation rather than physical. I also really love scented candles which are terrible for you.
Please fill in the blank as it pertains to your beauty or wellness routine: I think about _______ a lot.
Sun damage.
What is the opposite of "beautiful"?
Boring.
What is your morning skin-care routine?
Typically I just splash some water on my face, throw on some oil (Supernal, Pai rosehip seed oil, Amanda Lacey Oil de Provence) and get the kids to school. Then I come back home and take a super hot shower (I know it's terrible for my skin but I love it) and wash my face with Leland Francis Black Rose Cleansing Gel. After the shower, I use Irene Forte Lemon Toner, Environ C-Quence 3, Eighth Day Regenerating Serum to combat wrinkles, Amanda Lacey Nourishing Pink Cream, Haoma Eye Cream, then Elta MD UV clear SPF 46 sunscreen.
What's the last beauty product you use every night?
Dr. Barbara Sturm Lip Balm.
Mascara of choice:
Westman Atelier.
Has your beauty routine changed now that we're sheltering?
I don't really wear much makeup, but now I wear absolutely none. I feel like good skin care is your makeup. So as long as you are consistent with that you don't need much.
Facial cleanser of choice:
Amanda Lacey Cleansing Pomade.
Fragrance of choice:
Dirty Grass by Heretic.
Bath or shower?
Always bath, with Olverum Bath Oil.
Deodorant of choice:
Corpus California.
Hand wash of choice:
Dial antibacterial handsoap.
Hand lotion that's getting you thru all these washings?
Goldfaden Hands to Heart.
Most relied on hair product or tool?
Virtue Recovery Shampoo & Conditioner.
What was your first beauty product obsession?
Hard Candy eye quads. I must have been about 8 when I discovered them and I had them in every color. My best friend Rachel was makeup-obsessed and introduced me to the brand. I literally had every item they made.
Daily carry-all of choice:
Celine Large Black Cabas Phantom Bag.
Who makes your eyeglass frames?
Bluelight glasses by The Book Club.
What's your bedroom like?
All white, with white linen Yves Delorme sheets and cover and a ton of pillows that I always take after I stay at the Sunset Marquis in L.A. The room is super bright and sunny, but obviously with blackout shades.
What's your living room like?
I tend to err on the side of modern hippie den. There's a black-and-white rug from Morocco, a black marble table, a neutral sofa, lots of throw blankets, and a ton of plants and art passed down to me from my mother.
What is your current daily uniform?
At first I tried to get dressed in jeans and a T-shirt, but now it's sweatpants and a sweatshirt.
What do you own too many of?
Drinking glasses. Everywhere I go I buy a set of colorful drinking glasses.
If you were a makeup shade, what shade would that be?
Ruby Woo Red.
Any hidden or secret talent or skill you possess?
Banana bread, everyone requests it (the secret is an extra stick of butter).
What skill are you a consummate failure at? Anything related to technology.
 What song is usually in your head?
"Beast of Burden" by the Rolling Stones.
Favorite smell?
My boys.
Least favorite smell?
My boy's feet.
What do you think Pantone's color of 2020 should have been?
Blue is my favorite color, so I was happy that it was blue. Although blue brings a sense of calm to a space, it also reminds me that we can be "blue," which is definitely what our country is feeling now.
Comfort food:
Honey Bunches of Oats with Almonds.
Vice:
A Marlboro Light and a tequila. Takes me back to my youth every once in a while.
Most impressive dish you make:
Roasted chicken with crispy potatoes.
What food would you never eat?
Olives.
Favorite hand sanitizer?
Straight 99 percent alcohol.
What has been an upside to this crazy time for you?
In all honesty, not much. Between opening a new store where construction has come to a halt, managing my two kids and laying off all my employees, there is not one good thing in any of this.
What beauty treatments should we give ourselves now that we've got all this extra time?
Every night, I take a bath and sit there with a face mask on. It's a reprieve and sometimes I just cry. How did it come to this? Then I get out and feel a tad bit better, then pass out.
What do you foresee as the top beauty trends for the second half of 2020?
I think the beauty trend for the back half of the year will be red lipstick. Typically in a recession or depression, it's the least expensive way to change your look and sales skyrocket. I think that due to the times we are in, and a complete insecurity with our leader, we have a long way until we can come out of this. People will be cautious to spend and thus need a little boost to make them feel better without breaking the bank.
What product in your brand's product domain is currently your favorite (understanding that this could change all the time)?
Leland Francis Lip & Eye Balm. Due to the cold/dry weather and the constant hand washing not only do I use this on my lips and eyes but have found it is a fantastic overnight hand balm.
When this is all over, what are the first 3–5 things you'll do or places you'll go?
Give my kids hugs and kisses, bring back my staff, go to the gym, and just try and enjoy life all while dealing with the mess this will leave in its wake.