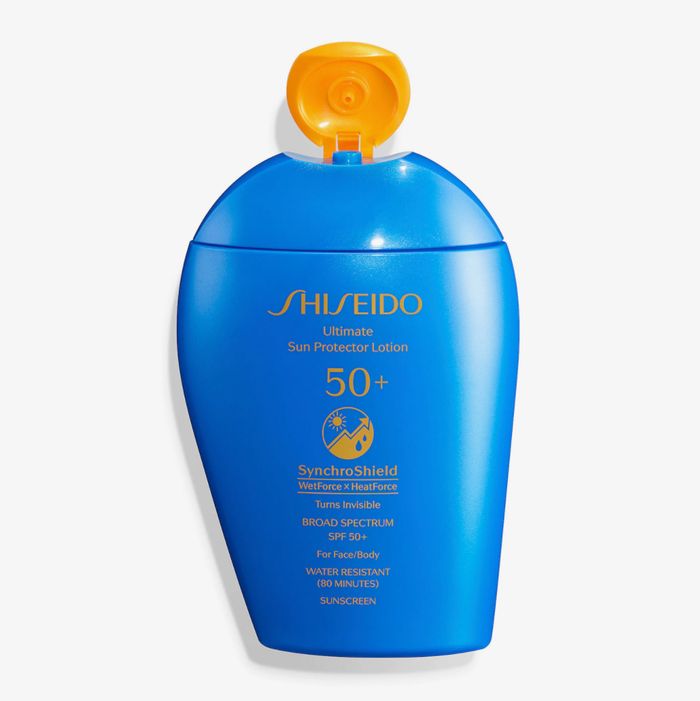 One day, in the future, you'll be sitting outside. The sun will touch every part of your face. Your hands will touch anything you want, including a cold drink full of extra-large ice cubes, which will be sweating in a glass in front of you. You'll eat finger food, preferably of the crunchy, cheesy kind. When that day arrives, you'll ideally be coated in a light layer of SPF 50.
My pick would be this new one from Shiseido. Unlike other sunscreens that come in lotion form, this one is a liquid, making it effortless to rub in. It comes out of the bottle in a slightly pearlescent fluid that disappears on the skin to become completely invisible. (I know that this is a claim we've all heard before and people are more wary of this promise from an overseas company, but at a press event for this a few months ago, I was impressed to see that it didn't leave a white cast on the skin of anyone trying it out.)
Good sunscreens make your face feel like it's wearing nothing. Great sunscreens, like this one, make your face feel even better. It's so moisturizing — giving you the hydration of a rich essence or light moisturizer — that I think you could even skip the rest of your routine. It's also allegedly water-resistant for up to 80 minutes (though I haven't tested that yet), Hawaii-reef-friendly, and free of oxybenzone and octinoxate, even if it's unfortunately not a completely mineral sunscreen.
For that future day when you can touch your face in public with abandon, you'll love the way this makes it feel — neither greasy, slick, nor heavy. Your skin will have a subtle, pretty dewiness that's amplified by the fresh pleasure of being out in the open. (And, yes, the Sephora sale is still on and you can get a discount on this.)
If you buy something through our links, New York may earn an affiliate commission.