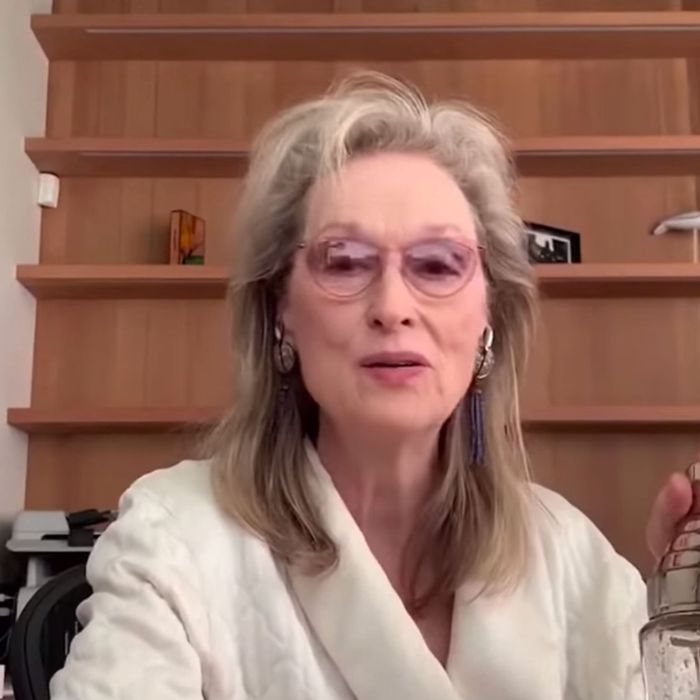 Meryl Streep singing Stephen Sondheim in a bathroom while making a martini. That is all you need to know about this scene. Or … is it? Perhaps my brain, addled by isolation and innumerable sour peach rings, has made me even more inclined to put on my investigator's cap, but I think there is more to this story — and that more is this: What in the Devil is going on with Meryl's bookshelves?
Streep participated in a Sondheim 90th-birthday celebration last night, singing "The Ladies Who Lunch," from Company, a sassy, jaded number originated by the iconic Elaine Stritch, along with Christine Baranski and Audra McDonald. She made a martini and drank Scotch straight out of the bottle while doing her part, which was delightful. And yet I could not keep my eyes off the singular sight of her absolutely bare bookshelves, as bereft of book or even booklike objects as a grocery store's toilet-paper aisle is of toilet paper. It was remarkable. Where are the books? I wondered. Where have they gone? What is this massive set of shelves if not to hold them? Or nearly anything? Why have shelves at all?
Here is what I can discern is sitting on Streep's bookshelves:
- a decorative seagull figurine on a stick
- a framed photo
- a piece of wood art (?)
- a metal cup
- two other metal things next to the cup (?)
- a printer (?)
- a small pile of CDs
The collection of items displayed is so sparse as to imply these are not the typical objects that sit on the shelves. I surmise that:
(a) There were in fact books on there, but Streep did not want the world close-reading her library, or how she had it arranged (could it have been color coded?), and she moved them.
(b) The shelves are not usually there at all and were moved explicitly for the video. The fact that they are pushed up against what seems to be a window implies that they could be hiding something. A pile of laundry? A collection of Madame Alexander dolls? We may never know.
(c) Streep never uses this room, therefore the shelves were indeed bare and she moved things like the seagull on a stick from another location in her home to make it homier. This would be a questionable choice, as the seagull actually brings a forlorn feeling to the room.
(d) Streep hates the performative love of literature represented by a curated bookshelf and is making a commentary on intellectual posturing.
I will update this story with any further information should it develop.