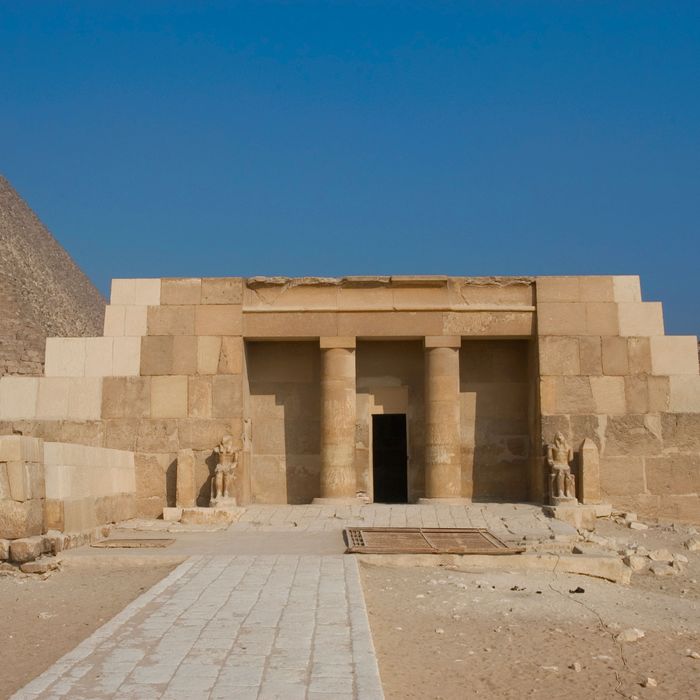 The tomb of Queen Meresankh III.
Photo: PHAS/Universal Images Group via Getty Images
How are you planning to spend what feels like the 300th night of social distancing? Perhaps opening up that brick of a book you've long been putting off or maybe indulging your inner gamer? Personally, I've decided that I will be spending the evening on an enlightening tour of an Egyptian queen's 5,000-year-old tomb.
Obviously, international travel is not currently an option for me. I will instead be going on a virtual 3-D tour that the Egyptian Tourist Board posted last week as part of an initiative to encourage social distancing. In addition to an interactive tour of Queen Meresankh III's tomb, there are also tours of the tomb of Menna, the Coptic Orthodox Red Monastery, and the late-14th-century medieval Mosque-Madrassa of Sultan Barquq. In one night, you could gaze upon frescoes of Coptic saints, hieroglyphics, and stunningly preserved paintings of Egyptian gods that line freaking tombs! Tell me that's not incredibly cool.
Even from my cursory tours, which you navigate like you would Google Street View, I've already enriched my mind. For example, I have learned that Menna and his beautiful wife had five children, all of whom are featured in paintings throughout his tomb, and that he was a scribe who oversaw a temple. In Queen Meresankh III's tomb, I particularly liked the 10 rock-cut statues of women, which the tour notes is not only "uncommon" in tombs in Giza but also in the "male-dominated society of Egypt." Okay, feminist queen!
Forget your inner gamer; channel your inner archaeologist!