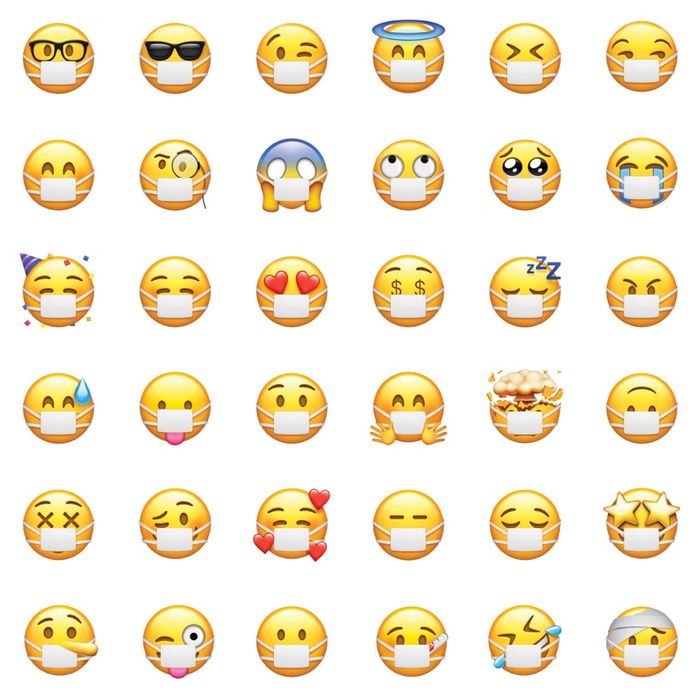 Illustration: Courtesy of Berger & Föhr
Earlier this week, fashion illustrator and designer Jenny Walton made herself a face mask out of a pale-pink Prada dust bag. Walton, who is based in New York City, has been sewing masks from home since late March — mostly simple cotton ones that she donates to Masks4Medicine. But the Prada one was slightly different. Per the instructions she printed out online, she used a cotton backing and left a hole for a filter to be inserted. She also left the brand's small logo tag on, positioning it just under her chin.
The result was surprisingly elegant, but Walton insists that the impetus was health and safety, not fashion. The point, she says, was to get people's attention, expose her followers to a good cause, and inspire them to get crafty.
In the midst of a pandemic, wearing a designer logo on your face may rub some people the wrong way. (I've seen ones with prominent Gucci, Balenciaga, and Chanel logos.) It can come across as flashy and inappropriate, especially when so many people — including medical professionals — lack personal protective equipment. Same goes for an expensive designer scarf. But with the CDC recommending all Americans wear face masks in public to help prevent the spread of the coronavirus, they've inevitably become a form of aesthetic self-expression.
From a public-health perspective, it doesn't matter what your face mask looks like, where you got it, or how you made it; wearing a functional one is all that matters. That said, this is the face we're talking about — our primary mode of self-expression. It's the tool we use to communicate on every level, in real life and online. It's what we use to identify one another, and what computers use to identify us. And now it has to be covered. It's natural to want to find a work-around. Some attempts may be tactless, but for a lot of people, wearing a cute face mask can be one small (and safe) way to make a terrible situation slightly less terrible — to feel like an individual person, and not just a potential vector of disease.
Trump has notoriously said he won't wear a face mask ("I think wearing a face mask as I greet presidents, prime ministers, dictators, kings, queens, I don't know. Somehow, I don't see it for myself"), but plenty of other people are finding ways to preserve a sense of self while keeping those around them safe. "I know we're in the midst of a pandemic, and we have to change a lot of the ways we do things, but I also think you don't have to change the way you look," said Shirley Raines, founder of Beauty2theStreetz, a nonprofit that provides food, showers, hair wash and color, makeup, and wigs to the homeless living on Los Angeles's Skid Row.
On an average day, you can see Raines coming from a mile away. Her hair and makeup is always colorful and bright; her false eyelashes are endless; and she wears diamond studs in her upper and lower lip, plus a few on her nose. A face mask covers "all the things that make me feel like Shirley," she said. But she knows she has to wear one when handing out food and supplies to the homeless, which she now does from her car. One of her followers, the Emmy Award–winning costume designer Perry Meek, provided a timeless showbiz solution: Just bedazzle it.
"Lord, it was so cute," said Raines, still beside herself over her new, blinged-out face mask, which she wears over a second mask for ample protection. "We're still going to come out here and help our community, but why can't we bring some style and flavor to it? Self-expression has been something that has helped me through my darkest hours. No matter what happens, that's something about me that will never change."
For many artistically inclined New Yorkers, creating a good-looking mask for themselves, and eventually their friends and others, is an instinctive act. They weren't trying to impress anyone; they just wanted to leave the house, and what they made happened to be an extension of their personal brand.
The designer Ellen Van Dusen, for example, who is known for bold, colorful, graphic prints, made herself a mask with the fabric she had lying around: a black-and-white checkerboard pattern with florals mixed in. "I think wearing a mask with a little bit of whimsy can elevate the mood," she said. "I went to pick up a pizza the other day and the guy at the counter laughed. If you have to wear something that is sort of scary, may as well make it cute."
Another New York–based designer, Raffaella Hanley of Lou Dallas, made a mask with added patchwork, bows, and lace-up trim. "It felt like something productive I could do," she said, having recently lost her part-time job. "It was an opportunity to have some fun in a not-so-fun situation." She started selling them on a sliding scale through Instagram, with a suggested price of $23.
Still, there are plenty of stylish people who are more interested in function than form right now. "For me, masks aren't really a fashion accessory; they're a necessity," said fashion writer Susie Lau, also known as Susie Bubble. She may have posted an image of herself on Instagram carrying a Purell bottle in a designer leather garter belt, but her surgical masks are from eBay, and she's been washing and reusing them. "I applaud all the DIY mask efforts from creatives and designers, but I feel a bit more reassured with the surgical ones, if I'm honest," she said.
Face masks are personal, and your relationship to them depends so much on context. They still feel relatively new and unfamiliar in America, but in many Asian countries, wearing a face mask is seen as both a civic duty and a routine part of life. People wear them for health reasons, but also to protect themselves from pollution and the sun. When I visited Hong Kong and Vietnam on vacation in December, I felt self-conscious wearing one at first. But once I immersed myself in the crowds, it actually made me feel less like I stuck out.
Fast-forward to February, when I wore the same face mask on a flight home from Milan as the Italian city went into lockdown. By then, masks were largely a symbol of fear in Europe and America, and you could see it behind people's eyes. For many Asians in the U.S., face masks also became associated with danger and anxiety: In February, an Asian woman wearing a mask was kicked and punched in a Manhattan subway station by a racist passerby.
In March, as it became clear that the coronavirus would be a global threat, the French fashion designer Marine Serre happened to send moon-logo face masks down her postapocalyptic fall 2020 runway. Those in the front row were also wearing masks — the surgical kind, which were being handed out by brands to anxious showgoers as a safety precaution. Fashion always aims to reflect a future reality, as well as one beyond anyone's imagination, but in that moment, the two combined in a way that was unsettling: no one thought that doomsday would come so soon.
Now, face masks as fashion accessories seem like both an inevitable future and a relic from another, much more naive time. Remember that Billie Eilish wore one from Gucci to the Grammys in January?
For me, face masks are a specific reminder of another New York City tragedy. I grew up in Tribeca, and now, when I see people in face masks walk around lower Manhattan's almost empty streets, it immediately takes me back to 9/11. I remember my parents tying a bandana over my face before we ventured out into the dust and rubble. I remember being afraid for my lungs. There are many differences between then and now, but it is clear that we are in the midst of a dark period for the city. It is also clear to me that New Yorkers, like those across the globe, will find a way to carry on.
Something I've heard people say about wearing face masks is that no one can tell if you're smiling (or frowning) underneath them. Wearing one can make you feel silent, or invisible, like you're hiding. Todd Heim, a New York-based creative who goes by the drag name Steak Diane, said he plans to sew a pair of lips onto one of his masks, taking a more theatrical approach. Shirley Raines, meanwhile, says she doesn't need her face mask to smile for her. "Smize with your eyes," she said, invoking the teachings of Tyra Banks. "We also have to get used to saying the words: 'Thank you.'"