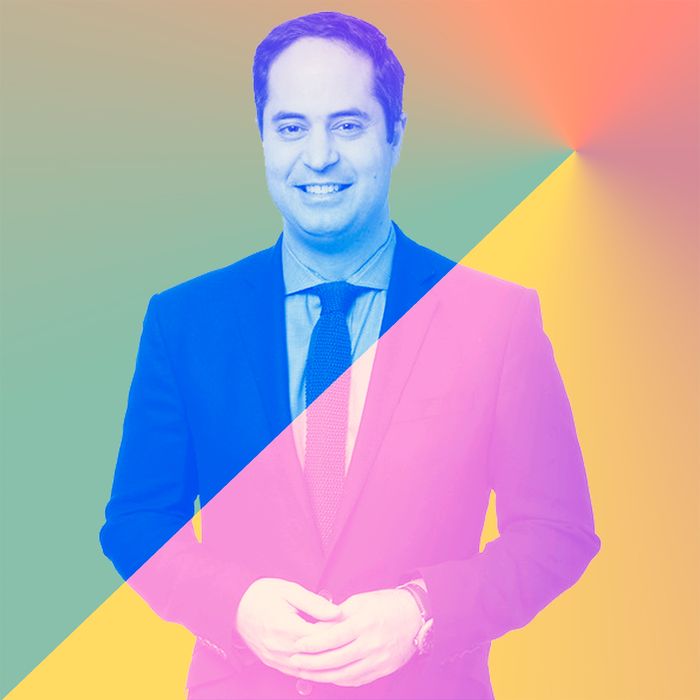 Photo: Courtesy of the Laser & Skin Surgery Center of New York
Dermatologist Robert Anolik treats some of New York's most discerning faces — his clients include Stephanie Seymour and Kelly Ripa — but that doesn't stop him from worrying about fictional characters, too. Over the past few weeks, he, his wife, and their 7- and 5-year-old kids have been watching The Singing Detective, an '80s-era BBC show about a hospitalized mystery writer.
"It has great music in it, but my kids keep asking me all these questions about the main character, who's covered in psoriasis and has psoriatic arthritis," says Anolik, a dermatologist at the Laser & Skin Surgery Center of New York. "All I can think about is how that patient could be helped dramatically today with the approach of medical dermatology."
Anolik was a protege of the late Dr. Fredric Brandt, who was well-known in the beauty world for popularizing Botox. But what initially drew him to cosmetic dermatology wasn't injections or chemical peels, but DNA, RNA, and proteins. As a molecular biology major at Princeton, he spent one summer at the Institute for Genomic Research, studying the science of sequencing the human genome. "In medical school, I saw how protein sequence analysis touched every field in medicine, but particularly skin and aging," he says. "I approach skin with that kind of molecular framework to make it healthy and beautiful."
During his dermatological training at NYU, Anolik landed a fellowship with famed dermatologist Roy Geronemus, director of the Laser & Skin Surgery Center. Brandt was also part of the practice, and when he wanted to divide his time more evenly between his Miami and New York practices, Anolik became his official associate.
"He wanted someone who also had laser expertise, which he knew I had," says Anolik. "Even though we looked like total opposites, our personalities clicked."
Five years later, tragedy struck and Brandt took his own life. Anolik seamlessly took over, with high-profile clients now trusting their complexions to him.
These days, until he can see those patients again, he's been volunteering at Bellevue Medical Center, tending to patients with post-op wounds and other surgery-related issues. "Stuff that needs attention by a physician," he says. "They're all so overwhelmed, so hopefully I can help decrease the burden."
Anolik spoke with the Cut about the calming presence of Angela Lansbury, his complicated relationship with fruit, and why now is the perfect time to exfoliate.
What's your definition of beauty? The Keats line "beauty is truth; truth beauty" is a chestnut for a reason. When I look at a face, my goal is to reveal its truth, that is to let its beauty become manifest, which is why I work very hard to eliminate distortions, both external (e.g., sun damage) and internal (e.g., psychological negativity).
What do you think of when you hear the term "clean beauty"? I get wary when I hear it. I believe in the sentiment that drives the clean beauty concept. As a scientist, however, I also believe in rigorous study over intuition and guesswork. Just because something grows on a tree doesn't mean it's safe and/or effective. And even the cleanest ingredients in too high a quantity can be dangerous. For example, drinking too much water will kill us. And, conversely, an ingredient that sounds strange or worrisomely artificial can, in fact, be beneficial. A word of caution for those experimenting with only clean or alternative therapies: If you believe something is strong enough to help you, it's likely strong enough to hurt you as well. So don't overdo it! And be sure to consult with a board-certified dermatologist about safe strategies.
Where, if anywhere, in your beauty (or life) routine are you not quite
that "clean," "green," or "sustainable"? I drink diet soda. It's dumb and I know better, but I do it anyway.
Please fill in the blank as it pertains to beauty or wellness: I think about ______a lot. SUN DAMAGE.
What is the opposite of "beautiful"? An artificial appearance. Lips that are too big or faces that are frozen are not beautiful. And believe me, I cringe more than you do when it's obvious someone has had work done. Just because we can do something in cosmetic dermatology, doesn't mean we should.
What is your morning skin-care routine? Alastin Gentle Cleanser or Neutrogena Ultra Gentle Cleanser, shave, sulfacetamide wash to reduce shave irritation, LaRoche-Posay Anthelios Melt-In Sunscreen Milk SPF 60, SkinMedica HA5 Rejuvenating Hydrator.
What's the last product you use every night? A prescription retinoid, then moisturizer. Usually Alastin Ultra-Nourishing Moisturizer or Cerave Cream.
Who cuts your hair? Garren. Asking Garren to cut my hair is like asking van Gogh to paint on a milk carton. But he's my friend; he pretends not to mind.
Toothbrush of choice: My wife bought me a Sonicare but I still use the freebie from the dentist.
Razor of choice: Gilette Fusion 5.
Shaving cream of choice: Gillette Fusion Hydra Shave Gel Ultra-Sensitive.
Hand wash of choice: Dove Foaming Hand Wash.
Hand sanitizer of choice: Purell.
Fragrance of choice: Hermes Eau d'orange verte Eau de cologne.
Bath or shower: Shower, with Olay Ultra Moisture Body Wash with Shea Butter, R&Co. Television Shampoo, Television Conditioner, and Acid Wash.
What was your first grooming product obsession? In third grade, I discovered mousse. I'd blow-dry my hair with it. Maybe I watched St. Elmo's Fire a few too many times.
Daily carry-all of choice:  Prada nylon shoulder bag. A gift from Dr. Brandt. Prada was a favorite brand of his.
What do you splurge on? My wife's very particular about our sons' footwear. Lots of tiny pairs of Air Jordans, Converse, Vans, and Adidas Gazelles by our front door.
What is your classic uniform (under your lab coat)? Black or navy Brooks Brothers pants and black or navy Ralph Lauren crew neck sweater.
Whose shoes are you usually wearing? Greats Royale sneakers.
What do you own too many of? Medical journals. I know at this point that the past issues are all online where I read the new ones, but there's something enjoyable about referencing them with your handwritten notes. At some point, they'll find their way to the recycling bin.
Any secret talent or skill you possess? I can juggle.
What is your own personal definition of misery? Fruit of any kind in my desserts. I love cake but I'm crushed when it turns out to be carrot, and I cannot get enough ice cream but I pout when the flavor turns out to be strawberry.
What is your own personal definition of glee? Getting my cholesterol tested. I don't eat all that well, and I'm not great about exercising, but my cholesterol is always low. I find that so gratifying.
Favorite way or place to spend a weekend? Nantucket. My wife's family has a house there, and they make fun of me when I wear my aqua socks to the beach.
What do you most often disagree with others about? People who insist they need to get a base tan before a tropical vacation. This is nuts. You should avoid getting a tan before your tropical vacation and during your tropical vacation and after your tropical vacation. Here's what you should get instead: sunscreen and sun-protective clothing.
What must you adjust or fix when you see it done incorrectly? Bad Botox on someone who comes in for a first-time consultation.
Favorite CBD product: Ridgway Hemp Love Balms.
What calms you down? Seinfeld reruns on Netflix. And when I'm really feeling stressed: Murder, She Wrote reruns on Amazon Prime (don't judge).
Comfort food: Oreos and milk.
Vice snack: Chili-roasted pistachios and Empire Bakery house-made "Twinkies."
What do you foresee as the top beauty and wellness trends for 2020? Combination therapy, specifically more one-day treatments that combine multiple lasers and injections. We have been developing this for years and are now presenting safety data on the subject. Also, laser-assisted drug therapy, such as resurfacing lasers followed by topical applications of skin-brightener serums and platelet-rich plasma. Here's what I hope is the top beauty/wellness trend in 2020: a public repudiation of non-board-certified dermatologists performing cosmetic dermatology procedures on people.
What treatment at your practice is misunderstood and should be more
popular? Laser resurfacing. Granted, this is already a very popular treatment in our office, but I believe it should be even more popular. Some
patients come in with misinformation that laser resurfacing thins the
skin. Nothing could be further from the truth. In fact, it does the
opposite. It targets collagen-producing cells in the dermis and
generates a stronger, more resilient skin.
What treatment is currently your favorite (understanding that this
could change all the time)? Botox. And it has been for years. Precise treatment avoids artificial outcomes and allows for a refined, rejuvenated, lifted, rested appearance.
What activity do you do when the stress becomes too much these days?
Cook. I've been spending a lot of time with my cast-iron skillet. My cast-iron pizza is a favorite.
What have you been binge-watching? Ozark season three for suspense — how good is Tom Pelphrey as Laura Linney's brother? And Cheers for laughs.
What has been an upside to this crazy time for you? My time with my wife and young sons, except during the screaming. And the homeschooling. And the cleaning.
What's a good beauty treatment for someone who's stuck at home? Exfoliation. A downside of exfoliation is it can sometimes leave the skin dry and flaky, but if you're staying home, that's okay!
Conversely, what in your own grooming routine are you less on top of these days? Shaving, although my wife prefers a cleaner look, so early signs of a beard appear only now and then.
When this is all over, what are the first three to five things you'll do or places you'll go? The office will be my first stop! I miss my amazing patients! I expect I'll be there in overtime mode for a while getting everyone in. I'd love a flat white at Laughing Man in Tribeca, maybe a burger at Odeon. Also we watched King Kong with the kids during quarantine, so my oldest wants me to take him to the top of the Empire State Building. He thinks King Kong's going to be there. I haven't had the heart to set him straight.