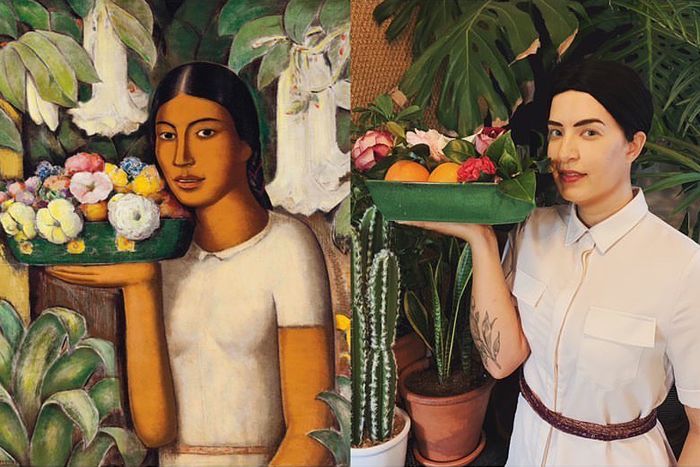 Photo: Carrie Burch/ @imquartantined
At some point during your time at home social distancing, you might hit a wall. Like me, you might find that you've run out of movies to watch, bread to bake, and bangs to cut, and finally declare yourself, well, a tiny bit bored. If that is the case, I'd like to suggest a new activity. It helped entertain me in lieu one of my favorite pastimes, which is going to the museum: watching people re-create their favorite artworks from home.
After the Metropolitan Museum of Art came across the Instagram account @tussenkunstenquarantine (Dutch for "between art and quarantine"), the museum encouraged people to re-create their own artworks from home under the hashtag #mettwinning. And now that many of us are housebound for the foreseeable future, the activity has caught on, and the results are totally delightful:
Taking a cue from the Met, L.A.'s Getty Museum launched its own challenge on Twitter, and soon people were finding Dutch still lifes in the remains of their terrible lunches, and re-creating Cézanne's famous drapery with toilet paper. And, of course, there are plenty of Girls With a Pearl AirPod:
In recent weeks, budget concerns have led to mass layoffs in the museum industry, but many museums are still running programming such as virtual opera premieres, online reading sessions, and digital tours of their archives. And while we still don't know when museums will be reopening, engagement is up online (the Met has seen a 95 percent increase in engagement on Instagram alone.)
These digital efforts are, of course, only a faint substitute for the real thing, but the #museumchallenge re-creations are a pretty joyous way to engage with and meditate on art while we aren't able to see it person. Tussen Kunst & Quarantaine is gathering many of the re-creations on its page, so you can peruse them all in one spot, which I highly recommend:
I'll be doing so while reclining on my divan (crappy couch) in an attempt to re-create one of Modigliani's famous, languid portraits this evening.