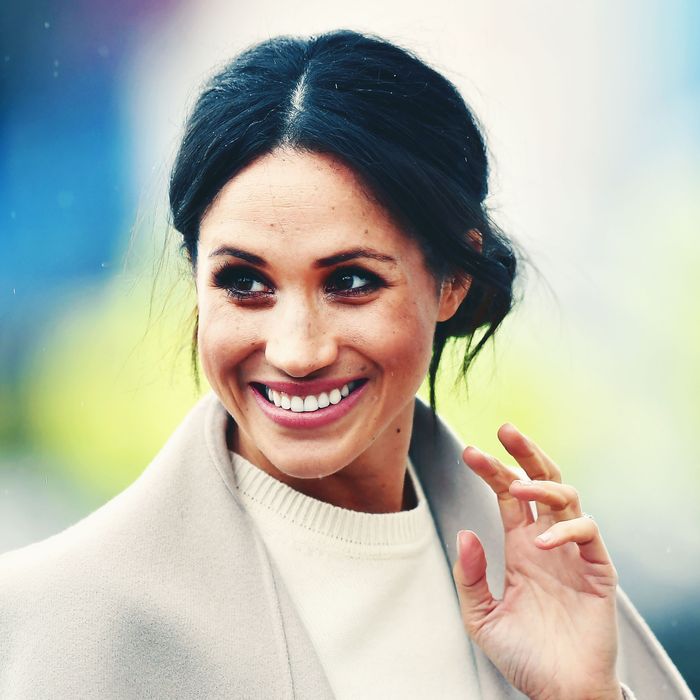 Photo: Charles McQuillan/Getty Images
Meghan Markle's casual, elegant take on the messy bun has been a source of much ire and fascination since she became a public figure several years ago. British royals — Kate Middleton and her ilk — tend to favor sleek princess waves or a sturdy shell, a la Camilla or Princess Anne. A messy bun, in this company, is unheard of.
And yet, this piece-y, casual take on the chignon soon became Meghan's signature look after she wore two versions of it on her wedding day. And thanks to a new interview in British Vogue, we finally know how the infamous bun came to be. Meghan Markle's former hairstylist, George Northwood, spoke to the magazine, explaining that the messy bun was a very deliberate choice on his and Markle's part:
The messy bun purely came off the back of making the hair both appropriate and adhering to royal protocol, and modern at the same time … We wanted it to be up, because a lot of the time it was appropriate for it to be up, but we didn't want it to be too formal. We always wanted it to be refined imperfection — that's what sums her up.
They took the same approach to her hair on her wedding day, which featured a more restrained messy bun during the ceremony and a more subtly undone bun when she switched into her evening look:
The evening was intimate, for family and friends, a time for Meghan to be herself. By this point, the messy bun had become such a thing and we wanted to do something equally relaxed and effortless … Often with brides — and this was no different — the daytime bit is a bit more nerve-wracking, and then the evening comes and it's more about wanting to have fun. That's what my hair is about: it's wearable, effortless and can withstand a dancefloor.
Of course, Meghan has also gone the princess-wave route, but the messy bun will always be something of a trademark look for her. What's more, Kate Middleton seems to have taken a cue from Meghan and begun experimenting with her own hair, recently debuting a set of extremely trendy "curtain bangs."