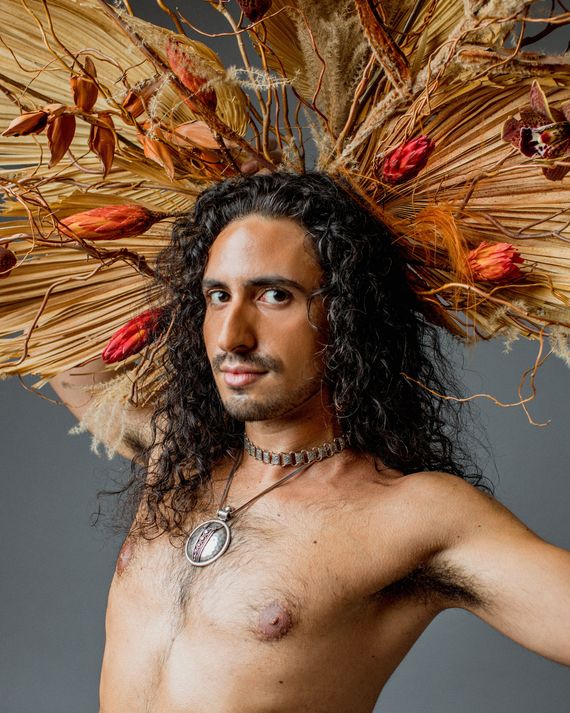 Growing up in a Palestinian community in Honduras, Lutfi Janania developed an interest in all things botanical at a young age. "Our backyard, where I spent most of my time gardening and playing (princess or Barbie), was surrounded by Jurassic plants and tropical birds," he explains. When he moved to New York to be a fashion stylist, he retained his love of nature, and once he started receiving commissions for his breathtaking botanical sculptures, flowers slowly began taking over his career. Now, he calls them his "obsession and life's purpose."
Janania says his work is inspired by rare forms of flora and fauna, Latin-American shrines and the rituals associated with them, and women — the strong women in his life, plus legends like Maria Felix and Frida Kahlo, whom he often references. Now based in Bushwick, he often works in collaboration with other artists within the POC and LGBTQ communities. Below, he spoke with the Cut about Fran Fine, being a Libra, and how the recent pandemic is going to change everything.
What kind of animal would you be and why?
The fabulous gray wolf. A symbol of freedom and wisdom, wolves are loyal creatures that live in packs. They develop strong social bonds and work together for food and shelter.
If you could master any skill (that isn't related to your current job), what would it be and why?
Woodworking. I'm fascinated with building things, and learning a skill always impacts the design process in beneficial ways.
What piece of advice has had the biggest impact on you and why? 
My dad always said to me: "Don't be fearful, be adventurous, launch yourself, have a vision." Coming from someone whose career has somewhat of a direct path, it encouraged me to try new things and taught me to be fearless and a self-starter. It allowed me to work and learn in so many industries, broadening my abilities. My mom always said to me: "It is better to be alone than in bad company." Such an important message during my teenage years! She would always make it a point for us to be cautious about our surroundings, about who we share our time with, and who we allow into our lives.
What would your Real Housewives tagline be?
"You are such a bitch … but so am I!"
If you were running for office, what would your campaign song be and why?
"She Works Hard for the Money" by Donna Summer. Because I've always been about my hustle and I like to see people getting paid.
What fictional characters do you relate to most?
Fran Fine from The Nanny, Delia Deetz from Beetlejuice, Scarlett O'Hara from Gone with the Wind, and Poison Ivy from Batman & Robin.
What superpower would you have and why?
As an air sign, Libra, I would love to fly the skies. I would have the ability to zoom out and appreciate nature from all views. I would travel everywhere, to connect with people, absorb more cultures, and find inspiration throughout Mother Earth.
What's your idea of a perfect day?
I love a sunny day (but wear sunblock religiously), birds singing loudly, an outdoor gathering with my closest friends and family, living our worldly cooking and music, interacting with nature.
What are you excited about right now?
I'm excited to see the world evolve. Change is positive. The recent pandemic will shape up our existence on earth. It's the time for all cultures, races and religions, united by our inherent solidarity, to love our fellow humans and Mother Nature, to advocate for and rescue human dignity.
What goals are you working toward at the moment?
I've only been thinking about sustainability for quite some time and expanding my studio practice. Currently working on some gardening and landscaping projects that will open doors to nonprofit programs that I'm building in Bushwick. The neighborhood hypnotized me: the beauty of countless churches, numerous charming school buildings, and the warming love of all the immigrant families that belong here for generations.
Lutfi wears pants by Dries Van Noten, artist's own shoes and jewelry.