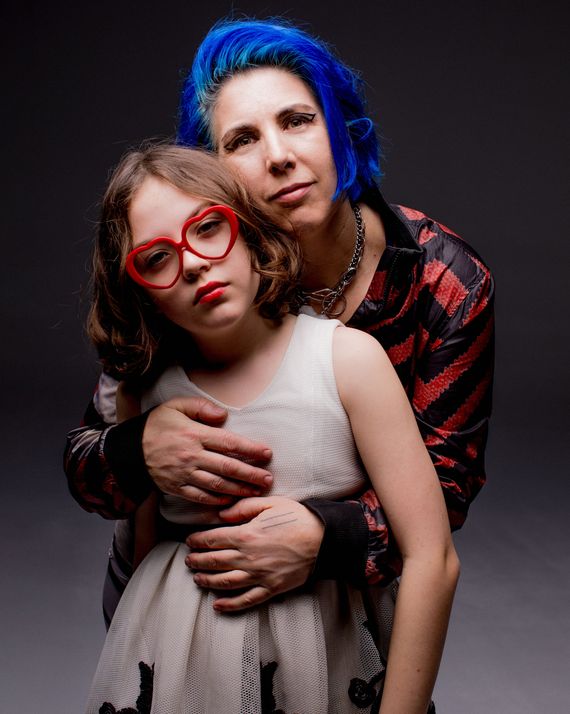 Liz Collins is a textile artist and designer whose work connects fabric with architecture, performance, and installation. Winter Collins is in fifth grade, and her favorite subject is math. Both of them have electric energy and a love for bright colors. Below, they talk to the Cut about their favorite animals, atoms, and which fictional characters they relate to the most.
What kind of animal would you be and why?
Winter: I would be a cat. I have two cats named Pickle and Vivienne.
Liz: I think I'd be an orca. Because they are beautiful, powerful, elegant animals that live in the ocean.
Winter: And they are your favorite animal.
Liz: Yeah, they are! They are incredible and empathic and intelligent.
What are the last three songs you've listened to?
Winter: Three songs from the Lego Movie soundtrack.
Liz: Agnes Obel's "Fuel to Fire," Azealia Banks's "Liquorice," Queen's "Somebody to Love."
What superpower would you have?
Winter: I would have the power to control atoms.
Liz: I'd like to fly and be invisible.
What's your idea of a perfect day?
Winter: A perfect day would be hard. There is no such thing as perfection, is my answer to that.
Liz: One version of my perfect day would be all day in my studio, and another perfect day would be a long, meandering walk through the city with no agenda at all.
If you could master any skill that isn't related to your current job, what would it be and why?
Winter: Coding.
Liz: Doing tattoos; it's something I have always wanted to do.
What three fictional characters do you relate to most?
Winter: Spinel from Steven Universe: The Movie. Luna and Hermione from the Harry Potter series.
Liz: Bernadette Fox from the movie Where'd you go, Bernadette?, Sock Monkey, and China Blue, the character played by Kathleen Turner in the Ken Russel film Crimes of Passion.
What piece of advice has had the biggest impact on you and why?  
Winter: A chain is only as strong as its weakest link. I like saying that. It's something to think about. I just like it. I don't know why.
Liz: There is a slogan that says "Don't just do something — sit there." I like that advice; it's like the opposite of "Don't just sit there — do something." It reminds me to pause before reacting, just to slow down. That slowing down or taking a moment is always valuable.