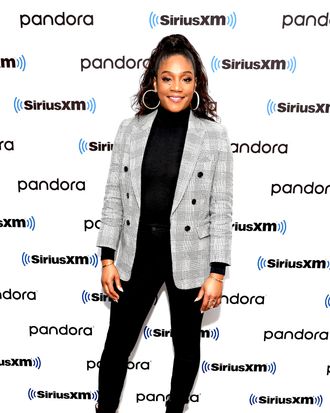 Tiffany Haddish.
Photo: Cindy Ord/Getty Images
I like the way Tiffany Haddish's mind works. She is very funny, and that is certainly part of the reason why I appreciate her brain. But today, my reasoning has more to do with an excerpt I read from her recent dick-centric conversation with Jada Pinkett Smith, on the latter's Red Table Talk, a Facebook Watch–based talk show.
Pinkett Smith recently convened her Girls Trip co-stars — Queen Latifah, Regina Hall, and Haddish — on Zoom to discuss a wide range of topics, including coronavirus isolation, celebrity crushes, and penis size. With respect to that last one, Haddish offered the following thoughts, per Jezebel.
"I prefer small penises because I feel like small ones respect you," she said. "They're kind. They buy you nice gifts. They take you nice places. They'll come and clean your house; fix your cars for you. Small penises are penises of service. Big penises just do whatever they want to do."
You may be familiar with the term "big dick energy," or, the aura of carefree confidence those possessed of extremely large members sometimes project. This energy does not uniformly attract everyone, as Haddish reminds us, but that is not what gets me about this quote. Me personally? I am unable to see past the phrasing, and having taken Haddish's statement literally, I am giggling at the visual. Because of course, a penis acting as an autonomous being, wandering around the world without its human, provides an arresting mental image. Here it is, combing your favorite stores for the perfect present, or driving you to dinner in its zippy little sports car, or oiling the squeaky hinges on your apartment's doors. How thoughtful. And how utterly horrifying to behold.
This is, I understand, not what Haddish meant — she was referring to the people the penises are attached to, people she believes are respectful and kind and helpful — but I cannot unsee the picture she painted in my mind. And now, maybe you can't either. For that, I apologize.