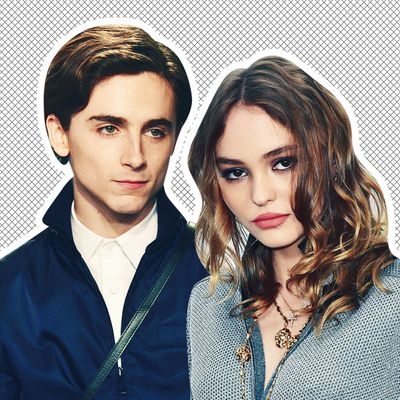 Timothée Chalamet has reportedly split up with Lily-Rose Depp after dating for a little over a year. According to British Vogue, the actor is "currently single."
Chalamet and Depp were first spotted together back in October 2018 after apparently meeting on the set of Netflix's The King. He played the titular character, Henry V, and Depp had a brief turn as his wife, Catherine of Valois. The two had excellent chemistry — all exquisite cheekbones and clever French banter. Meanwhile, their red-carpet appearances promoting the film were a treat for the fashion minded:
After The King, the couple was photographed making out in various parts of the world, including an iconic photo of them kissing on a yacht in Capri like the horny 20-somethings they are.
Sadly, this beautiful union seems to be over for the time being. Maybe they're social distancing too far from each other to keep things going, or perhaps they're just taking time to work on their careers; Depp currently has four films in postproduction, and Chalamet is the lead in the upcoming Dune film and is confirmed to play Bob Dylan in the musician's biopic.