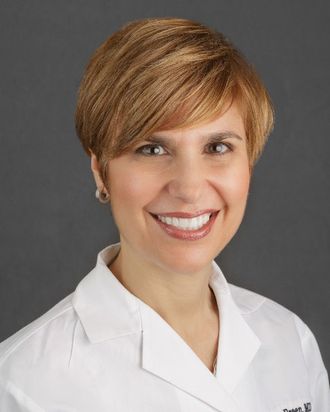 Dr. Lorna M. Breen
Photo: Chris Leary/ColumbiaDoctors
On Monday, the New York Times reported that an emergency-room doctor named Lorna M. Breen who'd treated many coronavirus cases died by suicide on Sunday at the age of 49. Local police and her father confirmed to the New York Times that Breen, who worked as the medical director of the emergency department at New York–Presbyterian Allen Hospital, died in Charlottesville, Virginia, where she'd been staying with family.
A spokesperson for the Charlottesville Police Department said that Breen "was taken to UVA Hospital for treatment, but later succumbed to self-inflicted injuries."
Breen's father, Dr. Philip C. Breen, told the Times that his daughter, who had no prior history of mental illness, had spoken about the horrifying state of the hospital and patients she treated amid the coronavirus outbreak in New York City, where 16,673 deaths have been attributed to COVID-19. He said that the last time he spoke to his daughter she seemed withdrawn and described patients dying before they could even exit the ambulance. Breen herself had reportedly contracted the coronavirus and had returned to work after recovering for a week and a half, after which the hospital sent her home again and she went to stay with her family.
"She tried to do her job, and it killed her," Breen's father told the Times. "She was truly in the trenches of the front lines." He added, "Make sure she's praised as a hero, because she was. She's a casualty just as much as anyone else who has died."
In a statement, NewYork–Presbyterian/Columbia said Breen "is a hero who brought the highest ideals of medicine to the challenging front lines of the emergency department." The hospital where Breen worked has cared for as many as 170 COVID-19 patients at a time, nearly maxing out its 200-bed capacity. According to an internal document reviewed by the Times, 59 patients had died of the virus at the hospital as of April 7.
New York City's lack of pandemic preparedness and slow response to containing the virus have put incredible strain on its health-care workers. A shortage of personal protective equipment has forced some health-care workers to make potentially unsafe compromises like rationing and reusing N95 masks. They face the additional stress of possibly contracting the virus and exposing others to it whether at work or at home. And with families and friends unable to visit their sick loved ones in the hospital because of social-distancing mandates, hospital workers are under even more pressure to be vital sources of communication and comfort in terrifying times.