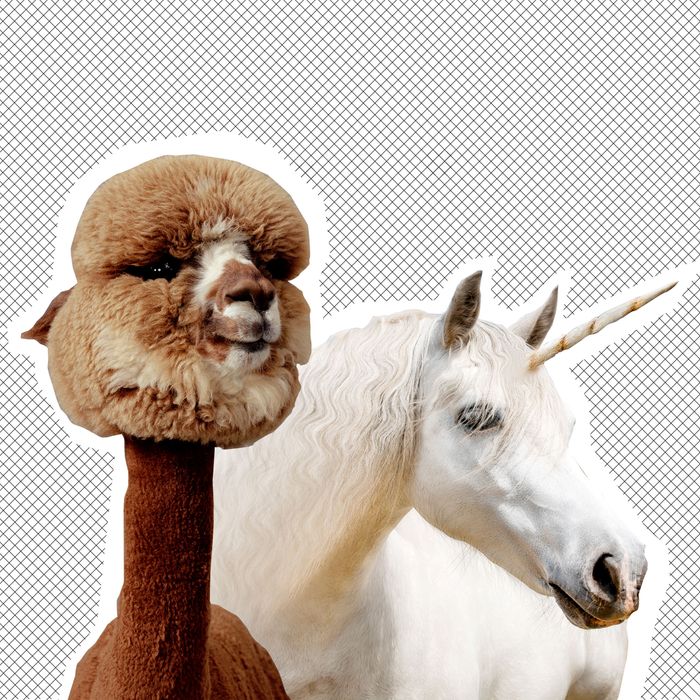 Photo: Matthias Clamer/MadKruben/Getty Images
It's difficult to write about unicorns without writing about oneself. Either they enchanted your childhood or you eschewed them (or, perhaps, you didn't come into contact with their mythical dominion until you were too grown-up to care). But now their cultural dominance may be under threat, at least according to the New York Times: Adults who sell toys say llama toys are reportedly competing with unicorns for most beloved children's play creature.
As evidence to support its bold claim, the Times reports that at this year's American International Toy Fair, which was held in February in Manhattan, the llama vendors were out in full force: "There were squishy llamas. Plush llamas. Sequined llamas. Knit llamas. There were llama diaries, llama lip balm, llama puzzles, llama backpacks, llama pool floats, llama rockers, llama teethers and llama mobiles."
Various toy merchants who sell llama toys agreed with the Times' assessment that llamas are big now. Janis Van Tine, vice-president of a communications firm that was representing a company that produces a twerking llama toy, told the Times, "We heard it from kids, from grandparents: They love llama toys." Michael McNally, senior director of brand relations at Lego, told the Times, "We've seen hedgehogs and narwhals come and go, and now llamas are emerging." (Lego is unveiling a llama play cute later this year.)
What does any of this have to do with unicorns? According to the Times, the two creatures are caught in some kind of herculean struggle for toy supremacy. Searches for unicorn items on Etsy are down by 37 percent, while llama searches are up by 36 percent. And the llama purveyors seem eager to lean into this rivalry. Stephen Berman, the chief executive of JAKKS Pacific, a toy company that sells llama stuff, told the Times that "unicorns are magical, but llamas are real and relatable … They blink, they grin, they spit."
True enough. However, according to the child I once was, unicorns are still the gold standard of children's toys. I interviewed her and she told me so.