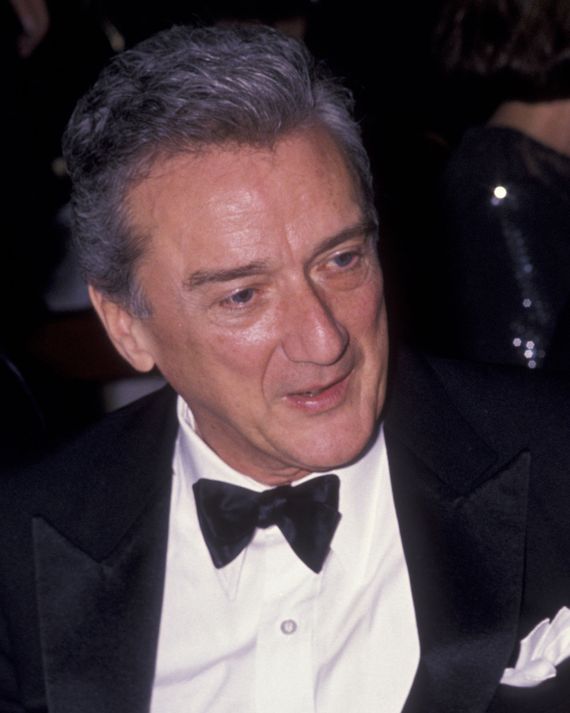 Photo: Ron Galella, Ltd./Ron Galella Collection via Getty Images
"Forty years," Dennis Minkel says of the time he spent working with photographer Victor Skrebneski, who died at the age of 90 in Chicago on April 4. Minkel, Skrebneski's trusted right hand and studio manager, was the gatekeeper, schedule-maker, and one person who could make the impossible possible for the legendary perfectionist. "He taught me everything I knew," Minkel says, as we reminisce about the first time we met in Skrebneski's pristine ground-floor studio. "Just like he taught you everything you knew." And that he did. Victor was a superstar who chose to live in his native city of Chicago even as the fashion industry beckoned in New York. He took the first set of breathtaking photographs of supermodel Cindy Crawford, discovered actress Jennifer Beals, and stopped the world with iconic portraits of Vanessa Redgrave, Iman, and Diana Ross — and just about every other movie star you can think of. He also helped make advertising history by putting Estée Lauder on the map with glamorous, iconic national ads featuring superstars including Karen Graham, Shaun Casey, Willow Bay, and Paulina Porizkova.
I met Victor for the first time in a location van in front of the Carlyle Hotel, where he always stayed when he was in New York. This was back in the early 1980s, and I had just started styling Estée Lauder's "Mailers," the flyers sent out to customers. The art director Marion Jaye hired me to find clothing, jewelry, and accessories for roughly 30 photographs, and I needed to be prepared for anything and everything — I didn't know where we would be shooting. All I knew was that I was going to meet the Victor Skrebneski and the reigning goddess of the Estée Lauder ads, Karen Graham! I was shaking in my sneakers as I waited for Victor to arrive in that van. When he walked to the back of the bus, where I was unpacking garment bags, he had the radiance of a rock star with the warmth and charm to match. The fun and adventure that happened that day, and every day going forward as I worked on the mailers and, later, Estée Lauder's national print and television ads with Victor (and one of the other great mentors of my life, Alvin Chereskin, the chairman and CEO of AC&R Advertising), is hard to describe.
The '80s were the heyday of advertising, and I traveled the world, lugging trunks of clothing and bags of jewels with Victor, who always put me, and everyone else at ease with his humor and sense of fun no matter how tense the shoots could become. He never said that he didn't like something; instead, he employed the (admittedly time-consuming) technique of going up to the model, zeroing in on a single pleat in the skirt, or a crease in the shirt, then pointing it out to me and asking if I could fix it. I soon understood that this meant there was no fixing it — this endless fussing was generally my cue to change the outfit entirely.
Victor is on the left, sitting between the gorgeous Shaun Casey, Estée Lauder's star model at that time, and Alvin Chereskin, who masterminded the company's national print and television ads. June Lehman, a top Estée Lauder executive, is next to Shaun, her husband, and me. Underneath the table, I have a huge bag filled with about a million dollars' worth of jewelry — I took it everywhere we went, as I was too terrified to leave it at the hotel. On the right, nearest the camera, is the wonderful Tom Marchini, the art director at AC&R; Frank Beilin, Victor's agent; Akira Mitani, the wonderful hairdresser; Tom Maday, Victor's assistant; and Alberto Fava, the great makeup artist.
This is the national ad that ran from the many photographs that Victor took in Greece. I had a number of outfits made for the shoot, including the one shown here on Shaun Casey — a silk ensemble by the fantastic late designer Michael Katz. The urn was dragged to the beach from God knows where, just to prove we were in Greece.
This ad for White Linen with Karen Graham was shot on location in Louisiana and was one of the wildest location trips ever. We stayed in a "haunted" hotel out in the countryside, and the proprietors had fun scaring us all to death — to the point that everyone ended up sleeping in my room. I had this outfit made by Judyth van Amringe, and I always felt that I made a huge mistake with those Manolo Blahnik pumps. I should have found the perfect satin ballet slipper or, better yet, a sandal!
Victor taught me that fashion styling for photo shoots entailed a synergy between the setting and what the protagonist was wearing — otherwise, the dream wouldn't be believed. I always went through many, many rounds of clothes in order to find the balance necessary for Victor to proceed to take the picture. He was a master of the art of creating magic in settings that were sublime and often enhanced or created by the amazing prop stylist and set designer Jay Smith.
Every moment shared with Victor was followed by a note. Victor was the ultimate elegant gentleman. He was courteous and thoughtful and generous, always. He couldn't wait to discuss the latest movies, and books, and everything that was going on in the art world. His legacy is effervescent joy and the magnificent body of work left to enchant generations to come.