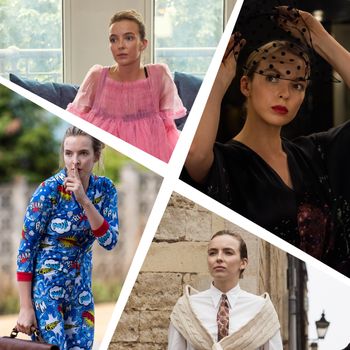 Photo: Courtesy of BBC America Killing Eve
We didn't know the true meaning of "a closet to die for" until we met Villanelle, the alluring and violent assassin played by Jodie Comer in BBC America's Killing Eve, which is now returning early for its third season on April 12 at 9 p.m. ET. Each episode, TV's best-dressed murderer delights and surprises us with her bold, theatrical, and colorful looks — whether it's the iconic Molly Goddard pink dress (yes, you know the one) to a pair of ill-fitting pajamas.
As the show's season 1 costume designer, Phoebe de Gaye, previously told Vulture of Villanelle's ensembles: "She'll constantly surprise you. Just when you thought she was wearing something outrageous, she'll suddenly come in wearing something quite classic. Or else she's dressed as an NHS nurse, you know what I mean? So you can never pin her down." Ahead of season 3, we're looking back at our favorite Villanelle looks — because who says assassins can't be fashionable?
The Dress That Broke the Internet
Season 1, Episode 2
Here it is: the dress heard 'round the world. In the second episode of the show, Villanelle put on this cotton candy–pink Molly Goddard creation for a psychiatric evaluation with her handlers, letting them know that she wasn't about to take the appointment seriously. The dress went viral, and cemented the character's attention-seeking style. "You couldn't put that dress on any actress and bring it off," de Gaye said of Comer during her Vulture interview. "She's got the kind of chutzpah to wear those things with just the right amount of nonchalance."
Funeral Flair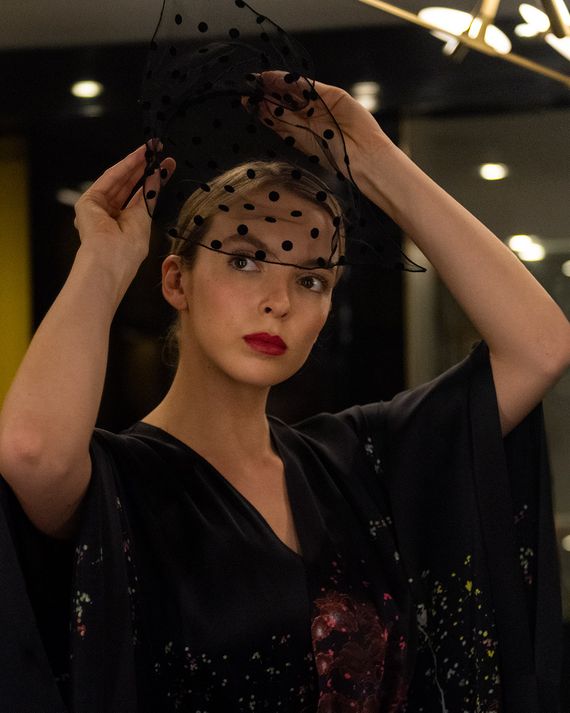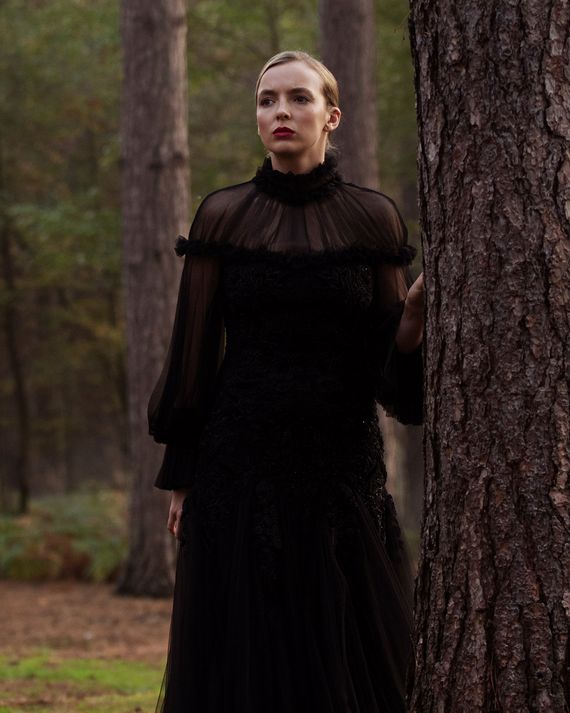 Season 2, Episode 5
Villanelle plays the part of a grieving widow in this season 2 episode, donning funeral attire after a hit is put out on her beloved Eve Polastri (Sandra Oh). In a Q&A with BBC America, season 2 costume designer Charlotte Mitchell said she custom-designed the exquisite black veil for Villanelle, explaining that she "wanted something completely original which wouldn't clutter Jodie's face." As for the dress? Mitchell found the 2012 couture piece on a "vintage auction site."
Who Says Superhero Pajamas Can't Be Chic?
Season 2, Episode 1
Villanelle kicked off season 2 in a hospital room (after being stabbed by Eve in the first season's finale), without access to her incredible wardrobe. So she settled for second-best: "borrowing" a pair of superhero pajamas from another patient, Gabriel, before she made her escape from the hospital. They're ill-fitting and covered with a cheesy comic book print, but it doesn't matter: This look definitively proved that Villanelle looks good in anything.
A Killer Bomber Jacket
Season 1, Episode 2
This Phillip Lim bomber embroidered with flowers caught the eye of Villanelle's neighbor, Sebastian. One of her less-theatrical looks, the jacket helps Villanelle blend in and look more like an everyday Parisian and less like a skilled assassin. In the season 1 episode aptly titled "I'll Deal with Him Later," she and Sebastian spend an ordinary day together, taking a stroll while eating ice cream, until he meets an unhappy end with Villanelle's poisoned perfume.
Patterns to Die For
Season 2, Episode 3
When Villanelle wears a suit, you know she means business. In one of season 2's most memorable looks, the assassin chose a Chloé blazer patterned with horses — similar to a patterned Dries Van Noten suit she wore to make a kill in season 1. And if the equestrian blazer wasn't cool enough on its own, Villanelle paired it with a regal, high-neck purple blouse and silver trousers for a little extra oomph. "It's great how varied her look can be in a suit," Mitchell said in her Q&A with BBC America, adding that the collection of suits "shows the many moods of Villanelle."
All the Best Assassins Wear Plaid
Season 2, Episode 7
Only Villanelle could pull off mismatched plaids, but don't let the casual (for her) outfit fool you. Like any good hit-woman, Villanelle accessorized this season 2 ensemble with a knife, which she used to confront Eve's husband, Niko, and his coworker Gemma, who were hiding out in a storage unit and discussing his plans to leave Eve. Plaid has never been so intimidating — or fashionable.
Villanelle's Version of "Toned-Down"
Season 1, Episode 3
Occasionally, Villanelle does have to go incognito to stalk her prey — but that doesn't mean her ensembles are any less eye-catching. While tailing Eve in Berlin during a season 1 episode, Villanelle is fashionably undercover in a ruffled green leather JW Anderson blouse paired with tortoiseshell cat-eyed sunglasses and a messy bun.
Professor Villanelle
Season 2, Episode 5
Always one to go all-out with her disguises, Villanelle wears this faux-scholarly look while tailing Niko as he chaperones a school trip to Oxford for a spelling bee. She succeeds in blending in with the collegiate crowd and in getting under Niko's skin — and this outfit succeeds in giving us all of the prep-school professor vibes.
An Ominous Blood-Red Look
Season 2, Episode 8
Villanelle finished off season 2 in this red power style, which she wore during her final confrontation with Eve in Italy. The dramatic season finale called for a dramatic outfit, and this killer (literally) matching set rises to the occasion, with its asymmetrical hem and blood-red color. Never one to let an outfit go without a fabulous accessory, Villanelle adds a waist-cinching belt to complete the look. We're happy to have this memorable outfit be our last glimpse of our favorite assassin before season 3 begins.
Watch the Killing Eve Season 3 premiere on BBC America or AMC, starting April 12 at 9 p.m. ET.
All images courtesy of Killing Eve.
This advertising content was produced in collaboration between Vox Creative and our sponsor, without involvement from Vox Media editorial staff.