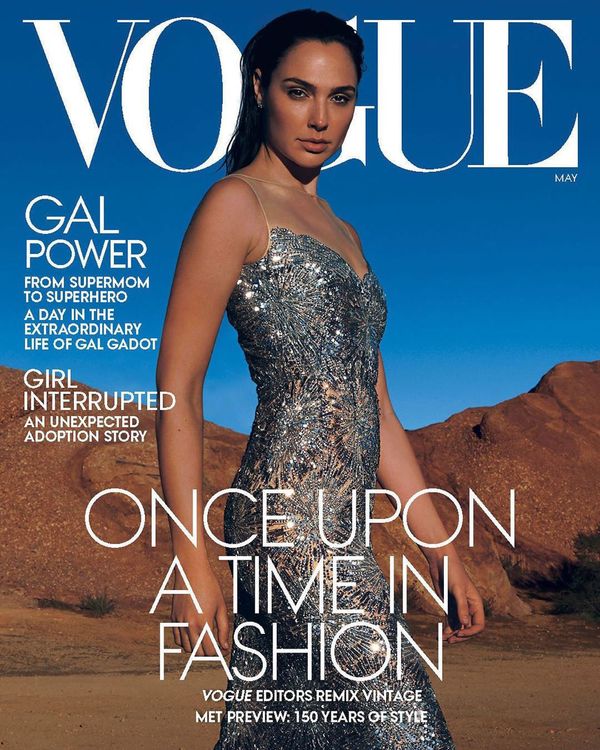 Photo: Annie Leibovitz/Vogue/Instagram
On Thursday morning, when Vogue magazine revealed that its May cover star was Gal Gadot, the general reaction online seemed to be this: oops.
Before the coronavirus pandemic, the Israeli actress was perhaps best known for her role as Wonder Woman. But we live in a very different world now — one in which Gadot's name and face are unfortunately tied to a train-wreck viral video in which she and a handful of other celebrities sing John Lennon's "Imagine." It was bad, and an easy target for people looking to displace all their pent-up frustrations. The Times likened Gadot's opening performance to that of "a joyfully sadistic nurse about to administer a gruesome shot."
Unfortunately, Vogue never imagined that the world would be turned upside down by a global pandemic. (Our own government didn't, so we can hardly blame the magazine for not seeing this coming.) It also never imagined that its cover star would be the face of how not to deal with this crisis. A new introduction to Gadot's profile, which reads almost like an apology, helps explain that magazines are planned months in advance, with most publications now scrambling to produce remotely. "This story, reported before COVID-19 began to take hold in the U.S., went to press as profound changes to daily life were being seen across the country," it reads.
Also unfortunately for Vogue — and this one is on the magazine — its profiles tend to offer only the most glowing portraits of their subjects. The opening line to the Gal Gadot piece says it all: "Spending time with Gal Gadot is an exercise in nonchalance," writes Jonathan Van Meter, who admits by the end of the first paragraph (after describing how carefree Gadot seems while cruising in her Tesla) that "it feels wrong" to call their encounter an interview. "It's a hang, really," he says. Oof.
It's hard to get through an endorsement of celebrity nonchalance right now, and the timing is especially awkward, given that one of the main criticisms of the "Imagine" video was its tone-deafness (and not just the musical kind). As Vogue explained though, Gal Gadot, "like every one of us," has been affected by COVID-19. Her children's school closed, and her projects are on hold, including the June release of Wonder Woman 1984.
Sometime in mid-March, Vogue reached out to Gadot for an addendum. (Gadot shared the "Imagine" video on March 18.) "Obviously the circumstances are horrible and frightening, but we're home and we're trying to make the best of it — to enjoy the quality time," she said. "It's so surreal. I've never been through times like these. But I'm also full of hope for when it will be behind us."
In a tweet on Thursday, Gadot shared the Vogue cover. "Who could have imagined what was coming?" she said.