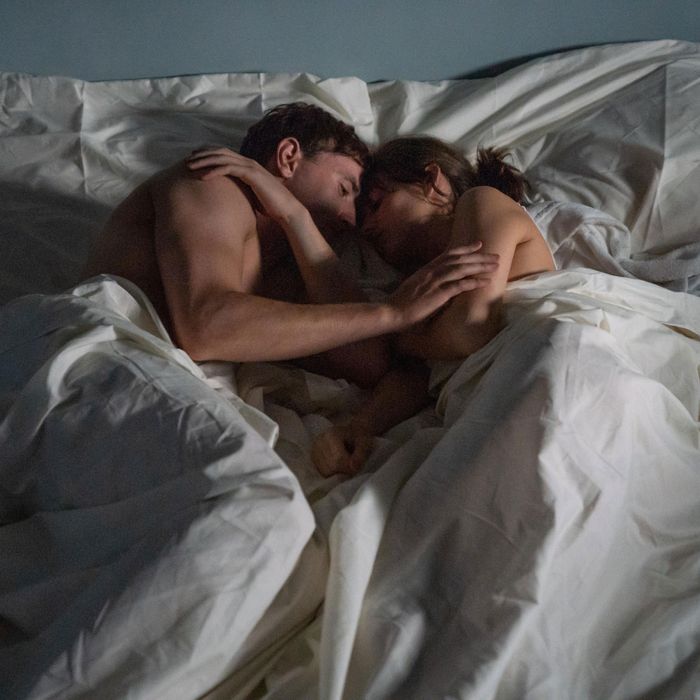 Photo: Element Pictures / Enda Bowe/Hulu
Here at the Cut, we love a good sex scene. But it's rare that something comes along that rivals Keira Knightley's bookcase bedding in Atonement, or the sweaty sensuality of Y Tu Mamá También. 
And while sex was central to Sally Rooney's 2018 novel, Normal People, I wasn't sure how its on-screen adaptation by Hulu would take it on. Possibly, it would be implied, with moans and heavy breathing and a pan away to the window. Maybe, there would be one or two hookups and the rest (and there are a lot) would be glossed over. That, thankfully, is not the case, which is why when you get around to it, consider watching Normal People alone and with a vibrator.
Normal People is a love story, sort of. It follows a couple, Marianne (Daisy Edgar-Jones) and Connell (Paul Mescal), through their secondary school and early college years in Ireland as they yo-yo in and out of each others' lives. Theirs is a sad and frustrating story, one that touches on all sorts of things: class, relationships, Ireland, abuse, and mental health, to name just a handful. But Normal People is chiefly about being horny, the special kind of horniness you feel toward a specific person: they're the person you can't quite have — maybe because of them, because of you, or maybe because of the universe.
As such, Connell and Marianne have the kind of sexual chemistry that could melt your face off, and the show's director, Lenny Abrahamson (Room), was not shy about it. In fact, he showcased it: There is a 12-minute sex scene in one early episode, which quite literally took up an entire half of its 30-minute run time.
And somehow, Ambrahamson makes you feel like you're in the room with them; the camera is close and you can see and hear everything: breathing, whispering, and the, ahem, movement. It glances off their bodies, but mostly it's trained on their faces, which are pink and sweaty and sometimes rapturous and sometimes ugly. It doesn't feel voyeuristic, especially toward Marianne. There are some moments where the camera is openly appreciative of Connell, though, who I should note spends much of Normal People wearing nothing but a chain.
Hulu is releasing all 12 episodes of Normal People on April 29; be sure to order your vibrator before then.