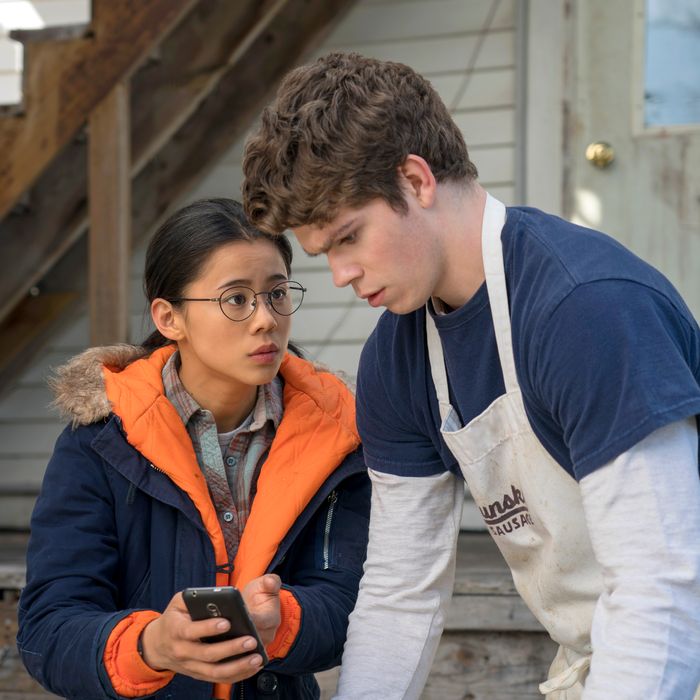 Imagine Cyrano de Bergerac — the classic romance in which a man woos his beloved by ghostwriting the letters of another, handsomer man — but with a bunch of lovelorn teenagers instead of obnoxious old French soldiers. That's the idea behind The Half of It, a romantic-comedy of errors that's coming to Netflix next month, and looks to be an incredibly sweet new addition to the YA dramedy genre.
The Half of It tells the story of Ellie Chu (Leah Lewis), a quiet, scrappy teenager who helps her father pay the bills by ghostwriting essays for her peers. One day, her services are solicited by Paul (Daniel Diemer), a bumbling jock with a crush on popular girl Aster (Alexxis Lemire), whom Ellie also has eyes for. In spite of this (or perhaps because of it) Ellie agrees to pen love letters to Aster on Paul's behalf. Paul and Ellie become unlikely friends: He cooks for her and defends her from racist bullies, and she trains him in subjects like art and philosophy. All the while, Ellie continues to fall even harder for Aster.
Director Alice Wu appears to have imbued the film with all the sweetness and tenderness of a coming-of-age rom-com à la To All the Boys and Booksmart, while also successfully weaving in commentary on race, class, religion, and gender in a way that is rarely seen in the genre. Wu's other work has touched on these themes, too: Her 2004 rom-com Saving Face featured Chinese-American, lesbian romantic leads, and examined sexuality and cultural expectations in a way that was (and still) is rarely seen in Western cinema.
""Now that it's done, I can see a few things more clearly," Wu told Deadline about making The Half of It. "For one: I used to think there was only one way to love. That A plus B minus C equals Love. Now that I'm older, I see there are more. So many more ways to love than I had ever imagined."
That philosophy couldn't be more evident The Half of It, which comes to Netflix May 1. Watch the trailer here: