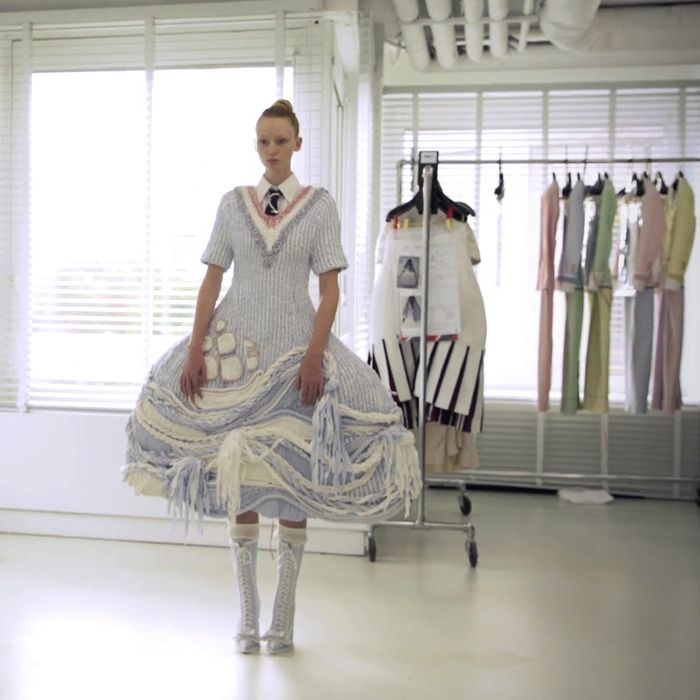 Photo: Courtesy of Thom Browne
Fashion designers often have to choose between following their wildest flights of fancy and thinking about what will actually sell. Thom Browne tends to fall on the fantasy side of the spectrum, as evidenced by the short documentary the brand created around the spring/summer 2020 collection.
The collection was all about approaching seersucker in new ways. It debuted in Paris last September in a surreal French garden … which was, of course, made of seersucker. The clothes weren't the striped blazers of New England yacht clubs, either — Browne recontextualized it in aristocratic 18th-century garments. As he explains in the video, he turned pastel iterations of the fabric into versions of robes à la française and panniers (those 18th-century undergarments that made women's hips look enormously wide).
"My job is to make people think — make people see classic ideas more interestingly," Browne says. "It's not always for wearability; it's not always for commercial reasons; it's more to move the needle forward in regards to seeing clothing differently." Below, watch Thom Browne's spring/summer 2020 world come to life, and keep scrolling to see some of the pieces that are available to purchase.
Seersucker in New Forms